By Lea McMahan, guest columnist
Illustrations by Della Sigrest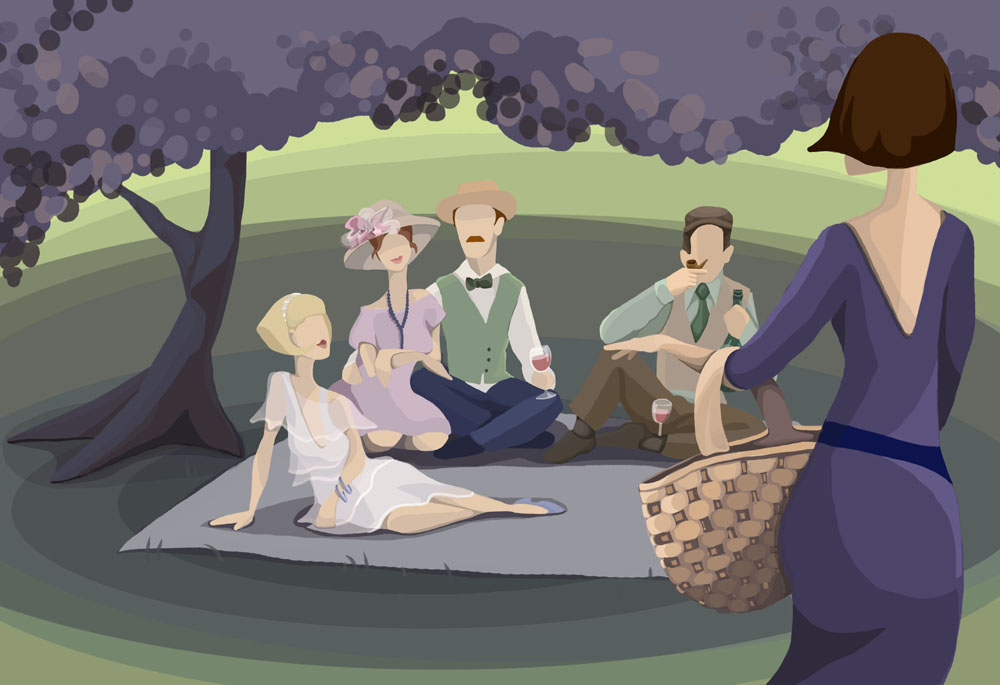 It's not always easy to get excited about history. Growing up in Williamsburg, VA, I was always surrounded by history – practically beaten over the head with it. Don't get me wrong, experiencing history can be fun, but after your 17th time churning butter, the excitement wears off.
Despite my misgivings about the ancient art of butter making, there has always been one aspect of history that has always fascinated me. The 1920s have always been my favorite part of history to study, so I was elated when I got the chance to cover the Art Deco Society of Virginia's 3rd Annual Gatsby Picnic.
When I arrived, a dapper man who looked like he had just arrived from 1925 opened the cab door and greeted me. I stepped out of the 21st century vehicle and into a silent film – couples swirled on the dance floor in front of a live jazz ensemble, and picnic areas covered the lawn of the Wilton House Museum.
Now, when I say picnic, you probably think of a few people sprawled out on a blanket, munching on food pulled out of a cooler or wicker basket. While there were many people enjoying the afternoon that way, there were also hardcore picnickers with displays I would have never been able to imagine. Their little picnic zone complete with rugs, tables, wooden chairs, table linens, fine china and stemware – rivaling, if not besting, the most elegant dining rooms that I have ever seen. All across the lawn the picnic spreads ranged from the casual picnic with which we are familiar to those lavish displays, but those who went all out were rewarded at the end of the day with awards ribbons for the top three picnic displays.
At first I wondered why in the hell anyone would want to deal with lugging all that stuff with them, but then I realized it isn't that much extra effort to bring a home-away-from-home picnic into the countryside. I was invited to sit at a few different spreads throughout the day, from a cozy picnic blanket with friends to a prize-winning tablescape. All were wonderful and I walked away from the day having made great friends.
Why don't people live like this anymore? I hardly ever go more than 30 minutes without looking at my phone, and I think the same can be said for most people. However, I haven't had a lovelier afternoon than this, where I ignored technology for hours and got in touch with other people. I can't wait for next year's Gatsby Picnic, which, according to President Olivia Lloyd, gets bigger and better with each year. Who knows, one day you may see me in Monroe Park with a rug and table of my own.
ralph lauren sale,ralph lauren outlet,cheap christian louboutin,louis vuitton outlet,ralph lauren polo pas cher