Caitlin Stallings
Guest Columnist

The East Coast continues to form
into an enormous melting pot of individuals from all kinds of backgrounds, which means there are many more opportunities for minorities to take advantage of than ever before.
The VCU chapter of the Society of Professional Journalists hosted the Minorities in the Media event on Wednesday, March 19, to hold an open discussion of minority experiences and their representation in the media through the eyes of three professionals in the business from news channel CBS 6 and VCU public relations faculty.
When it comes to minorities in public relations, Judy Turk, a VCU public relations professor, said "you gotta do your homework" first on what constitutes minorities in this field.
According to a study she presented to the audience, 59.2 percent of PR practitioners are female, but men are still paid more than women for doing the same job.
"PR doesn't have the same kind of halo over
it like the NBA does in men's eyes," said Turk.
PR can bring about skills in other fields, and the fact that women dominate PR over men lowers salaries and decreases prestige, she said.
"We should not just look at racial differences as minorities, but let's look at men as such," said Turk.
Stephanie Rochon, a CBS 6 Evening News anchor, talked about the portrayal of minorities in broadcast journalism and said "there are a lot of African-American opportunities out here." Still, the station is seeing doors closed for them in the evening news, she said.
In order to open these closed doors, she emphasized the importance of management positions, since there aren't many minorities filling these roles.
Sandra Jones, a CBS 6 reporter, said "we need them filled by minorities because there isn't nearly enough minority representation in the media overall, but especially in broadcast journalism."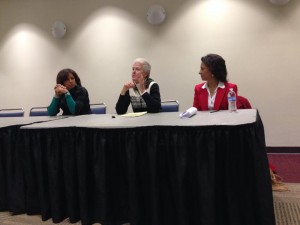 Both Rochon and Jones said "networking and going beyond the job description are important in obtaining leadership positions."
According to Rochon, crime coverage plays a key part in how minorities are represented through various media outlets. She said it has become her duty to stay on top of management at CBS 6 before crime stories are released during the nightly newscast.
"I'm very sensitive about crime coverage and suspect descriptions, so whenever I see us using just the race as a description, I bring it to management's attention," said Rochon, "Certain images reinforce certain stereotypes."
Since she began living here in Richmond, Cydni Gordon, VCU chapter vice president of the Society of Professional Journalists, said she notices "stereotypes are being reinforced often" mostly in crime coverage.
"Reported crime stories on campus are always involving a black male and never a white male," said Gordon.
Besides crime coverage, discrimination is another essential factor in the media's depiction of minorities. The way Jones' sees it, ignorance is no excuse for discriminating against a potential interviewee for a story even if it comes with immense criticism.
"I don't discriminate anybody and I get a lot of criticism for talking to people that someone sees as ignorant or not well-educated," said Jones, "Everyone has a story to tell and it is my job as a reporter to tell these stories."
If more minorities enter the field of journalism, then their coverage would evolve and change just as the news does on a daily basis, according to Rochon.
Janice Millan, VCU chapter president of the Society of Professional Journalists, said that she thinks "minority coverage is staged but is definitely progressing."
"Minorities are expected to present themselves in a certain way," said Millan.
Good journalism values fairness and equitability, which means every single human being is good enough to talk to and everyone's voice should be heard regardless of their ethnicity or gender. Above all of the journalistic values, Turk said that "diversity is the most significant" because it raises the most awareness in a society.
"Diversity is looking at the culture and society, and realizing that there are other voices that need to be heard rather than just the voice of the white governor," Turk said.