Brandon Geib
Guest Columnist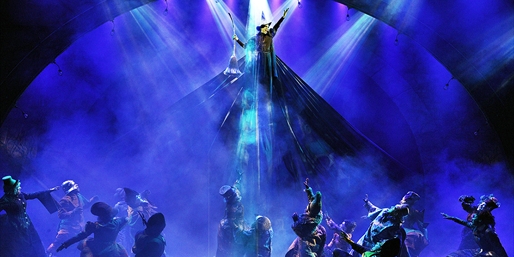 I have two very distinct musical loves, Pop-Punk and Broadway. Usually I focus on the former, today however I focus on the latter. You see last night I had the good fortune of attending the performance of Wicked at the Landmark Theater (Go home, Altria). And while this was outside of my normal price range for a show, you do get more bang for your buck than Strange Matter's acoustics and stage set up can provide. The show only graces our city for the remainder of the weekend, and for anyone who can scrape
together the cash it is entirely worth it (Go to the box office, it should be cheaper).
For those of you who don't keep up on these things Wicked is both a prequel and accompanying story o the Wizard of Oz. It follows Elphaba the budding Wicked Witch of the West, and Glinda the up and coming Glinda the Good, as they grow up in Oz. The musical explores the backstories of these and other characters from the world as they overcome the trials and tribulations of racism, bullying, and loneliness to become the characters you thought you knew. The musical follows a darker story than the classic film, and shatters some of the facades proposed to explain the world of Oz.
Elphaba (portrayed by Emma Hunton) does an impeccable job creating the character of a jaded outsider who becomes torn between resenting those who resent her, and also striving to find a way past and isolated existence developed due to the green color of her skin. One of the highlight moments of her alone is "No Good Deed." Then of course we have Glinda (portrayed by Gina Beck) who originates as the stereotype of a blonde airhead. This changes as she grows throughout the musical to see what is really happening in Oz and who people really are. An excellent example of her singing alone is during "Popular."
While both of the leads are wonderful on their own, the shining songs are definitely the one's they sing together, including "Defying Gravity," and "For Good." By the end of both of them I could feel chills. Which is apparently your body physically noticing the release of endorphins for anyone who is interested? All of the songs are on Spotify. However, if you haven't seen the show I might recommend you don't listen to some of the later songs to avoid potential spoilers.
Along with fantastic music, the costume design is whimsical and engaging as each scene change brings in anything from striped miss matched suits to a full prince charming style outfit, complete with knee high boots. The execution of everything was incredible and left me more than satisfied with the evening. So hit up your friends and bum some quarters from between the couch and see if you can make it to the show before it leaves us. I promise it will be worth it.