By: Kayla Lundy
Hosted by the ICA (Institute of Contemporary Art), Test Pattern is a monthly event to showcase different art and performances, including the performance I saw by artist and author, Jaamil Olawale Kosoka, which was called Black Body Amnesia. This performance was a live theatrical event exploring the worlds of black people.
In late August, I had the pleasure to witness an experience, one I won't forget. As guests started to walk in the theater, projected to the wall was a continuing video showcasing the artist and someone else, laughing and giggling. The sound coming through the speaker was a mix of music and fuzzy noises, creating attention. The set design was very detailed, having significant items such as a shrine made up of Jaamil's personal items, a brown cloth, and a space with long fringes to block the audience view, creating an intimate space.
A few minutes went by, the music started to play, indicating the show had started. Jaamil Olawale Kosoko began to gracefully walk down the stairs, wearing royal gold clothing. Jaamil set the tone for the room to be intimate.
Walking towards the left side of the theater space, he began to sit down where the small blocked off space was. Although the audience wasn't able to see him, he magically appeared on the projector. With glossy smooth skin, he narrated several poems from his book called Black Body Amnesia: Poems and other Speech Acts. From my reconciliation, some of the poems were named Effigy, Omen, Wake, and Stank. Each poem he narrated all had different themes, Jaamil brought us into his world, on his terms.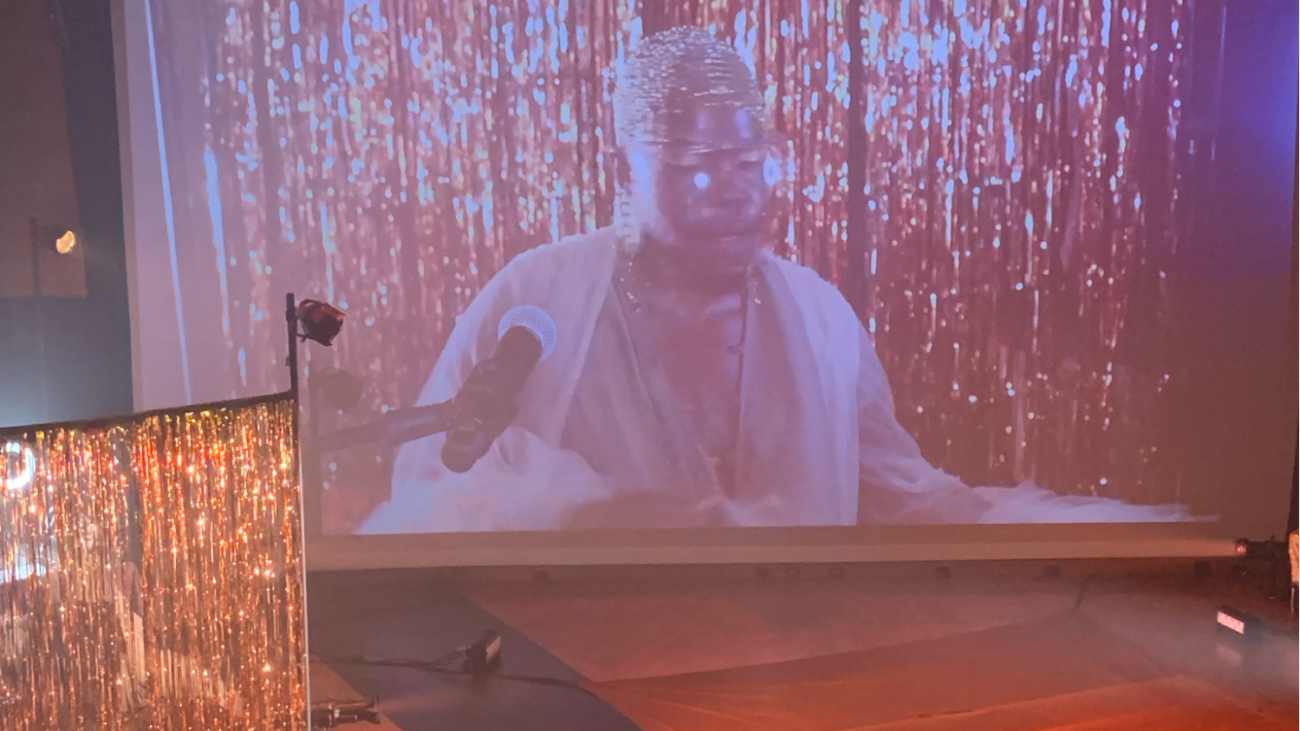 Furthermore, the performance combined visual storytelling, poetry, dancing, and singing. Jaamil took the audience on a journey through the past and present. The artist expressed his dark thoughts and difficult relationship between himself in regards to sexuality, being fearful and with his family.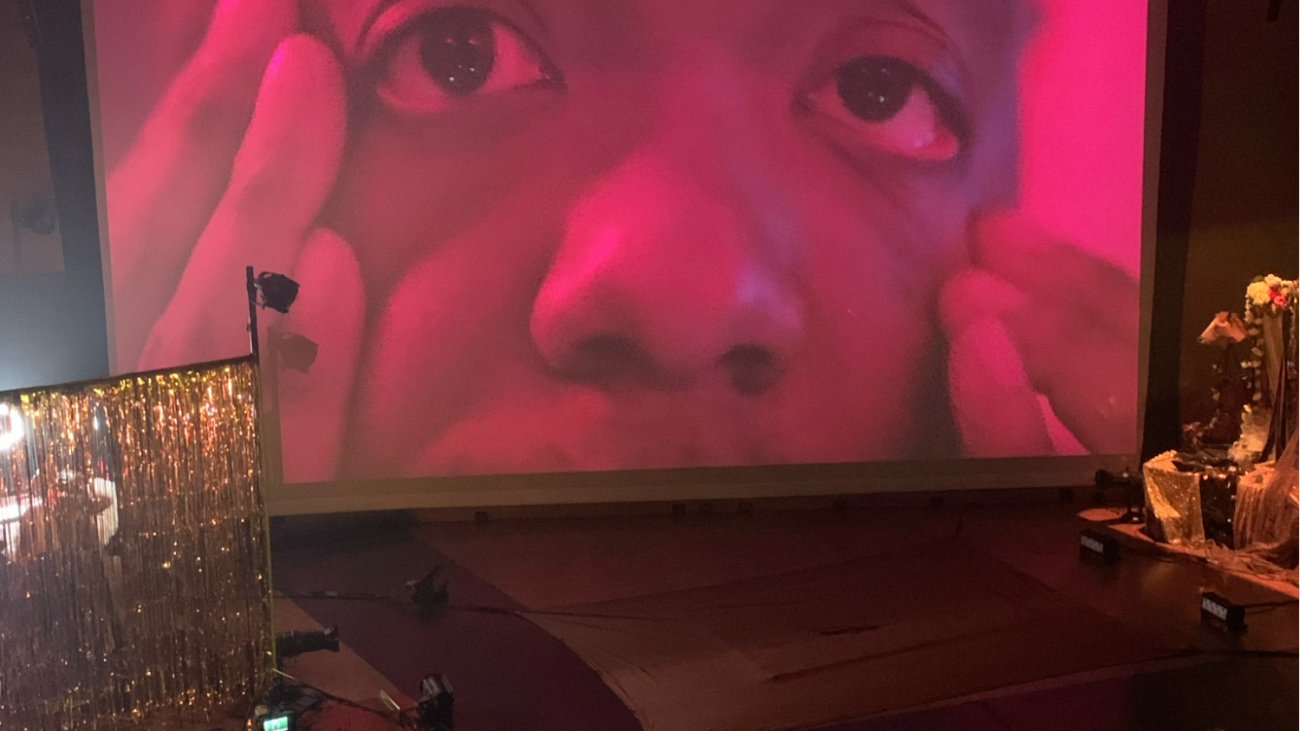 While I was witnessing this profound performance, a couple of things struck a chord with me. First, the poems he narrated resonated with me because the words spoke volume about black boy joy, being feminine and mascline, as well as being restricted and breaking free. Secondly, the visual storytelling was beautiful, creating the short clips that captured black essence, as well as the struggles he faced within himself and others. Additionally the dance performance. In between the reading of poems and showcasing the visual storytelling, Jaamil began to use his body as a vessel. In one instance, there was a brown cloth on the ground, he began to wiggle his way under the tight stretch cloth, seeing as if he was suffocating. Metaphorically, suffocating because he wasn't true to himself and others, feeling trapped inside. As he continued to maneuver under the cloth, he saw a small circle opening to get out of, feeling relieved and free. Once he was free from feeling trapped, he started to create a self sculpture of himself, laying down with his old clothing. Signifying a new beginning.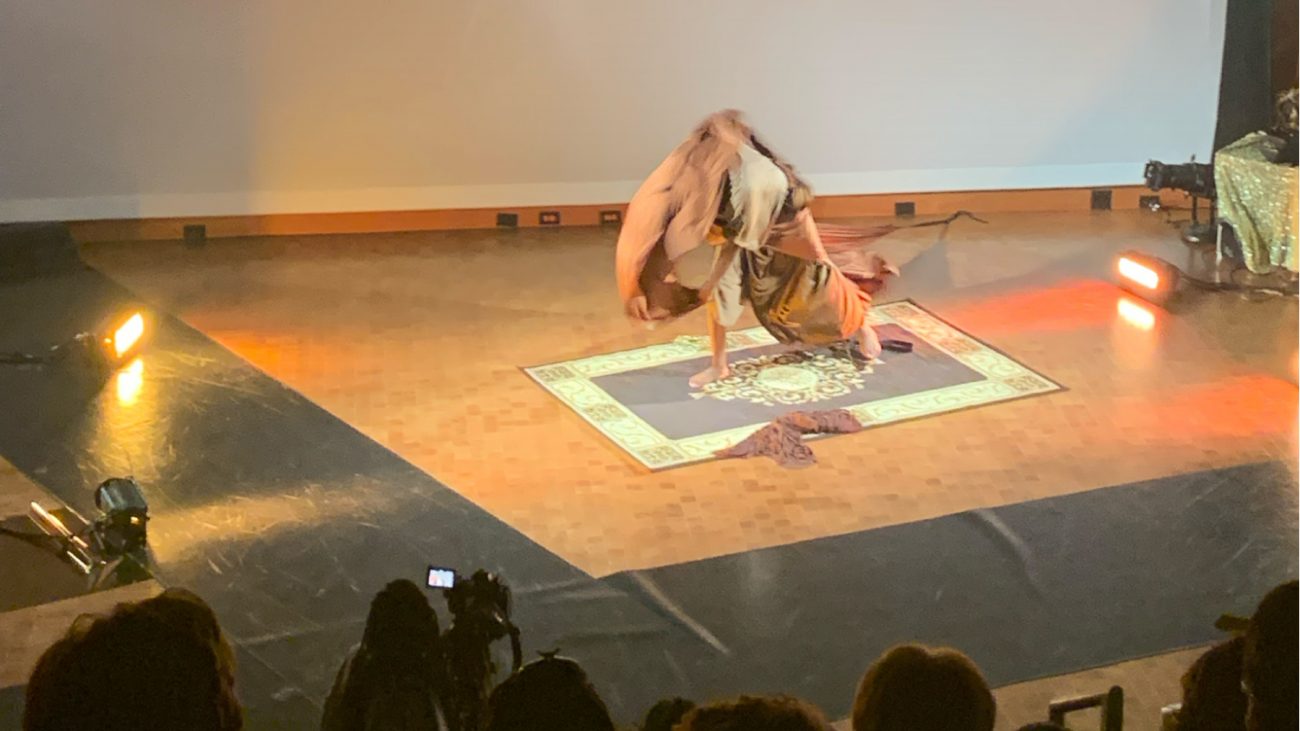 Black Body Amnesia left me feeling renewed, freshed, and relieved, as Jaamil intended it to be. The performance signified the emotions of feeling trapped, channeling feminine and mascline energy, death, having a new beginning, and finding yourself as a black person in this world.
Graphic by: Maddie Scharf