Written by MiJin Cho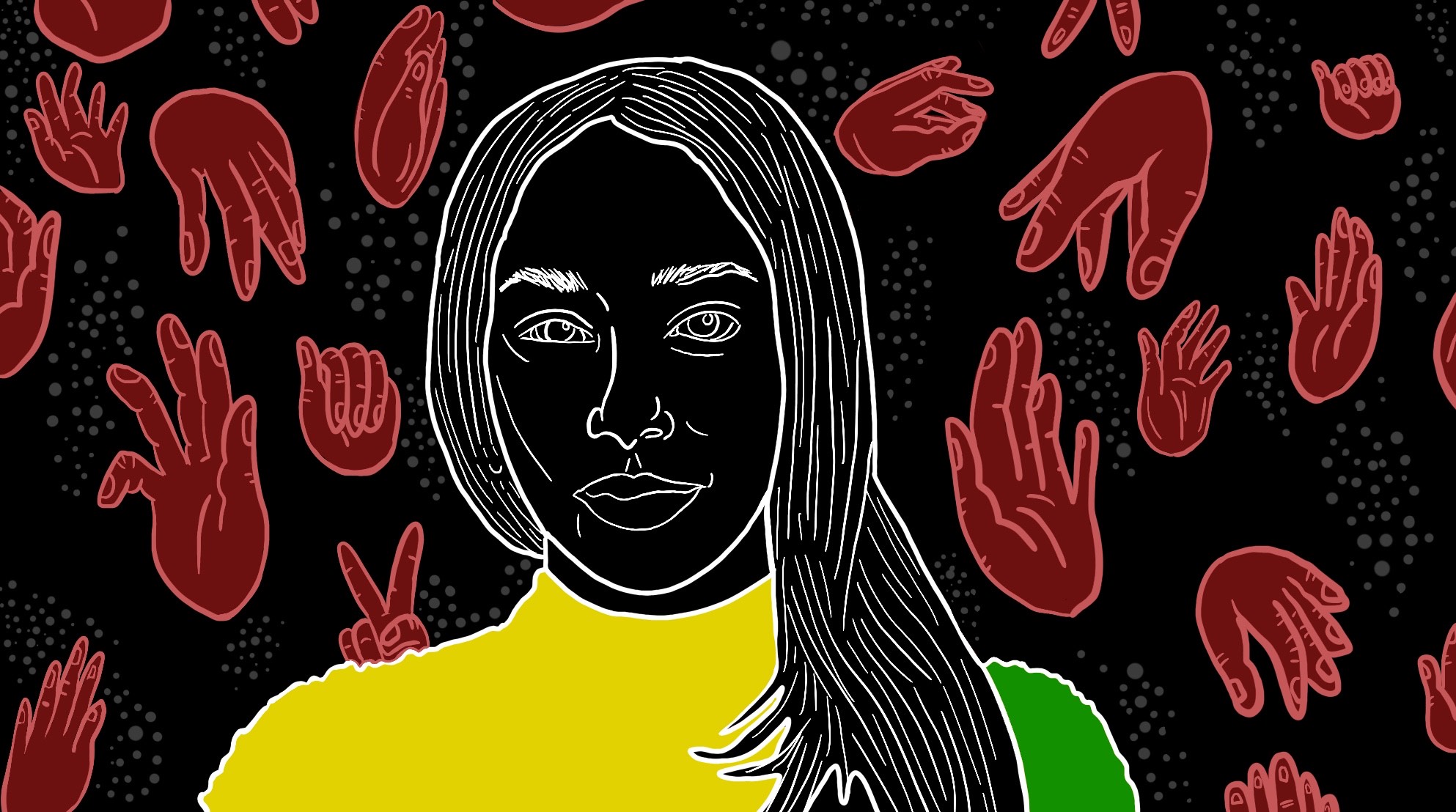 Graphic by: Emily Woodard
Divulging into a struggle for reaffirming identity and cultural adversities, Safiya Sinclair explores the brutality and depth surrounding postcolonial culture and Jamaican-American heritage through her 2016 debut poetry collection, Cannibal. Winner of both a Whiting Writers Award and Prairie Schooner Book Prize, Sinclair crafts a nuanced identity that reflects racial tensions as a minority, the exile in "othering," and the unspoken plight of womanhood using fierce imagery and intensive lyricism. 
Cannibal's poems are woven through an intricate exhibition of themes, flowing from the water, daughterhood, family dynamics, savagery, and studentry. Appearances of biblical allusions thread the pieces together in a coherent voice that conjures the resilience from gender and racial alienation. In creating a dialogue for the people of the West Indies and the Caribbean, Sinclair inquires about the linkage of savagery and cultural connotations, stated in "Hands": 
but out here the salt depths refuse tragedy.
this hand-me-down life burns sufficiently tragic— 
here what was cannibal masters the colonial
curse, carbed our own language of the macabre, 
sucking on the thumb of our own disparity. Holding 
her spliff in the wind, she probes and squalls. 
In pursuing an uninhibited exploration, Sinclair displays intention in her bond with Jamaica, an inherited agent that often pilots her navigation in self-exploration. The perplex and colonial-remnant history of Jamaica presents an intangible bondage with servileness. Sinclair, as a Jamaican poet, breaks the chain in using Western language; she takes apart and structures English on her own terms and relinquishes it from a linguistic exile, which she refers to as the "language of the colonist" in a 2016 Interview with Kenyon Review. 
"I wanted to explore the nature of this linguistic exile by breaking the language and the structure of the poem in different ways than I normally do, by forcing the grammar and syntax beyond what is 'correct', while also exploring the nature of this fragmentation. It's still a struggle to excuse myself from the tyranny of 'precise' linguistics, but as a poet, I'm finding it increasingly more interesting to do so," Sinclair said. 
In revising the use of English, Sinclair embodies a multiplicity of voices, in which the narrator takes on the language of an opposing side—the oppressor—while creating fragments of other perspectives, including the people who are oppressed. This technique is revered in other pieces by Sinclair, including "In Memoriam", "One Hundred Amazing Facts About the Negro: With Complete Proof  II", and "A Bell, Still Unrung". 
Sinclair maneuvers motifs of bruteness and strength, and confronts the long-yielding echoes of ancestral protests. She manifests her own history into living works of empathy, embedding questions that direct the readers to investigate societal ostracization. In catalyzing her own internal rebellion, she ends Cannibal with the verses:
Scorn, one golliwog-bone knots the black 
mock of me, naked and denouncing 
us artless. 
Vexed skinfolk. Unfossiled, hence.
What a brittle world is a man.
Self-inflammable, I abjure you.
And wear your gabble like a diadem, 
this flecked crown of dictions, 
this bioluminescence. 
Predator coiled eager at the edge
of these maps.
Master, Dare I 
    unjungle it?