By Mary Alice Patsalosavvis
Photos by Celeste Fuentes
Sitting cross-legged in a dimly lit room with a grilled cheese sandwich in hand, I can't help but feel a tinge of nostalgia for story times of long ago. It's not an unprecedented feeling, for it's exactly what the scene looks like– the only difference is that it's 15 or so college-aged young adults sitting in a crowd around the poets, music makers and comedians as they weave their tales, connecting with the audience and sharing a piece of themselves.
The scene to which I'm describing is the open mic that took place in Oregon Hill last Friday night, hosted by Michelle Chen, who not only curated the event, but also performed on bass with their band, Crushing Boxes. It was Crushing Boxes' debut, in which they covered popular bands like The Cure and Cage the Elephant. Although the group members have been casually jamming together for quite a while, it wasn't until just three weeks ago that they officially formed a band and started rehearsing. As of now, they're finding their sound by performing covers, but there are plans in the future for creating music pertaining to the experiences of immigrants in light of the recent political climate. This is something that Michelle appreciates about their band mates, all of them being like-minded and sharing a similar passion for music.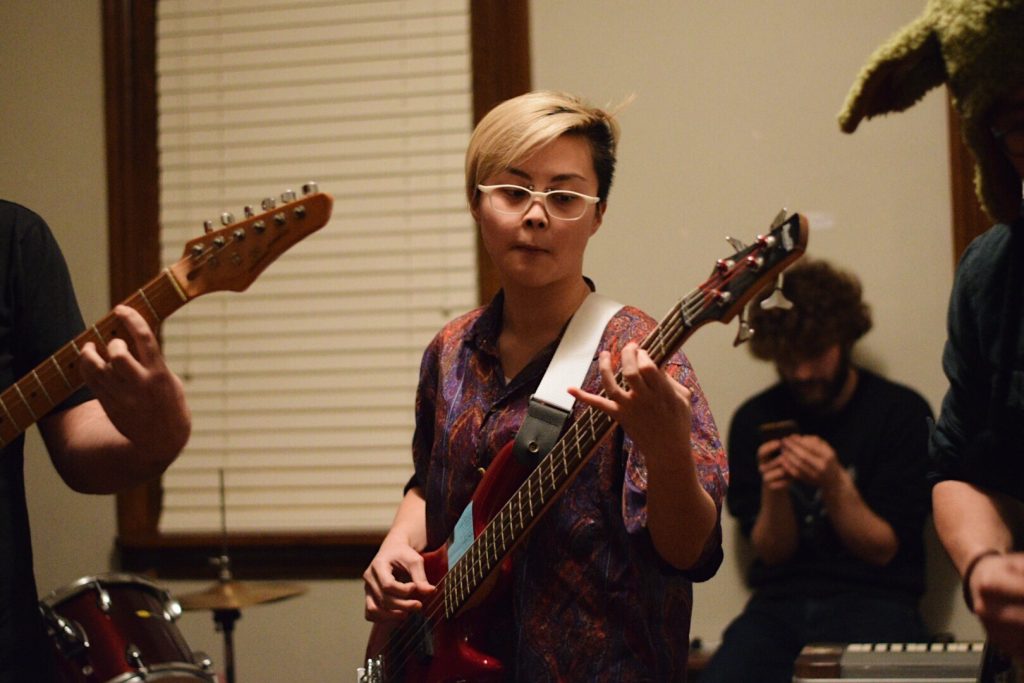 The purpose of the event was to raise money to rent an appropriate space for the seniors in the kinetic imaging program at VCU's senior show.
"The senior shows in the past have been shown in an exhibit where all the installations are put into one brightly lit room, when they should have their own room so the pieces don't distract from each other and the diversity of each person's works can be acknowledged without dominating over one another," Michelle said. "Also, single channel videos are usually put on a reel, which make it harder to view specific works and also lessens the viewing time for people. So we're trying to raise money to rent a space in order to not have to share one screen and to have a space that's dedicated to installations."
Michelle's performance piece is going to consist of an integration of slam poetry and bass guitar, with their experience of immigrating from Taiwan during childhood serving as the main theme. By speaking with Michelle, I can tell that this is something they are extremely passionate about. This is the first house show that they have ever hosted– a collaborative group effort, made possible with help from the other seniors in the program; from making grilled cheese sandwiches for guests to munch on, to offering their time and input.
For those who are interested in donating to the VCU kinetic imaging seniors in funding an appropriate space to rent for their senior project, you can go to: