Everything Everywhere All At Once
Directed by Dan Kwan & Daniel Scheinert | Action, Adventure, Comedy, Fantasy, Sci-Fi | R | 2h 20m
I have always loved a good family drama, but the director duo Dan Kwan and Daniel Scheinert have created an insanely fantastical take on these broken dynamics in their new film Everything Everywhere All At Once, which was released in the U.S. on March 30th, 2022. The duo finds a way to encompass the fragility, rigidity, and complex nature of human emotion through a conversation of the multiverse. In between the elements of seriousness, both in their natural and sci-fi environments, the film begs its audience to laugh, cry, scream, and even go through the motions of an existential crisis. This film has its ridiculously crude moments that might confuse your grandparents a little, but at its heart Everything Everywhere All At Once encourages everyone to practice understanding, kindness, and appreciation, because nothing matters, so embrace the chaos and make the most of every moment.
The film follows Evelyn Wang (Michelle Yeoh), a Chinese-American immigrant who left her family in China after disapproval from her father (James Hong) to build a new life and family with her teenage love and husband Waymond (Ke Huy Quan). Working hard to make ends meet in America, the couple runs a laundromat somewhere in the U.S. and raised their daughter Joy (Stephanie Hsu) in their home. When we enter the film, Joy, now in her twenties, has trouble communicating with Evelyn about her sexuality– as her mother is not particularly fond of Joy being in a relationship with a woman. As a result of their emotional and relational disconnect, the two butt-heads often, causing a lot of depression and self-esteem issues for Joy. For Evelyn, it is just another issue on her list of a million things to do and figure out.
Things take a turn during the family's visit to the local Internal Revenue Services office when Waymond is overtaken by a version of himself from another universe who warns Evelyn of the great danger of Jobu Tupaki, a being who is hell-bent on destroying all universes just to find the "right" Evelyn Wang. This scene is followed by the introduction of Dierdre (Jamie Lee Curtis), the IRS official they conduct their appointments with, who is looking to violently murder Evelyn as a minion of Jobu Tupaki in another universe. Evelyn's difficulty differentiating her state of being brings accidental conflict, leading to a huge fight scene where actor Ke Huy Quan channels his years of being a stunt choreographer to fight a group of security guards with martial arts and a fanny pack as Waymond. Yet, even through the violence and confusion of everything happening around Evelyn as she grapples with the idea of being between multiple universes, deep in her heart she cannot let go of the realization that her Waymond wants to initiate divorce – a product of their relationship losing its affection and appreciation over time. As the two continue to fight against multiple minions they channel the skills of different versions of themselves from different universes, Evelyn soon comes face-to-face with Jobu Tupaki and the reveal is… I hope you will treat yourself to see.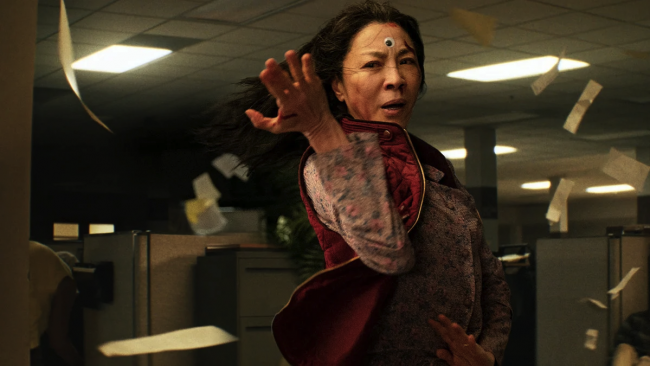 This film somehow incorporates sex toys, talking inanimate objects, mind-controlling raccoons, hotdog fingers, and piano-playing toes into its plot while still finding a way to beautifully narrate the story of a family in turmoil. It shows the joys, heartbreaks, and ridiculousness of love and being a human being on Earth. I watched this film three times. The first time, while high with a friend. The second time, with my partner, and the third time with my entire family. Every single time, I found myself fully immersed in this world of infinite universes that the Daniels duo created and always left the theater with an open mind and a swelled heart. Though it is a fast-paced film with a million metaphors and perfectly-delivered crude jokes, adults of every age and background can find themselves in love with the chaos within Everything Everywhere All At Once.
Everything Everywhere All At Once
is showing at Movieland, CMX CinéBistro, and local Regal and AMC theaters.