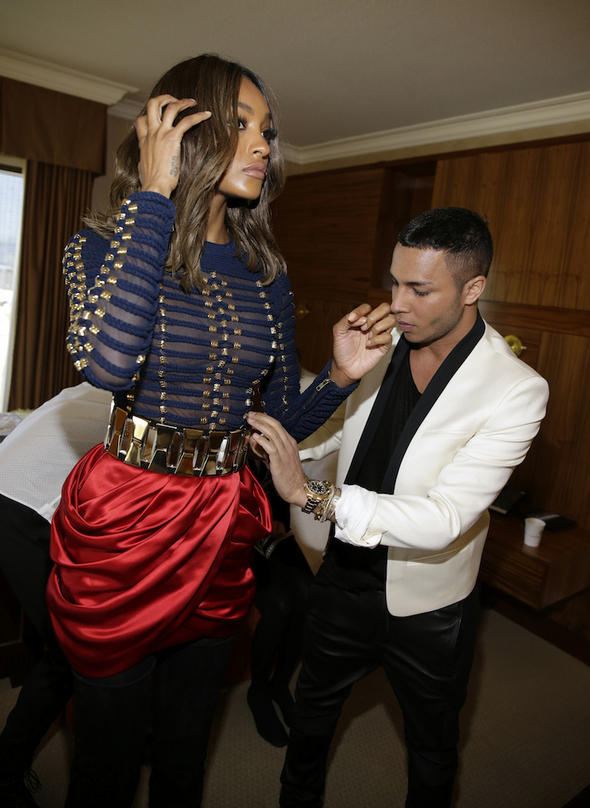 This week's Fashion Crush Friday is a storied design house known for being bright, bold, and beautiful: welcome to the world of Balmain. Now is as good a time as any to discuss the esteemed French brand as they are slated to release a full range of clothing, accessories, and footwear with H&M on November 5; the collaboration was announced via a red carpet appearance by supermodels Jourdan Dunn and Kendall Jenner at the 2015 Billboard Music Awards. To better appreciate the collaboration, let's take a quick trip down memory lane.
Pierre Balmain founded his namesake label in 1945. He originally studied to be an architect, but quickly found his calling in fashion after working for a prominent French couturier.  Along with designers Christian Dior and Jacques Fath, Balmain is seen as a core designer in popularizing the New Look for women after World War II; this ultra feminine silhouette favored a nipped waist and voluminous skirt.  Old Hollywood celebrities including Audrey Hepburn and Sophia Loren eagerly embraced Balmain's luxurious cocktail and evening dresses.  The brand was led by a slew of prominent designers after Pierre Balmain's death in 1982; the most notable of these being the late Oscar de la Renta. Today,  Balmain continues to thrive by successfully incorporating their rich legacy with a distinctive appreciation for the lifestyle of the modern day woman.
Pronunciation:  bal-MAH-n
Current Creative Director: Olivier Rousteing; the 29 year old became the head of design in 2011 after having previously worked for Roberto Cavalli.
 Design Aesthetic: Utterly bold and feminine with a strong emphasis on craftsmanship, luxurious fabrics, and intricate embroidered details.
 Signature Items: Tailored women's suits, sexy evening dresses, chunky belts.
Balmain is the uniform for cool, confident men and women. And for those of us that can't afford the thousand dollar price tag that their couture and ready-to-wear collections incur, their H&M collab will allow us all the "ball" on a budget.
– Britnie Dates, Junior Fashion Editor
---