Cierra Artis, Creative Director
New York Fashion Week is here once again to give us a peek of what cool, classic, and controversial trends are coming our way in the Spring of 2016. Many of us are watching the runways intently, gawking at designs from our familiar favorites such as Givenchy, Alexander Wang, Tommy Hilfiger and Diane Von Furstenberg. However, quite a few not-so-household names are making an impact at NYFW this season with their great designs and great design consciousness. Sustainability is trending just as much as the 1970's this season, with haute couture and ready-to-wear lines alike advocating for renewable, ethically sourced materials and production. Despite being a young label, SUNO is a major player in the sustainability game. Headed by Max Osterweis, SUNO aims to be a high-end collection with a cultural and environmental conscience. Osterweis first thought of beginning his own collection after witnessing post-election violence in Kenya. He gathered a number of Kenyan Kangas, a brilliantly colored type of cotton wrap garment, often worn by Kenyan women. He took the fabric to his new collaborator, Erin Beatty; a Parsons graduate and former designer for The Gap and Generra.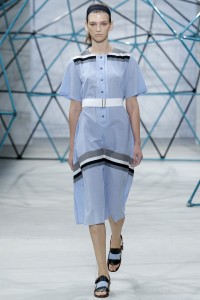 Since developing it's early inspirational roots in Africa, SUNO has expanded production to Kenya, India, Peru, and a headquarters in New York. Instances of cultural appropriation in recent fashion trends have been the subject of scrutiny as they've been endorsed by a number of celebrities and designers without recognition of their original cultural context.  SUNO prides itself on being a fair trade line that utilizes the unique talents and cultural influences from each country it works with to create artfully crafted and optimistic pieces full of fresh textures, patterns and embroideries for the modern and conscious woman.
Since it's inception in 2008, SUNO has garnered massive attention and an impressive number of accolades such as being a 2011 and 2012 finalist in the Vogue/CFDA Fashion Fund,  a 2012 Nominee and 2013 Winner of the CFDA's Swarovski Award for Womenswear.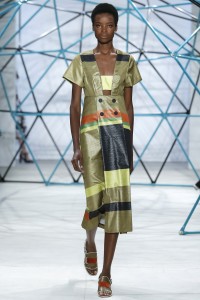 Pronunciation: Soo-NOH
Began: 2008, following founder Max Osterweis's trip to Kenya.
Known For: Masterfully crafted and culturally conscious pieces with recognition of unique aesthetic influences from each country in which pieces are produced.
Influences: Suno's Spring 2016 collection showcases their signature take on fashion with its bold, richly patterned pieces. However, this collection is refreshingly versatile in it's usage of neutral and understated colors, subtly structured and silhouettes, and whimsical detailing.