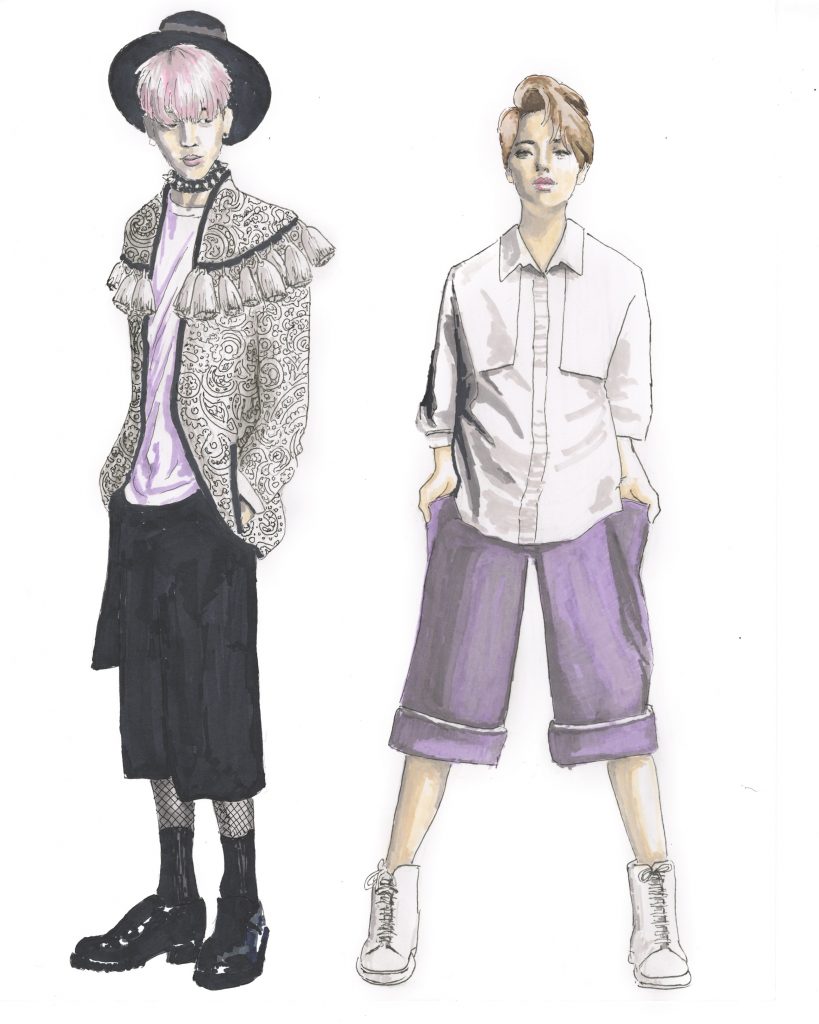 By Shelby Herndon
"Why would you listen to music that you can't even understand?" is probably the most common phrase I hear when I mention kpop music. Some people simply do not know what it is or do not like the music. Regardless of how you feel about it, kpop and it's influence in the world has been growing steadily, especially within the realm of fashion.
Currently, there are few capitals in the world that rival the beauty industry present in Seoul. This city is the premiere destination, especially within Asia, for the best beauty products. The culture in South Korea revolves around beauty and makeup while plastic surgery is increasingly popular and common. These beauty expectations are carried through to kpop stars or "idols" who remain at the forefront of all the latest fashion and beauty trends. This concept is not unfamiliar to the US as it is simply celebrity idolatry.
In 2012, Time magazine said that kpop is South Korea's greatest influence. In 2012 the scope of kpop grew drastically in Europe and the Americas when Psy released his own phenomenon, Gangnam Style, that set the world ablaze. Whether or not the rest of the world knew it, with that video, they were obsessed with kpop.
Kpop stars are used heavily in advertising campaigns and frequently dress in specific designer clothes. South Korea has become a contrast to American beauty standards as many Youtubers and fashion bloggers often compare the two distinct styles. This is especially interesting to observe as South Korea frequently leads the way for many Asian trends. And their style is so distinctive that it seems as though for all of the U.S. influence present in the rest of the world, South Korea still stands apart.
The internet popularity of kfashion has grown with the online shopping craze. Many cheap websites that offer unique clothing are Asian websites. Many websites, such as Yesstyle, even have tabs within their website dedicated to Korean fashion. They will literally direct you to clothing that is from South Korea because of its desirability.
But kpop has sunk it's teeth into high fashion as well. Often, kpop idols are found sitting in the front rows of several fashion shows. Kpop star, G-Dragon provided the soundtrack for the entire Thierry Mugler FW 2013/2014 menswear show. Karl Lagerfeld held his Chanel 2015/2016 Resort show in Seoul stating that, "Asia is the future" and that South Koreans, "live very much in the present."
What does make kpop fashion so attractive and current? As a lot of kpop groups are pressured to compete with every other group for popularity, they use their wardrobe to attract attention and make a big statement. Kpop videos are characterized by their bright colors and wacky fashion choices. However, this fashion also makes a statement on more experimental choices in the world. In this way, not only do they progress fashion by using different silhouettes and trends, they also do away with norms. Boy groups wear bright and often feminine colors and are unafraid to don fuzzy, oversized sweaters, sparkly embellishments, or even crop tops. In the same way, many girl groups utilize a flirtier overall appearance, the femme fatale motif, and female empowerment as a center point of their music videos. One famous example is Amber of girl group, F(x), who has never conformed to the girly appearance of her band mates. She is a kpop icon of tomboy confidence for all of her fans.
Kpop is still on the rise and beginning to perform and sell out concerts across the globe as their influence grows. If ever you want to determine upcoming trends, look to South Korea because it is only a matter of time before everyone here in the U.S. catches on.