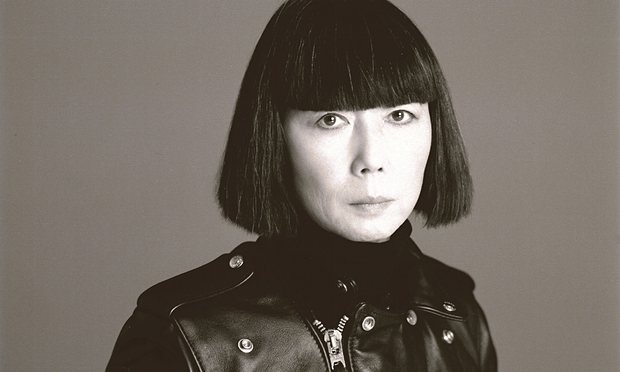 By Allison Oberlin
On May 1st the Metropolitan Museum of Art will unveil its latest Costume and Textiles exhibit with Rei Kawakubo as the focus. This will be the second time the museum will cover a living designer, the other being Yves Saint Laurent.  Both Kawakubo and Laurent a known for a lifetime's worth of success and an ethos that was relevant for the time. Kawakubo is perhaps one of the most compelling designers of today, with a voice and vision all her own that is followed with cultish rigor. Her label Comme des Garçons redefines preconceptions of beauty, highly influencing the tastes of consumers. She also has developed a series of stores called Dover Street Market in London, New York, Beijing and Tokyo, which are equal parts retail shop and gallery space. Business of Fashion says that despite Kawakubo's eclectic aesthetic, Comme des Garçons remains profitable, earning over $250 million per year.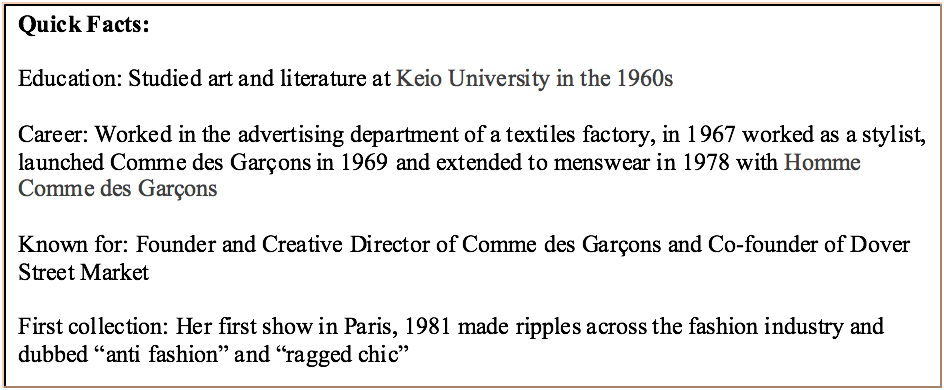 Being the curator of change meets with some opposition, and there are many who misunderstand the meaning behind Rei Kawakubo's work. Her first show featured work with asymmetry, black, shredded fabric and layered kits. When placed alongside the jewel tones and bright shoulder pads of the 80s, consumers were shocked. According to an interview with Jacques Hyzagi at The Guardian, audiences interpreted her collection titled Ceremony of Separation as the "displacement of war-torn peoples" when in reality it was about a sense of loss of a dear loved one.  Even to this day, many reporters compare her work to historical events and icons within various Asian cultures. However Kawakubo says that her birthplace, Japan has little influence on her work, rather her work is influenced by what she is feeling at the time. For example, her recent Spring Summer Menswear 2016 show, she based on the importance of tailoring in menswear. Kawakubo noticed that menswear has been leaning more heavily toward streetwear and is becoming more influenced by athletic apparel.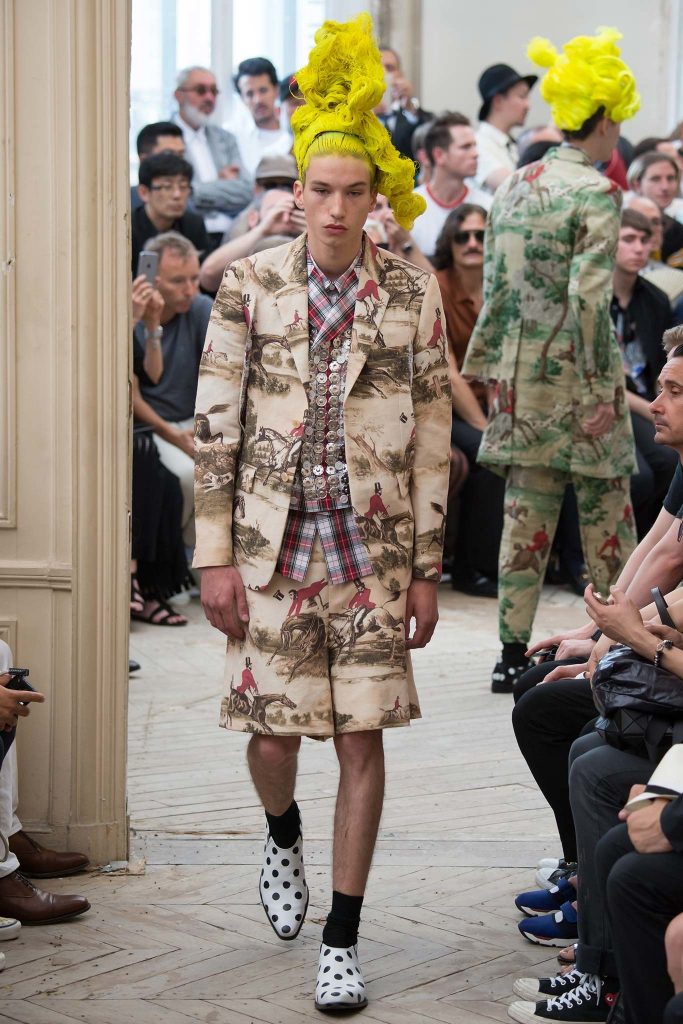 Throughout the years Rei Kawakubo has proven herself a fierce competitor and an inspiration to consumers and industry member alike. Karl Lagerfeld, Nicolas Ghesquière, Martin Margiela, Ann Demeulemeester, and Helmut Lang all cite her an inspiration. Marc Jacobs admires her clothing because its purpose is not to impress or attract other people, more to make yourself happy. In an interview with Jacques Hyzagi at The Guardian, Marc Jacobs said on a gloriously cheesy note, "It feels like a gift you're giving yourself".
Like many designers, Kawakubo created Comme Des Garçones out of necessity, because when entering the workforce she couldn't find anything she wanted to wear. To this day the highly elusive designer creates clothing that evokes confidence. Her style may not be for you, but don't worry because with 230 stores outside Japan, three flagships in New York, Paris and Tokyo, 17 unique brands under her label and four Dover Street Market locations, she will be just fine.
The Metropolitan Museum of Art's Costume and Textiles exhibition will be open to the public from May 4th – September 4th.