By Caroline Jenkins
I bought my first pair of mom jeans sophomore year of high school; still in that awkward stage of stepping into who I am, I was scared of what my peers would think. I was just starting to get into fashion, so buying looser fitting jeans, to me, was a big deal. I can still remember being looked up and down, my baggier pants contrasting greatly with the American Eagle skin-tight skinny jeans everyone else wore — the less you could breathe the better. 
In a way, those jeans encouraged me to step outside my comfort zone, which now seems silly considering everyone wears all different types of denim. Looking around today, you can't go anywhere without seeing a pair of mom jeans. They say fashion is cyclical, if that's so, what were the origins of mom jeans, and how did they come back in style after the 90210 '80s era? What makes the classic high waist, straight leg jean so popular for millennials? And why is there such a negative connotation surrounding them?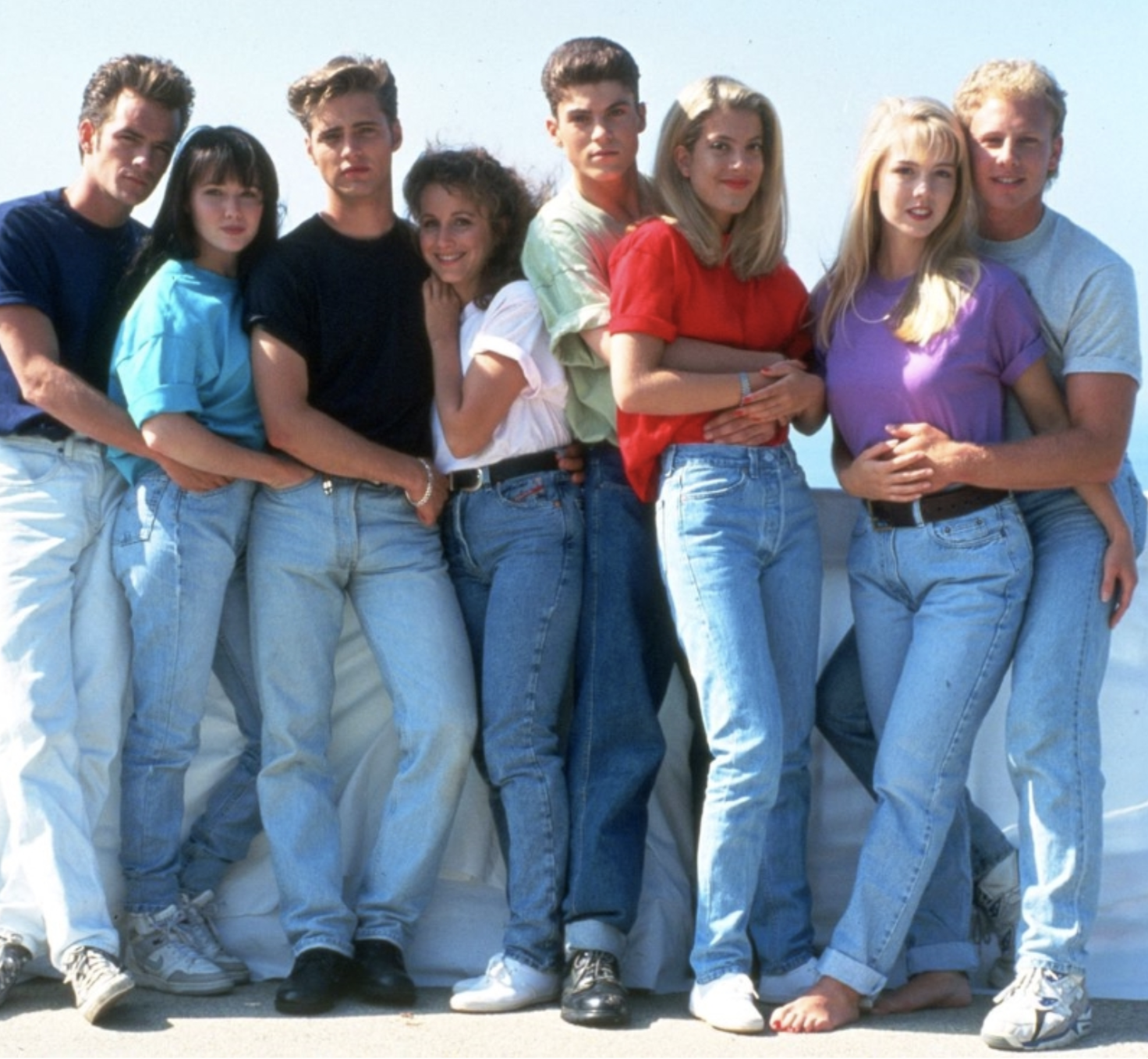 We can't talk about jeans without mentioning Levi's 501. First produced in 1873, it was made famous by people like Kurt Cobain with his grunge pairings of converse and cardigans. These classic jeans feature an ultra high-waist and straight leg cut, universally appealing to the worldwide market and customers of all shapes and sizes. Levi's has been one of the most successful companies producing jeans since the '70s, including the infamous mom jeans that have since resurged in the latter half of the 2000s.
According to The Atlantic, a Saturday Night Live sketch first coined the phrase "mom jeans", associating them with the dowdiness of an "uncool mom". "In the 2003 sketch, a fake commercial voiceover describes a 'nine-inch zipper' and says the pants are 'cut generously, to fit a mom's body.' The pants, the voiceover adds, are a garment that says, 'I'm not a woman anymore. I'm a mom.'" Contrasting with what was popular at the time, mom jeans were seen to go against the grain, fiercely opposite of what was trendy and viewed as pants "only a mom would wear". Skin-tight low rise pants were the norm; girls bought skinny jeans to fit in with their peers show off their body and sexuality. 

Britney Spears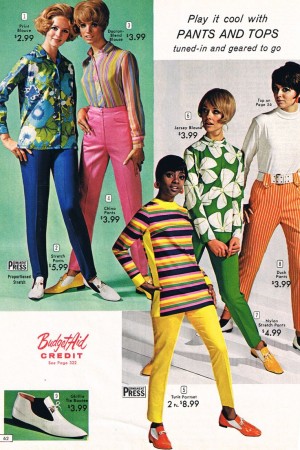 1960s pants ad featuring straight-leg jeans
"Mom jeans" were first introduced in the '60s, where women began buying straight-leg pants to look more "twig-esque", typically coming in bright colorways and bold styles. In the '70s, high waisted jeans with a flared bottom were increasingly popular. By the '80s and '90s, mom jeans were featured in shows such as Friends, Seinfeld, and 90210, each character sporting this new style of high waisted denim with a looser fit, typically paired with a crop-top or button-down. Both men and women were shown wearing this style of pants, normalizing looser fitting denim and establishing the style as unisex.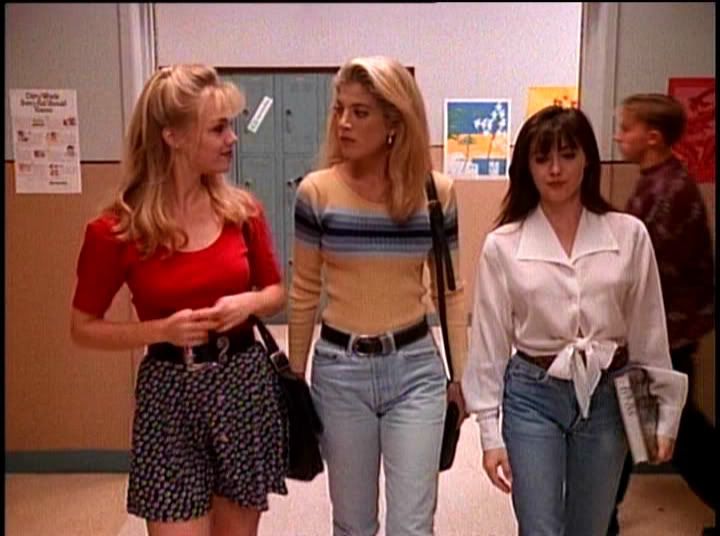 90210

Friends
cast

Seinfeld
circa 1990

1960s Wrangler ad
Thanks to modern feminist thinking, many women today prioritize dressing for themselves and their own comfort. The mom jean has arisen as a modest, flattering, and versatile piece. In this way, the "mom" style was reinvented for a practical and youthful consumer, no longer carrying with it the frumpy and dowdy characteristics associated with it back in 2003.  
Brands such as Levi's, Wrangler, Lee, Gitano, Jordache, Carhartt, and Calvin Klein have become increasingly popular, not only with their new styles but vintage denim. Among many women today, shopping for jeans in department stores has been replaced by searching for second-hand styles at thrift shops. Scouring the racks for a pre-loved pair of jeans has become fun, and actually finding a pair that fit became a new type of sport: the vintage lovers pastime. 
With this transformation of denim, the negative connotation of mom jeans has been replaced with a newfound sense of who a woman dresses for. Now, androgynous styles and baggier, less form-fitting styles are popular, proving a woman never has to dress traditionally "sexy" to feel good about herself. 

Obama sporting straight-leg Levi's circa 2012