Quirk Gallery, located on 311 W Broad Street, features exhibitions of innovative work by both established and emerging artists. The Quirk shop offers thoughtfully selected inventory of unique, practical and decorative items. I spoke to Adam Dorland, the shop manager and Mary Fleming, the gallery director about Quirk and what it has to offer. Check out www.quirkgallery.com!
Ink Magazine (IM): Tell me a little bit about Quirk Gallery.
Mary & Adam: Quirk Gallery opened in 2006. With three exhibition spaces, Quirk is able to feature new artwork from local and national artists each month. Quirk has always had a strong focus on craft, especially jewelry. With our Quirk Represents collection, we're able to showcase one-of-a-kind art jewelry made by some of the world's greatest contemporary metalsmiths. One of Quirk's most popular attractions is the gallery's thoughtfully curated shop which is filled with unique gift items.
IM: When did you get involved with Quirk Gallery? What led you to pursue a career in the art gallery world?  
Mary: I started working with Quirk in 2011 while I was still a student at VCU. When I moved to Richmond, I made a point to visit Quirk often. The Vault has always been my favorite exhibition space in town and with a background in craft I loved that I could check out the art jewelry in Quirk Represents.
Adam: I started working with Quirk in 2010, just helping with the new installations each month. One of the first shows I helped out with was the Sparkle Plenty exhibit that year and I loved it. I had been working as a scenic artist in theatre for a while before that. I never saw myself making the transition from theatre to fine art but I love the variety of opportunities that my job at Quirk offers.
 IM: The gallery gift shop definitely has a lot to offer. Where do most of your products come from? Are they usually from local artists and/or handmade?
Mary & Adam: Quirk has been a big part of the growth and development of Richmond's Arts & Culture District. There were galleries like 1708 and ADA and restaurants like Comfort who paved the way for a revitalized Broad Street. This downtown area of Richmond is a much different place than it was when Quirk opened its doors eight years ago. Luckily, we're one business among many who are just as passionate about and devoted to the revitalization efforts of Broad Street as we are. It definitely takes a village and Quirk has the best neighbors!
 IM: What kind of art events and other social events do you offer? Do you participate in First Fridays?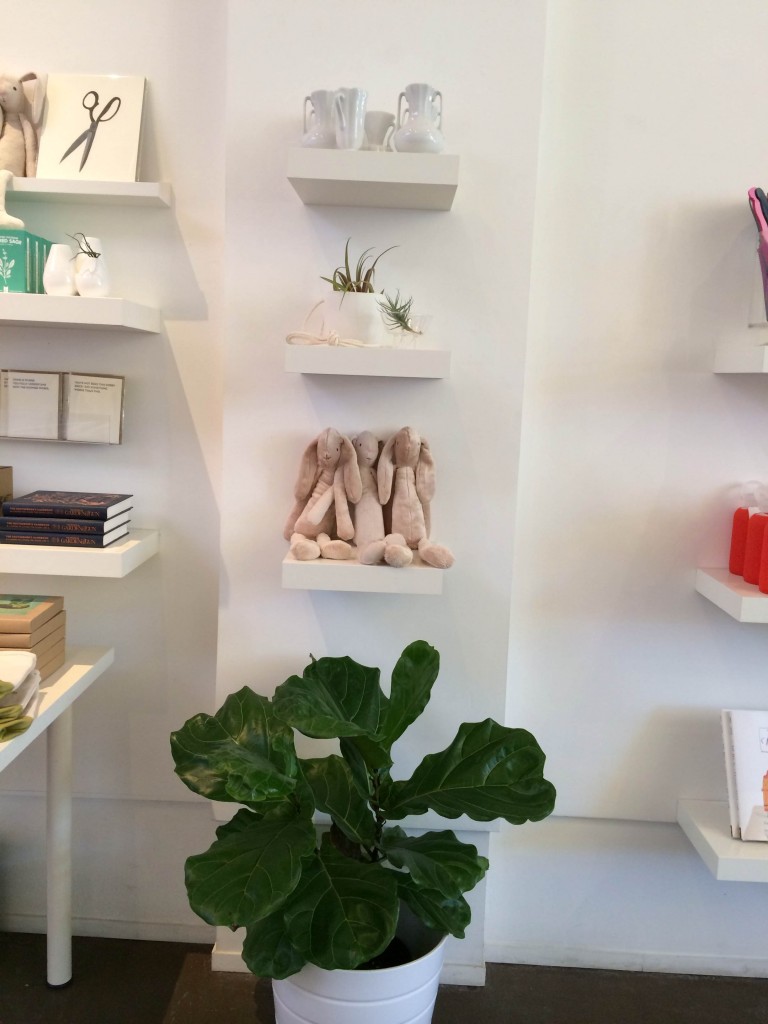 Mary & Adam: We always participate in First Fridays and we typically have opening receptions for the new exhibits the evening prior to First Fridays. We love to host events that attract visitors to this part of town and have participated in neighborhood events like Broad Appetit or our annual Broad Street Block Party. Sometimes we'll put together our own special events like our Guy's Night event in December or like our upcoming Lawn Chair Movies series where we'll show a movie outdoors in the lot adjacent to Quirk every fourth Saturday evening starting this April.
 IM: Tell me about some of the most memorable exhibitions at the gallery over the years.
Mary & Adam: Exhibits that feature local artists like Andras Bality, Chris Milk, Matt Lively, and Aimee Joyaux always get a great response from the community and it's great to be able to share new work with so many. Last year, we had a great time incorporating furniture and vintage housewares into the second month of Kendra Dawn Wadsworth's show. We asked four local dealers to have one of Kendra's paintings inspire a vignette they'd install in front of each of her paintings. It was a great way to show how these larger-scale pieces Kendra had painted would fit into someone's home.
IM: Have you seen Quirk Gallery evolve since you started working there?
Mary & Adam: That's the greatest thing about working at Quirk. It's always evolving. And with new neighbors moving onto Broad Street all the time, we are constantly reaching out to new audiences.
IM: Do you have any favorite, interesting, or special pieces you'd like to tell us about?
Mary: I'm always excited when we get new Quirk Represents jewelry. I love seeing the new pieces these artists create and it's fun to try on these wearable works of art—it's a great way to showcase these pieces, too. I love everything Ashley Buchanan makes and Nikki Couppee is one of the newest additions to Quirk Represents. Her work is so colorful and bright and juicy.
Adam: I love seeing the work that young and emerging artists are making. The Vault space is great for showcasing pieces in a non-traditional setting. Some of my favorite shows from last year were Tyler Thomas' Vault installation, Molly Anne Bishop's ceramics, and Sarah Gossett's paintings.
IM: Where do you see Quirk Gallery going in the next 5 years? 10 years?
Mary & Adam: Quirk is always looking for new ways to grow. We're constantly changing so who knows where the next few years will take us. Hopefully, in five years, we'll have seen major growth on this Broad Street corridor with even more galleries, restaurants, shops, and businesses.
IM: What sets the gallery apart?
Mary & Adam: Quirk has always had a reputation for being a very accessible gallery. Some people are intimidated to visit an art gallery but Quirk is known for being a place that's fun and one that has a sense of humor. We're really proud of that. The shop helps us break those stereotypes and it's a great way to get people in the door. Hopefully, after visiting Quirk, they take advantage of all the great galleries Richmond has to offer.