By Brianna Scott
Photos by High Beams, Boominviisuals, Kadeem Morris and Alex Gwynn
Autumn rages on in Virginia and brings us temperamental weather and a wave of special events. The city of Richmond is known for its rich history, lively local music scene, captivating art, and appetizing food. The community engagement here is strong between various organizations and the locals. Festivals are a great way for all types of people to come together collectively and engage with each other and all that Richmond is known for.
A new festival came to Richmond on Oct. 15 called Manchester Manifestival. Hosted by Brewer's Cafe, the festival lasted from 11 in the morning and to well into the evening. The day was centralized around promoting the growth of the Manchester area with various activities that capitalized upon Richmond's arts, music, and culinary scenes.
Those three categories are not exhaustive of all that took place at the festival. There were a variety of setups at the festival including a medium table, operated by dream interpreter Tia-Marie Brown, where you could test your psychic or intuitive abilities, a chance to practice CPR on training manikins with the Richmond Ambulance Authority, a lego table for children set up by The Richmond Public Library, live yoga, a myriad of vendors, and the kicker—3-dollar beer.
Read more about who and what showed up at the festival below.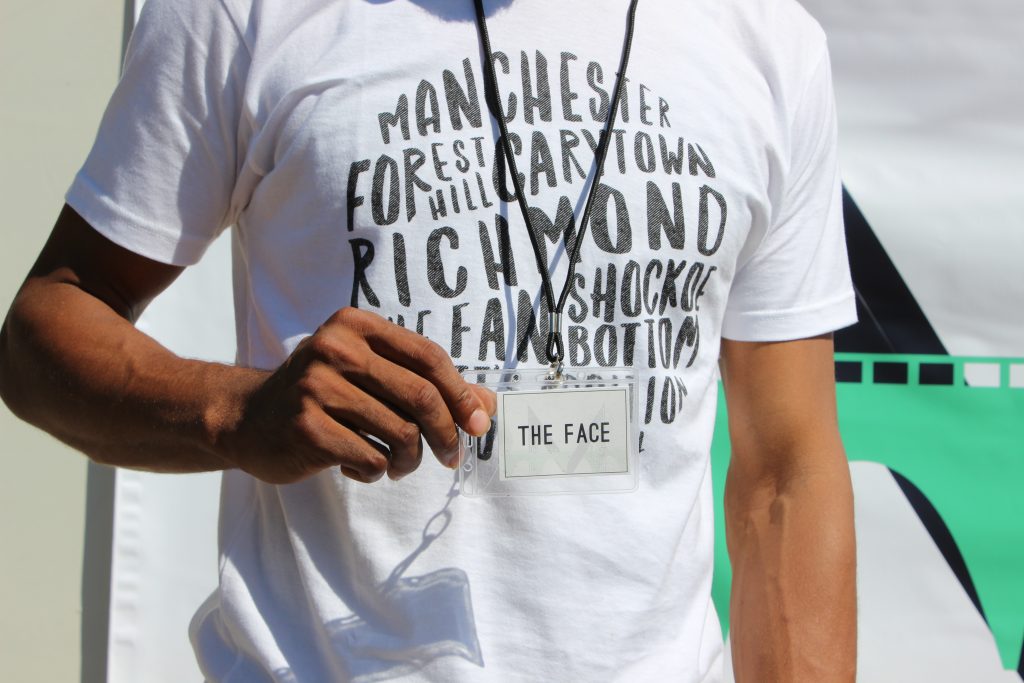 A festival in Richmond is not really a festival if there is not a food truck around. Dank Eats and Henry's Picnic Basket set up at the event and provided good smells with even better food.
Those who have a sweet tooth were in luck the day of the festival because of the multiple dessert set-ups. The classic, nostalgic ice-cream truck was there and plenty of kids went up to it and ordered their favorite cold treats. Sweets and Soirees creator, Raegan Gibson brought her full-service event planning, design and consultation firm, adding more options for any dessert enthusiast. Gibson has been baking since she was around 12-years-old and has now turned her childhood talent into a full-fledged career. Custom cakes, cupcakes, s'mores, brownies, tarts, and other goodies lined her table, as guests passed by and picked up affordable home-baked goodies. Another baker, Teresa Rogers, gave out samples of her sweets at her set-up, Sweets Temptations. Rogers' business ships gift baskets full of treats including lemon bars, fudge brownies, key lime cakes, muffins, and anything else she can bake and fit in the baskets.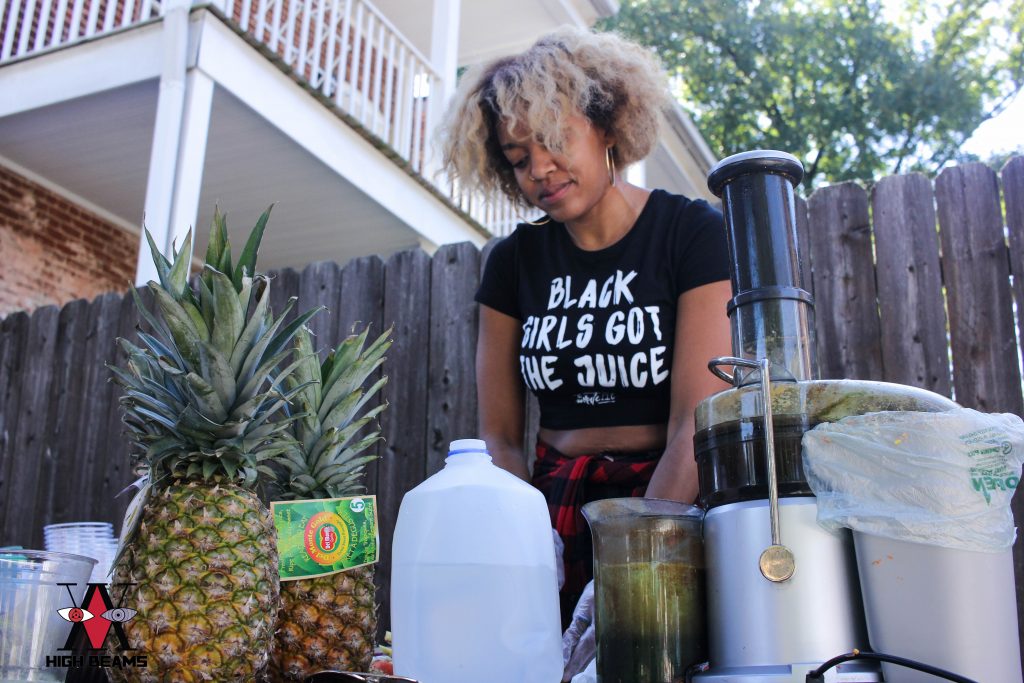 Not dessert based but still sweet, Stephanie Hewlett brought her company Vivid Juice. Hewlett started out making juices for herself, friends, and family, and then turned her passion for healthy living into a business. All of the juices are fresh with herbs, no additives and no sugar, simply sweetened naturally by the fruits and veggies.
Food was not the only thing selling at the festival. GoFade Designs, a company that has only been around for two months, provided the official Manchester Manifest t-shirt. Spoken word artist, motivational speaker, and creator of Triple 7 jewelry, Love B. Speaks, presented her handcrafted, creative, and custom unisex necklaces for sale. Speaks' jewlery made it all the way to New York Fashion Week and she recently published her second book that was also for sale at the festival.
Many artists showed up at Manchester to promote their work and sell their prints and designs. Artists also painted on the wooden boards provided on the field. Kids joined in on the fun and went all out, spraying and throwing paint on the boards.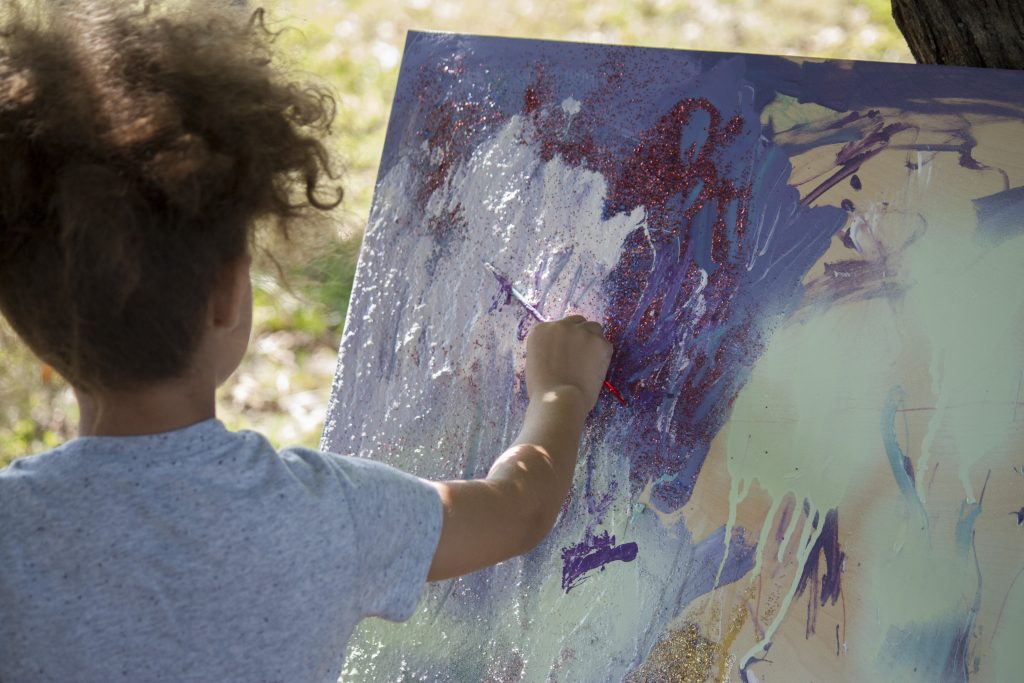 Like father like son, Riley is the son of Xayveon who described himself as a man of many talents. His talents include producing clothing, beats, short films, and documentaries. Xayveon described humans as being robotic and that we need to be creative. He wants his son to be creative and have fun as he grows up. A plethora of creative artists like Xayveon showed up at the festival.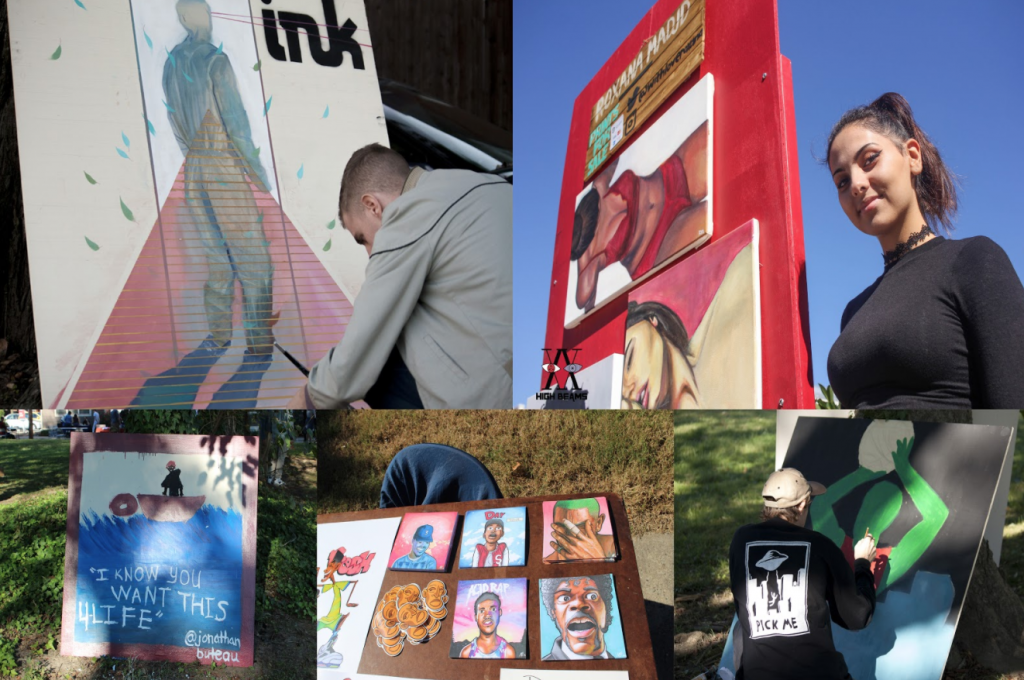 Visual artists Henry Murray and Peculiar Hi [pictured below] collaborated on a sick and beautiful piece at the festival together.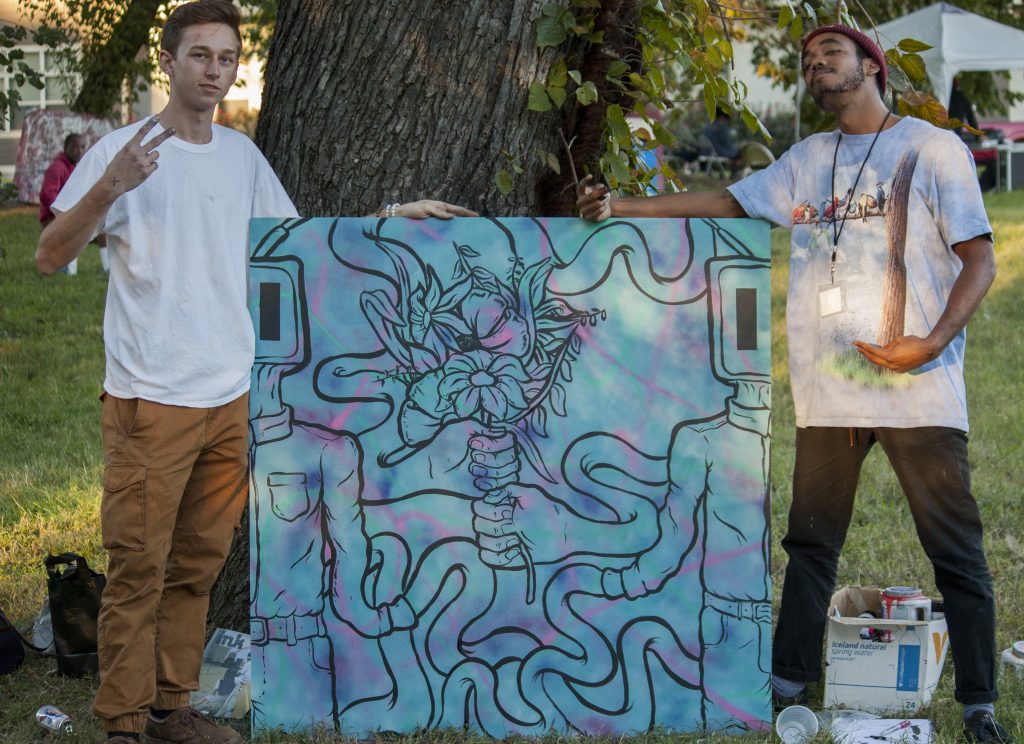 Entertainment acts showed off at the festival as well, including musicians of varying genres such as The Neatles, Classical Revolution RVA, Lamyah, Opal, Chance Fischer, Ramsey and more. Theatre performances by Untold RVA, Dogtown Dance Theater, RVA Coalition Theater and others also hit the stage that day.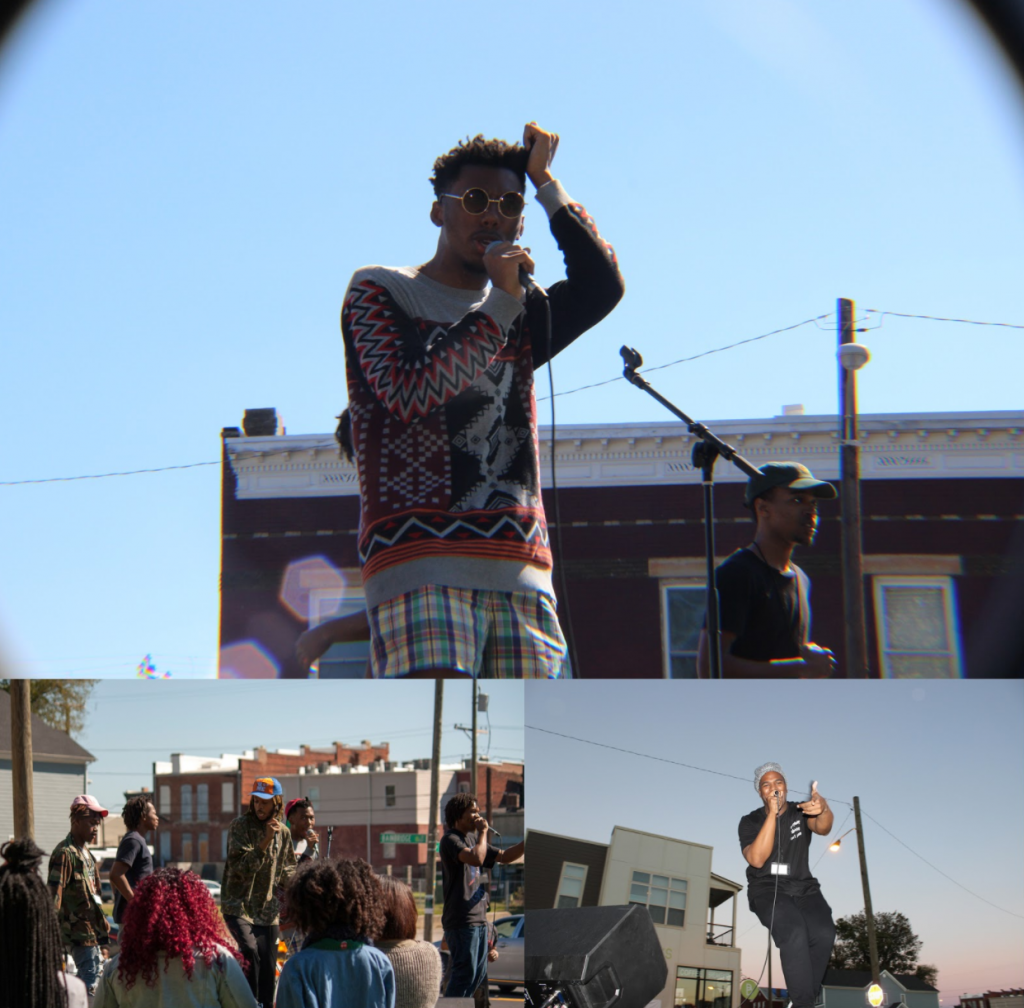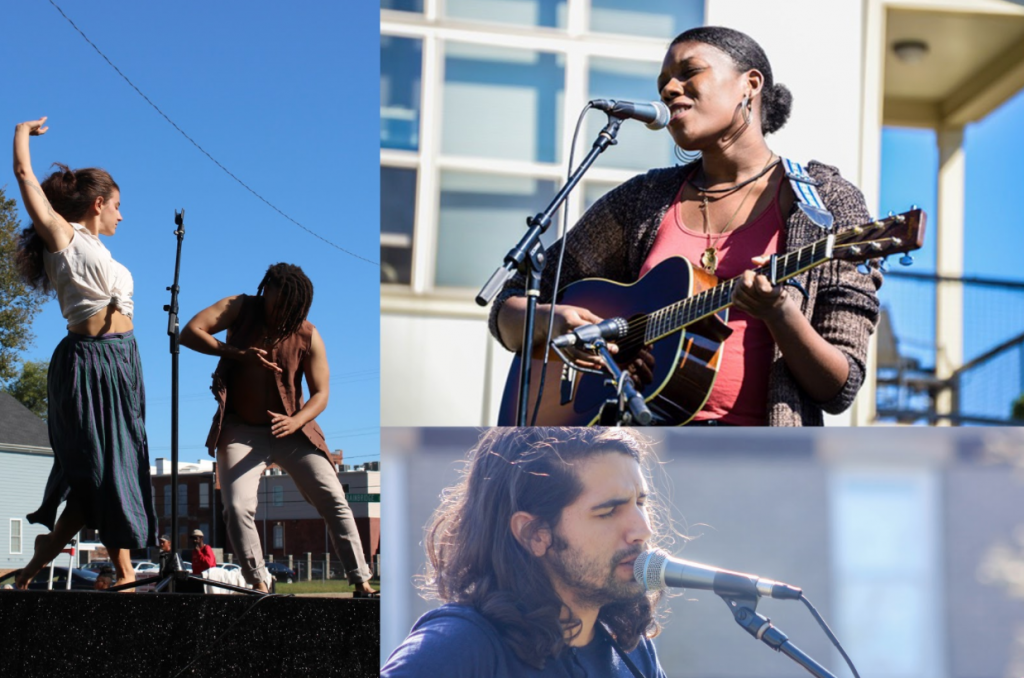 Manchester Manifest went out with a bang with all of the entertaining activities going on. Many people came out and showed their support for the community. Check out Manchester Manifest's Instagram for more photos and details about everyone who showed up. We will see what Manchester Manifestival brings us in 2017—we know it will be bigger and better.