Written by Tatyana Bailey
Photography may be among one of the most common, accessible forms of art today. With the popularity of social media apps like Instagram and Snapchat, it seems that just about everyone is a "photographer". On one hand, it's exciting that photography has become a part of the lives of many, even just as a casual hobby or pastime, but on the other hand it seems that with today's abundance of photography, many practicing and hard working photographic artists are unrecognized for the work that they do. Obviously not everyone can name a practicing painter or sculptor off the top of their head either; however, for an art form so integrated into our society, I would encourage more individuals to take an interest in the work of contemporary photographers.
         It's no secret that the most recognized photographers throughout history are often heterosexual, white, men, but even then, most people can't name more than a few. One can only imagine how difficult it is for a woman, especially a Black, or woman of color, to make a name for herself. Throughout the history of photography, there have been several incredible photographers who are Black, but, due to both sexist and racist archival practices, their work has been lost to time. One would think this would be an issue of the past, but that's simply not the case. Even in more recent times, archival practices for the work of women are not up to par with that of their male counterparts. It's a truth that is both shocking and heartbreaking, and only emphasizes why one should familiarize themselves with the work of contemporary, women photographers if they're interested in photography as a medium.
         There are many remarkable women I could go on and on about, whose work inspires me every day, both as a people and as artists. However, one artist who has always held a special place in my heart is Carrie Mae Weems. Weems' work goes beyond the traditional photographic practice by incorporating text, fabric, audio, digital images, installation, and video. Despite her artistic career beginning in the early 1980s, the discourse explored within her works remains relevant in today's climate. Her work serves as an exploration of sexism and cultural identity, and their intersection with familial relationships, memory, politics, and power dynamics. She specifically aims to showcase the Black community, Black women in particular, to combat their constant exclusion from popular media. She not only uses her work to communicate her own personal narrative,  but also to create a space that gives a chance for other Black women to have a voice. In fact, her work is said to have played a big part in creating a generation of women artists who are concerned with taking back the power to represent themselves artistically. Her influence goes beyond that of the fine art world, she is said to have influenced the videos of Beyoncé's "Lemonade," appears in Spike Lee's, original Netflix series, "She's Gotta Have It", is referenced in a song by, rapper, Black Thought, and her image entitled "Portrait of a Woman Who Has Fallen From Grace" appears as the cover of the poetry book "There Are More Beautiful Things than Beyoncé" by Morgan Parker.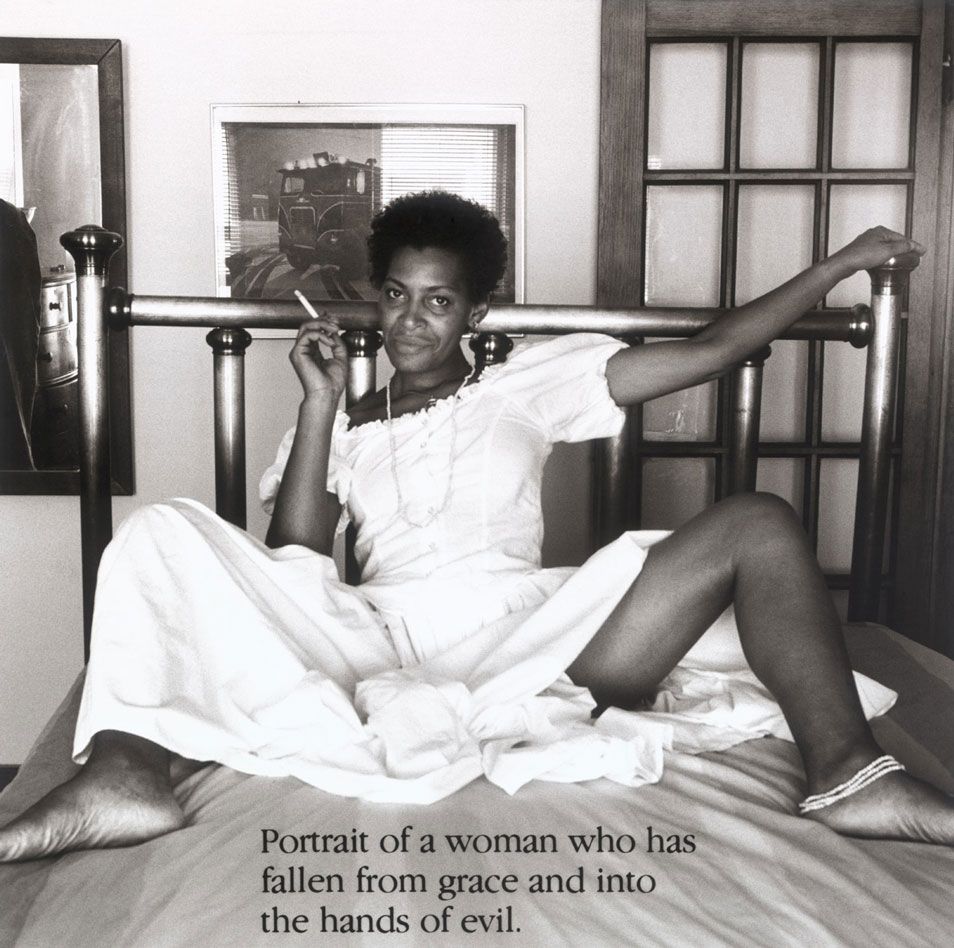 While Weems' work is unique for the way it highlights the experience of women in the Black community, it does it in a way that is accessible and often relevant to women stemming from all different backgrounds. For example, in what might be her most recognized series, "The Kitchen Table Series" (1990), Weems explores the complex relationships in a woman's life utilizing fictional lovers, friends, and family. The images are based around a kitchen table which raises a discussion of domesticity and gender roles; while these images don't directly discuss race politics, Weems acknowledged in an interview with W Magazine: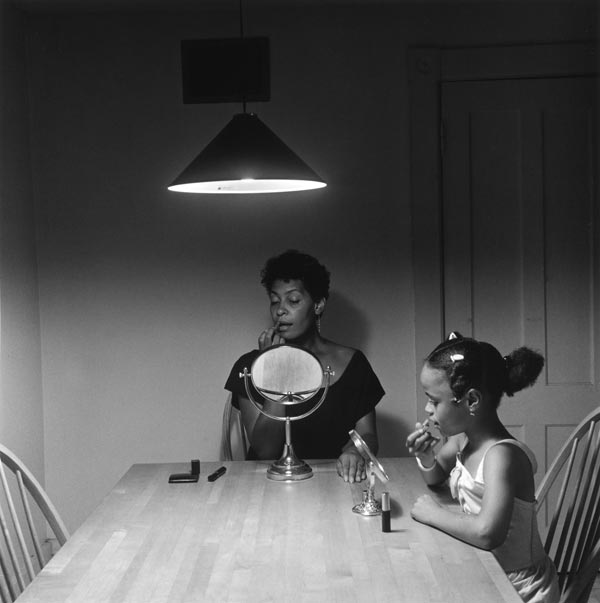 "Most work that's made by black artists is about blackness. Unlike work that's made by white artists, which is assumed to be universal at its core. I really sort of claimed the same space, and I think the work in many ways is universal at its core, but we can certainly also use it to talk about the position of black representation."
While not all of Weems' work is as open to the interpretation of meaning, like "The Kitchen Table Series", it all exhibits the same level of complexity and depth. It's no wonder that she has become such an inspiration to creators everywhere. It's women like Weems who inspire me to continue to pursue photography as a means of expression and discussion, and I can only hope that her work, among others, can do the same for those who are interested in photography.