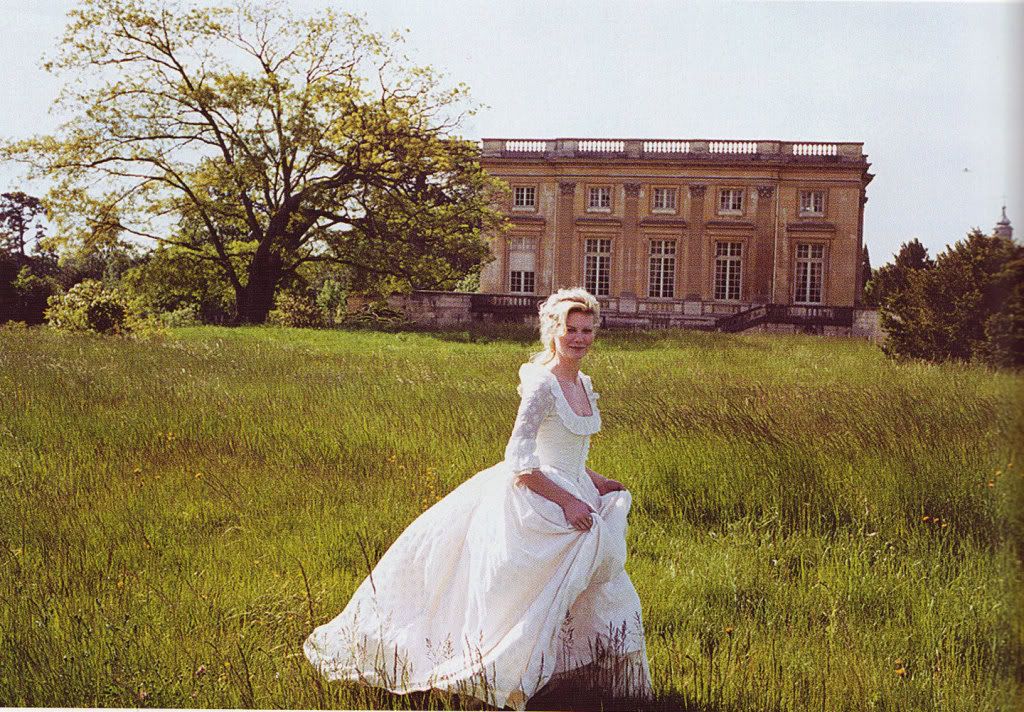 Words by Monica Pierce 
You know the old saying, "time is a flat circle"? Everything that has been done, will be done over and over again. This concept is endlessly prevalent in fashion cycles; within 20 years a trend will come back. There has been a recent resurgence of a trend that dates back much longer than a few decades, try a few centuries. The puff or mutton sleeve was a huge trend all during fashion month along with cinched bodices in the form of corsetry. Rococo has been a strong influence on a few different runways this season. Maximalism seems to be a recurring trend throughout Fall, and a muse in one of the most over-the-top fashion decades during the 18th century was Marie Antoinette. 
Marie Antoinette was a leading factor in keeping France the fashion capital of Europe during the 18th century. Born an Austrian princess, she married Louis XVI in 1770. Clothing was a powerful symbol of nationality during this time. When the princess traveled from Austria to France she was stopped at the border by her entourage and stripped of her Austrian clothing to clothing made in France. This signified her transition from Austrian princess to future Queen of France.
Marie Antoinette was the last Queen of France before the French Revolution overthrew the state's system of absolute monarchy in favor of a republic. She grew to be disliked by the public due to her scandalous reign, which later led to her conviction of high treason and guillotine execution. She was known for her overspending on extravagant goods, partying, adultery and holding sympathies and loyalties for enemies of France, particularly her native Austria, which France's Legislative Assembly declared war on in 1792.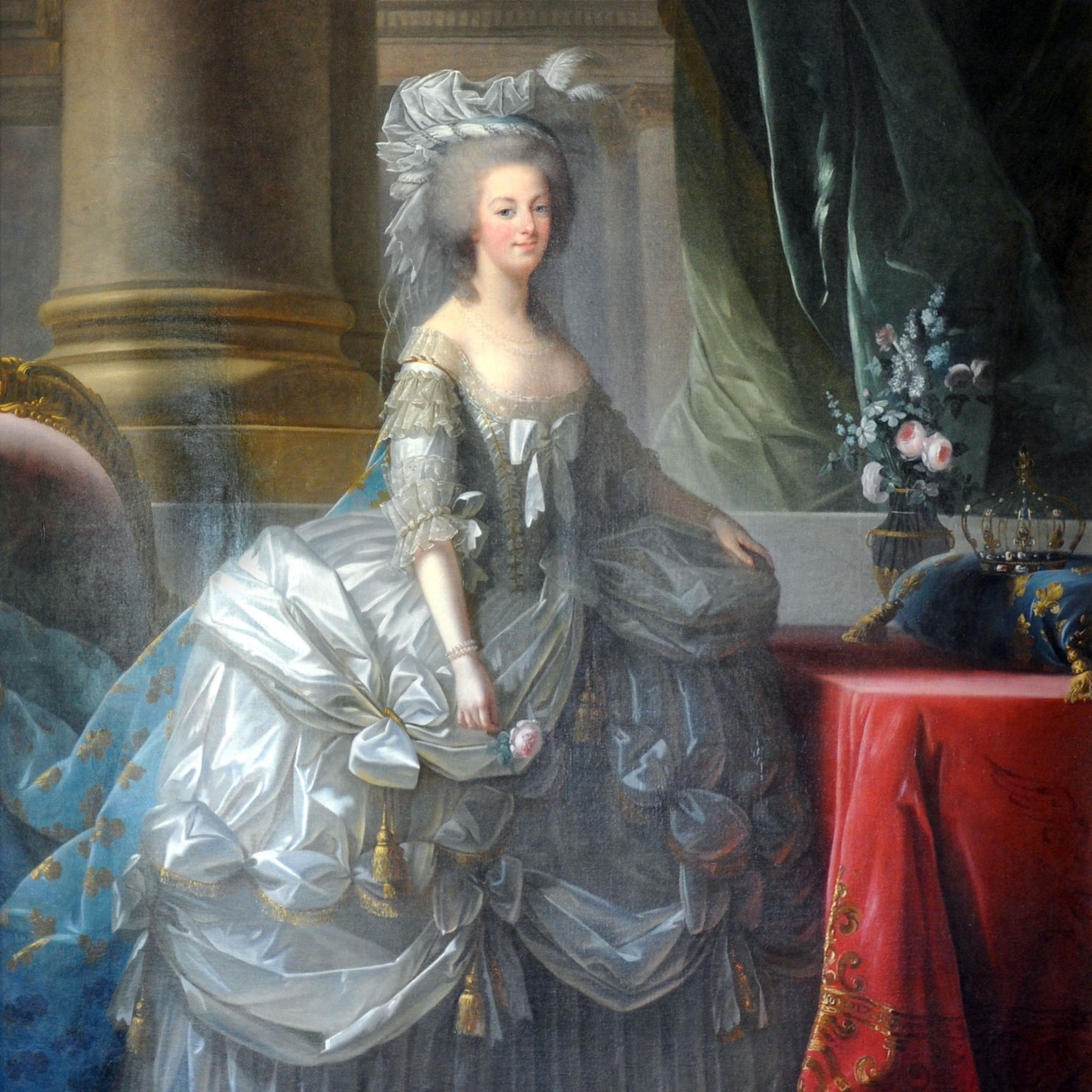 There's a reason that the Queen left such a huge footprint in fashion history, and it's probably because of the abundance of money she spent on clothing. The reason we relate pastel blues, pinks and soft yellows to this era of fashion is accredited to the taste of Marie Antoinette. Antoinette, like most women of the Rococo era, wore feminine motifs that incorporated frills, ruffles and lace with corset bodices leading to enormous floor length skirts made of silk.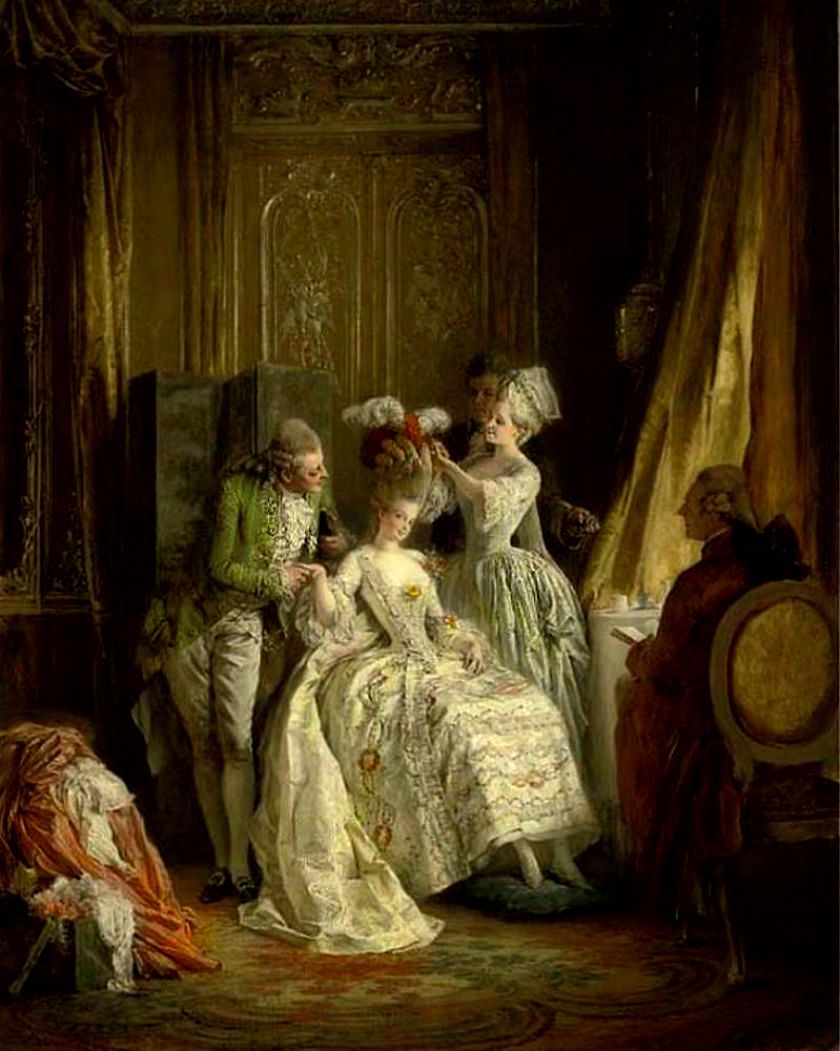 One notable designer who worked closely with Marie Antoinette was Marie-Jeanne Bertin also known as "Rose". Rose was a pioneer of haute couture during the late 18th century. Marie Antoinette made her "Minister of Fashion" and was so fond of her designs she had a workshop built for her in Versailles. 
Left,
Marie Antoinette
by Heinrich Lossow (1843-1897)
Dress designed by Rose Bertin and worn by Marie Antoinette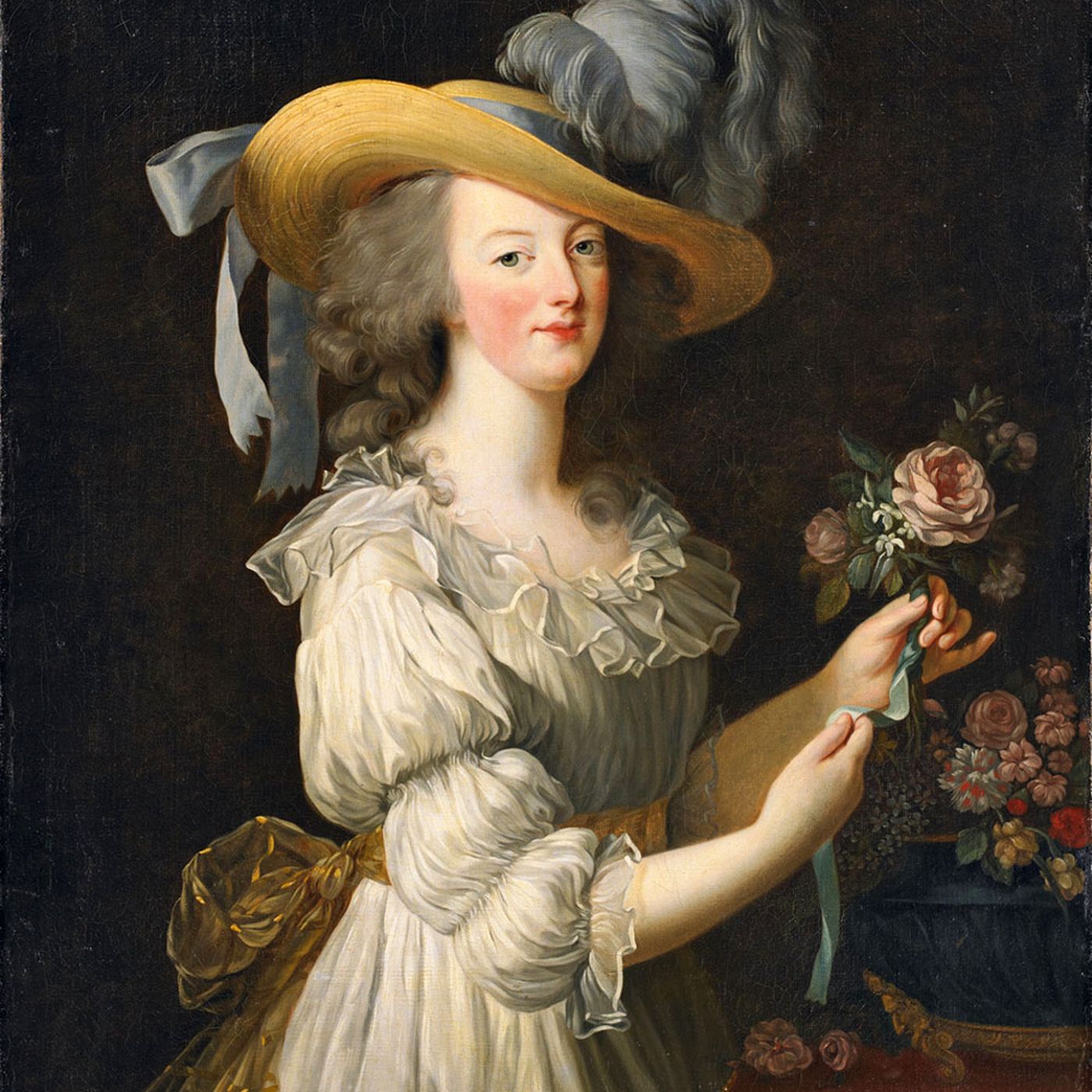 Marie Antoinette's reach was global. A great example could be the infamous painting of Marie Antoinette in the Chemise Dress. In 1783, portrait artist, Élisabeth Louise Vigée Le Brun painted a portrait in what was called robe de gaulle. The dress was sheer, loose, and white with a cinched waist. This type of textile was not commonly worn as outerwear clothing during this time. Although, in the modern eye it emulates simplicity, yet during the time it was seen as an undergarment. Ultimately, Marie Antoinette had a portrait in her underwear, which was unheard of for a woman of such high power in the 18th century. This dress blew up the cotton industry and enabled the Slave Trade in the United States to explode because everyone wanted to have it. Whether intentional or not, Marie Antoinette's reach would influence the western world.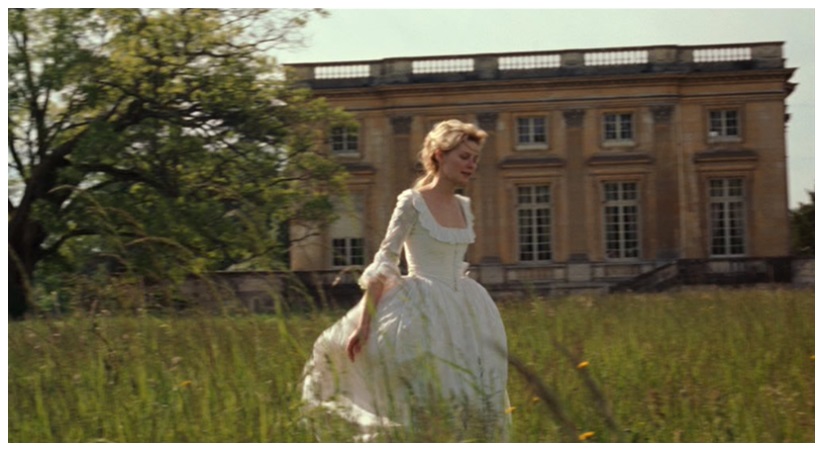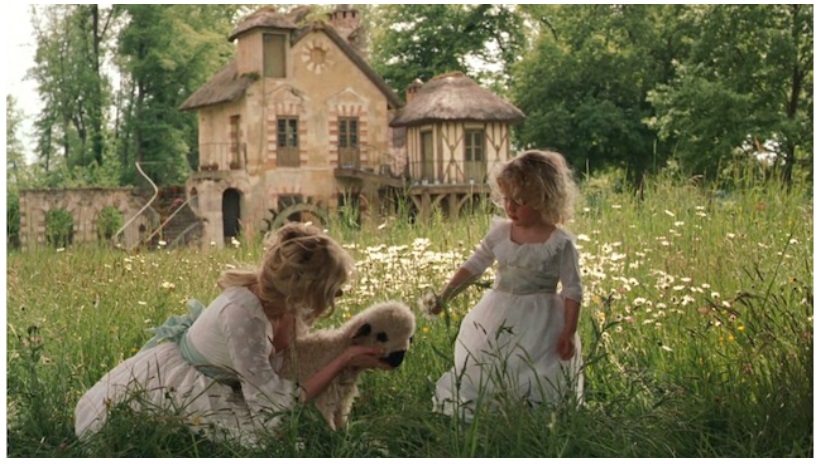 Sofia Coppola does a beautiful job of illustrating the dress of Marie Antoinette, while giving a unifying modern energy in her movie Marie Antoinette. The movie, starring Kirsten Dunst, follows the timeline of her royalty in France, supported by a soundtrack of all modern music. 
Imagery of Marie Antoinette's style is used as a reference quite often in modern fashion. Dev Hynes' Benzo music video has an obvious reference to Marie Antoinette, with its beauty and wardrobe for the set. Evanie Frausto and Marcelo Gutierrez did the beauty and hair for the video, with tall pastel wigs and pearl adorned make-up.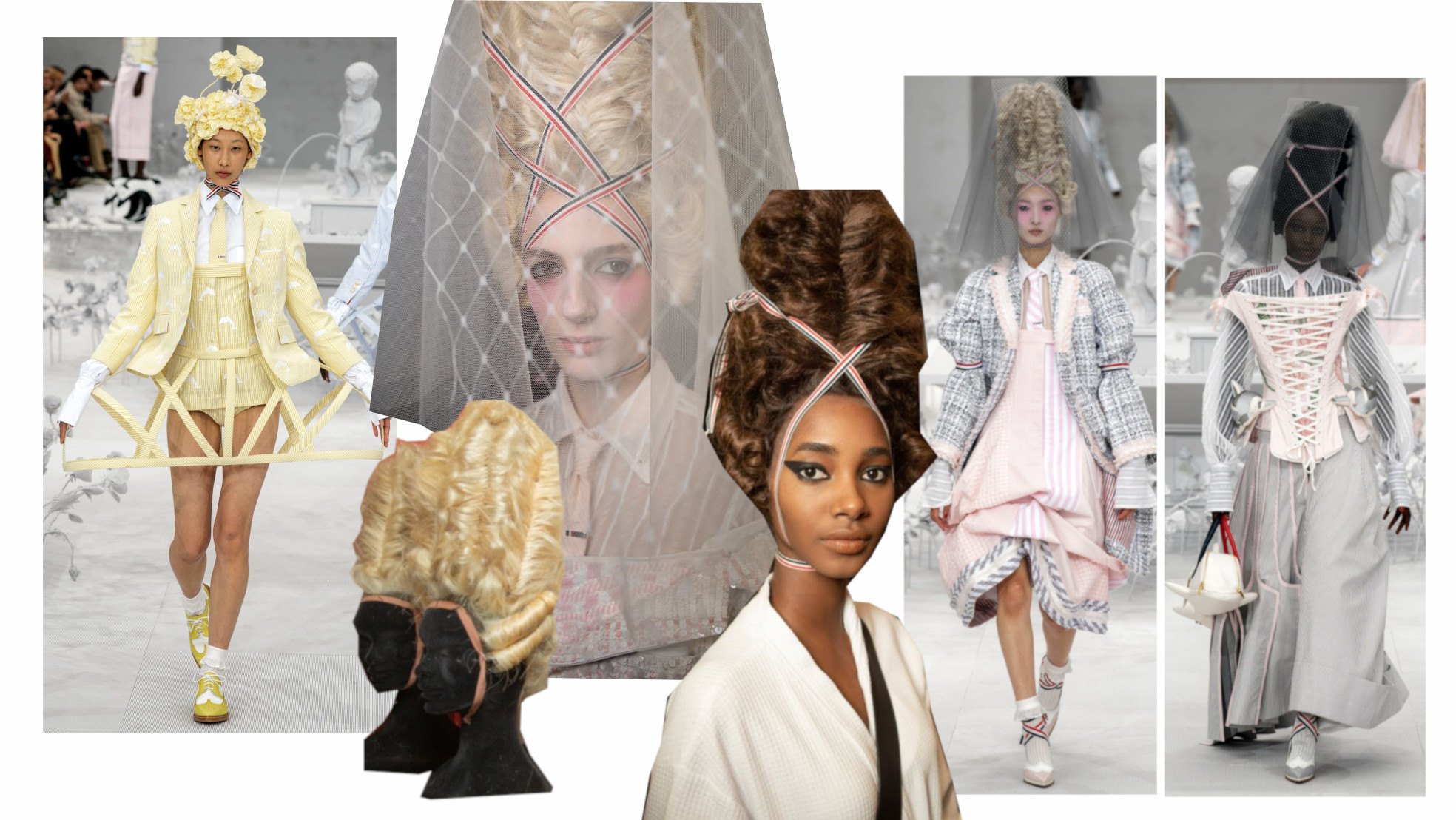 Thom Browne was also inspired by the styles of Versailles. In his recent SS20 line, model's wore pastel hues, sculptural hoop skirts over trouser-inspired corsets, and sky-high wigs. Marie Antoinette had an undeniable following during her time, not only for the unseemly actions she made as Queen, but also as a major fashion historical figure who is still a reference today.