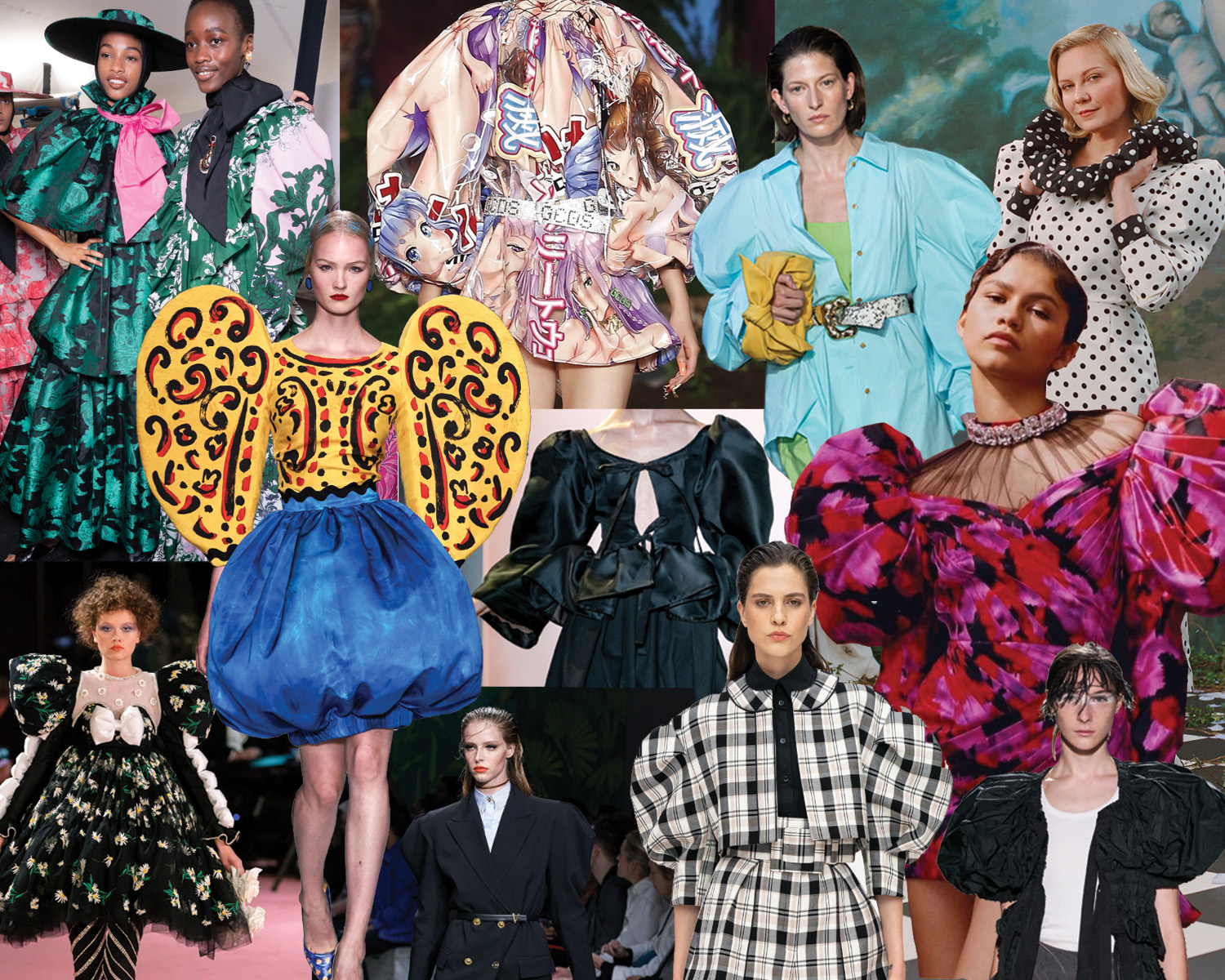 From top left to bottom right: Backstage at Erdem SS20 via @erdem on Instagram, GCDS SS20 via Vogue, Rejina Pyo SS20 via Vogue, Rodarte SS20 via Vogue, Richard Quinn SS20 via Vogue, Moschino SS20 via Vogue, Christopher John Rodgers SS20 via Vogue, Carolina Herrera SS20 via Vogue, Richard Quinn SS20 via @richardquinn on Instagram, Dries Van Noten via Vogue.
Across runways in New York, London, Milan, and Paris, there was one trend quite literally sticking out in womenswear: Puffy sleeves. Back in full force for Spring/Summer 2020, this sleeve could be the reason the "cold-shoulder" trend slowly makes its way out after a rise to mass acceptance over the past 5 years. Say goodbye to your cold-shoulder and make room for a bold shoulder!
Designers approached the style in a range of ways — from the '80s power suit taken on by Versace, to the maximalist Victorian look by Richard Quinn and Erdem. Carolina Herrera opted for a slouchier puff while Rodarte gave us a rather structured approach. Moschino emblazoned a distinctive print on their puff sleeves with rustic Mediterranean brush strokes, while GCDS decided on a risqué collaged Hentai print. In each individual interpretation of the sleeve, one message was without a doubt communicated: Empowerment. Whether it be references to the female power dressing movement of the 1980s or historically significant queens of the past, the exaggerated shoulder has always denoted power.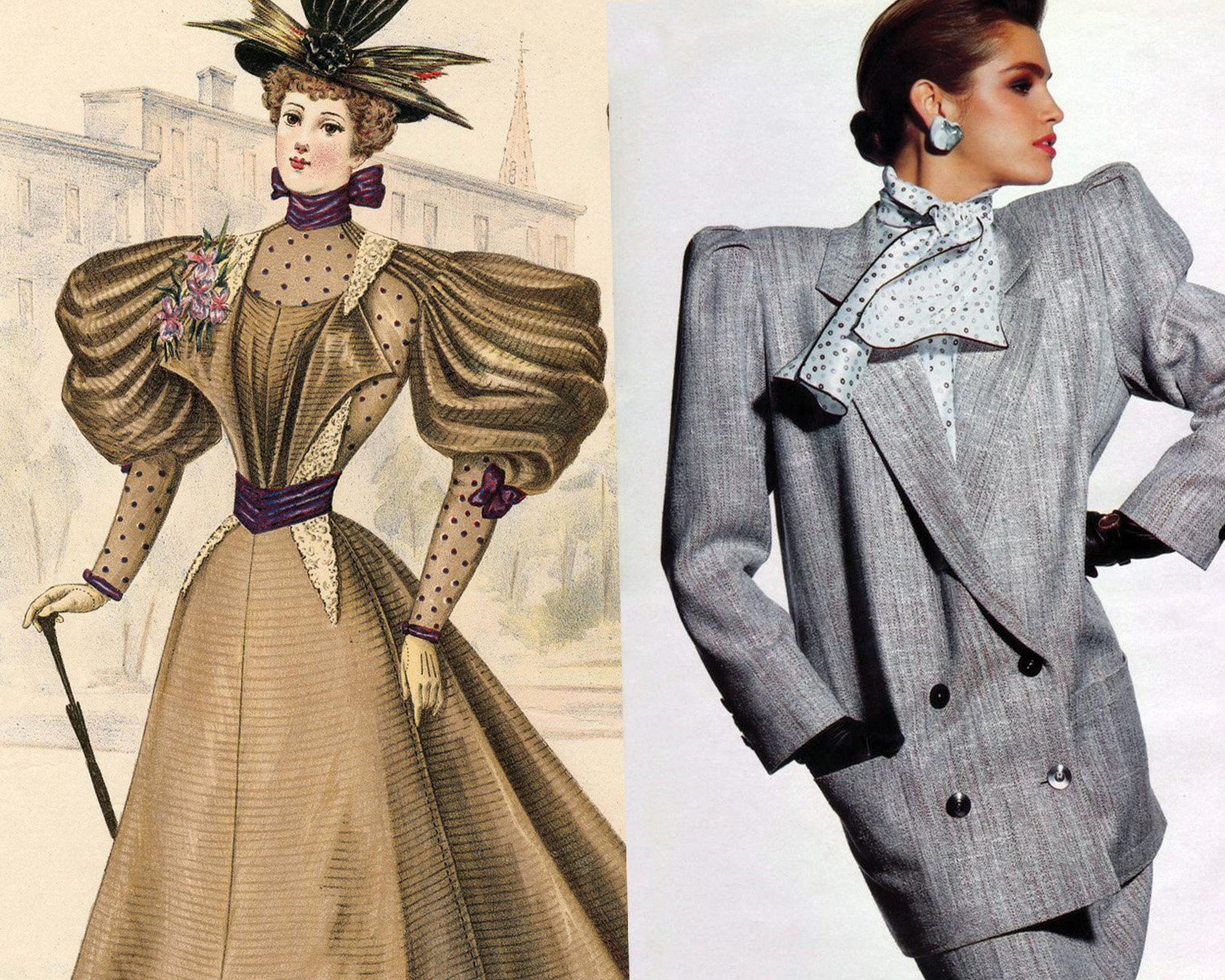 From left to right: Example of Victorian adoption of "leg-of-mutton" via Pinterest, Example of 1980's power shoulder via 80sKids.
The style is formally known as "leg-of-mutton" as it resembles the leg of a sheep, but is also referred to as the "gigot" sleeve in French. Though popular among European royalty beginning in the 1500s, the sleeve became particularly favored during the Victorian era, which began when Queen Victoria took the English throne in 1838. It is not a coincidence that women adopted the royally associated sleeve while the Queen reigned supreme. Before sponsored Instagram posts and YouTube reviews, royalty acted as the first fashion influencers. In more recent history, the 1980s prominent shoulder silhouettes rose to popularity as women with political power, such as Hillary Clinton and Margaret Thatcher, captured the attention of the public. The use of boxy silhouettes and tailoring became commonly known as "power dressing", and has become highly influential to modern style.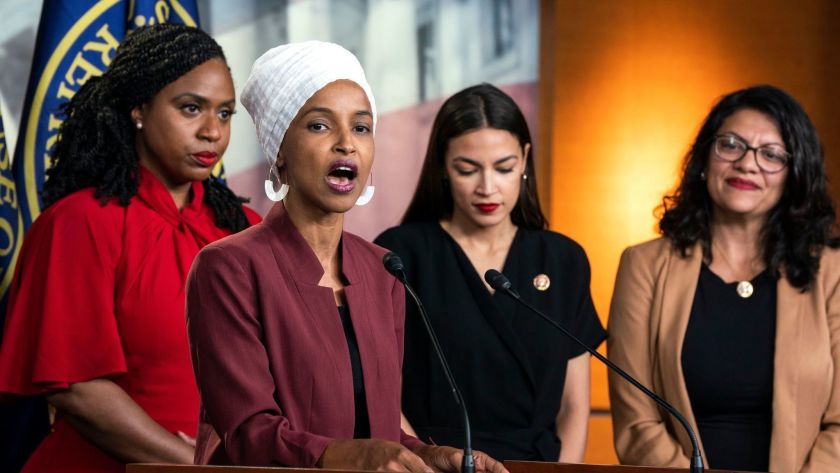 US Congresswomen, Alexandria Ocasio-Cortez, Ilhan Omar, Ayanna Pressley, and Rashida Tlaib speaking out against Donald Trump at a Capitol press conference by Jim Lo Scalz via LA Times.
The return of the power puff in 2020 is timely, as a surge in female empowerment has been taking place in recent years. In 2019, America saw the highest number of women to ever enter Congress in the midterm elections, which included the first Native American and Muslim women. Equally important to note would be the widespread discussion on sexual harassment and assault that began through the #MeToo movement while, in contrast, restrictions on forms of contraception by the Trump administration have also sparked outrage among women across the globe. While female empowerment seems to be at an all time high, it is simultaneously under attack. The statement sleeve trend is not only a mere swing of the fashion pendulum from "cold-shoulders" to bold shoulders; power puffs are protective armor. 
By Nico Gavino