Morgan White – @MorganWReport Guest Columnist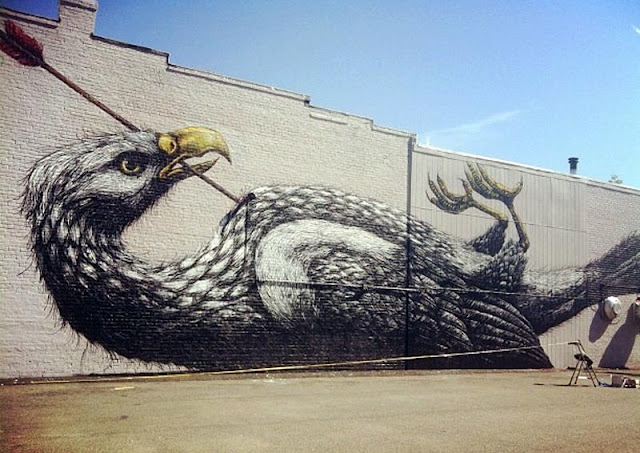 There are several cultures within art. Each part of art has its own subculture filled with their own motivations, attitudes, and overall goals. To the average man who's outside of the realm of street art the words are most easily translated as graffiti. However, when asking artists themselves about the differences between graffiti and legal street art it seems the two – albeit both being in public places – are miles apart from each other.
"The fact that my work is now created legally is a reflection of changes in my personal taste and interests. If I were to create the same work, legally, that I was creating as a vandal it would still be hated by the vast majority of the public," Mickael Broth said.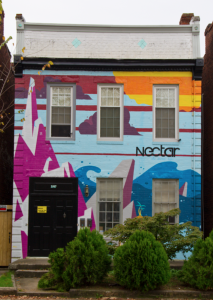 Ten years ago Broth was arrested for tagging a CSX railroad bridge with his moniker "Seek, Refuse." He served 10 months in jail, eight of which he was on work release during the day. Broth is now a commissioned artist that is known for his murals in many parts of the city. His work includes a mural at the GRTC ground where last year's RVA Street Art festival was held, the mural painted on the front of the Nectar Sunglasses headquarters, the walls inside of the retail store Common Threads, as well as a mural included in the 2012 RVA Street Art Festival. Much like the beginnings of Broth another local artist and graffiti writer has begun promoting their own message through art. The street artist goes by the moniker Lee Broadway and has been known to spread his Undisturbed Conscience signs throughout the city. "Undisturbed conscience in a nutshell is a concept designed to enlighten individuals of all ages to find their own Zen as well as bringing hope to devastated, less fortunate communities. Our belief is that capitalism is ultimately an outdated tradition, designed like many modern products to fail while creating division & segregation through competitive nature," Broadway said.
Broadway had been on the radar of local law enforcement for vandalism which has led him to leave Richmond for some time. Broadway has a strongly held view; that street art is meant to convey the message of the artist. It's something that the illegal forms of street art do best.
"Graffiti should piss people off. Murals should bring the community enjoyment and/or provoke conversation. This of course, can mean that a mural may, and often does, offend or anger some members of the community, but in my opinion, that should not be the main goal," said Broth. So what leads the change of perspective of certain artists to go from creating illegal art to becoming legal muralists? Perhaps it is the maturation of the artist, perhaps the realization that bringing the community together to celebrate art provokes more change for art than condemnation of vandalism. Smithe One, an artist that will be partaking in this year's Richmond Mural Project, also started out as a graffiti artist.
"I started with graffiti around 2001. I always did it as a hobby and just to spend time with my friends, later I realized I could do something more than Graffiti, I mixed my love for illustration and other references to grow up my work," said One.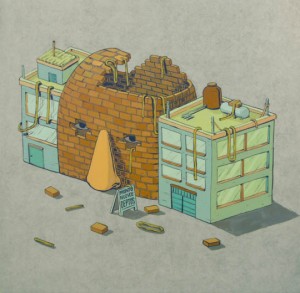 One is from Mexico.  The idea of street art itself is something that the community of Richmond, as well as many communities in general such as Mexico, have begun to be more accepting of since the time of Broth's arrest in 2004. Richmond itself began witnessing the momentous change in public art in 2012.
"It's kind of interesting that there were two different movements going on here at the same time. There was the street art festival but there was also the street that was going on buildings that was done, you know, from the group from D.C. They're two different shows, but it seemed to be a moment where everyone was thinking the same thing," Vaughn Garland said.
Garland is a curator who helped out at the 2013 RVA Street Art Festival. Art Whino began bringing the G40 art summit to Richmond in 2012, the same year that Ed Trask and Jon Baliles had their first RVA Street Art Festival. It's these festivals that are meant to transform Richmond into a tourist attraction for street art enthusiasts. The festival grounds at the abandoned GRTC bus depot where the 2013 RVA Street Art Festival was held are to be reopened at some point in the near future, they were closed in November due to the assault of 66-year-old security guard Jack Newsom. Art Whino will begin the 2014 Richmond Mural Project this summer. The general consensus of most residents might be that street art has been blossoming in the past few years and that they are overall supportive of the work Art Whino has done in Richmond, however certain artists are not as supportive.
"The organizer of the Art Whino project has made it very clear that he is not interested in having any involvement by local artists. I, in turn, have made it clear that I think he has no place deciding what goes on the walls of our city, when he does not live here and has no vested interest in the future of the community," Broth said.