The past year has been a rollercoaster for everyone in the world because of the hardships the COVID-19 pandemic and lockdown had. The lockdown and pandemic has changed many lives negatively, but also positively. The period became one of evolution change for many aspects of life, particularly people's fashion style. Since the ending of lockdown, students like myself have transformed their style to feel good and look good. I ask the staff at Ink questions about their style, and their style evolution before, during, and after the lockdown.
By Kayla Lundy, Staff Writer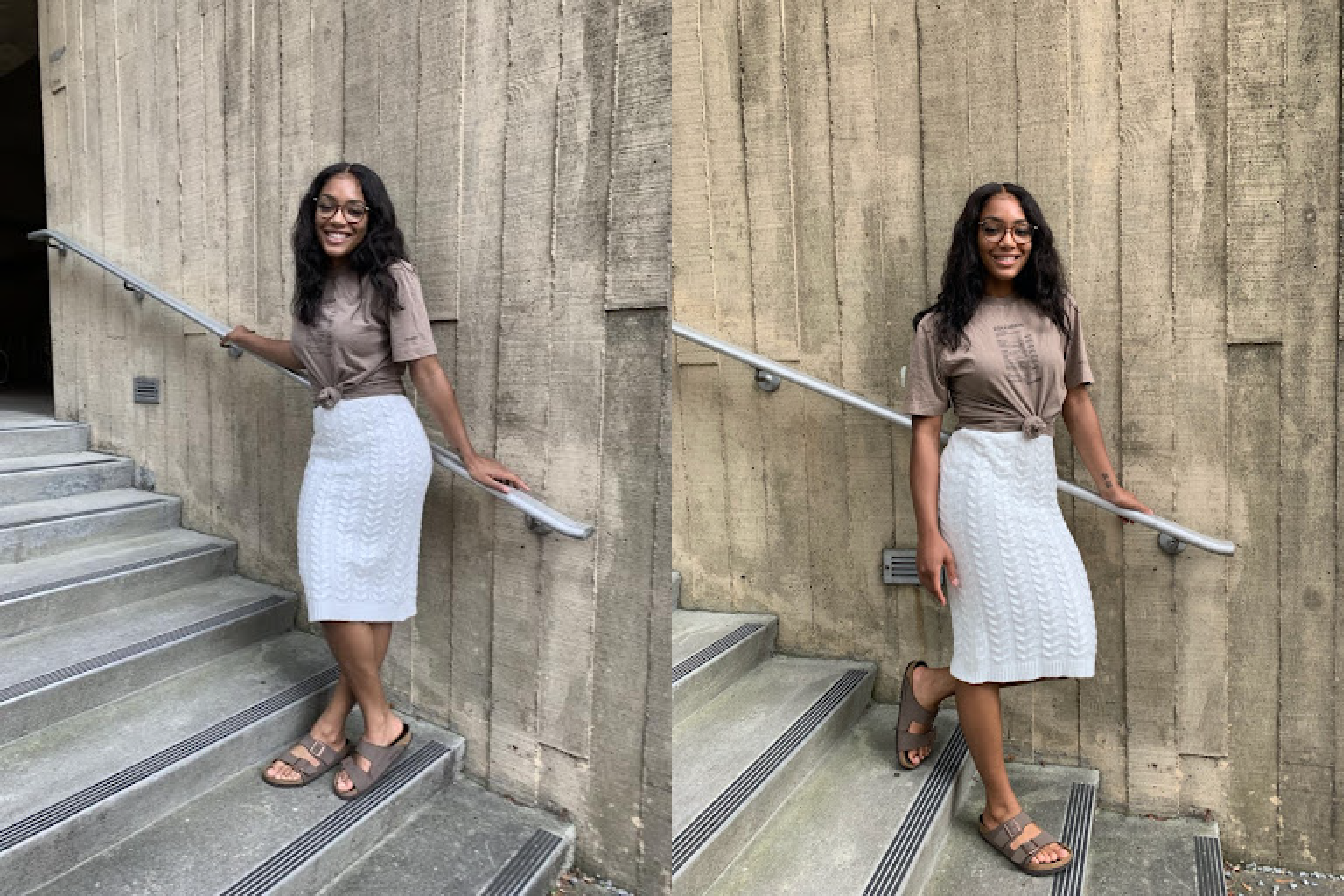 Kennedi Woods, Ad Sales Account Exec @ Ink
Before lockdown, how would you describe your overall style? What was your favorite piece of clothing and why?
Before lockdown I would describe my style as extra and contemporary. I would always wear the latest trends. I liked high-waisted skinny jeans with crop tops and if it was chilly I'd throw on an oversized or cropped jacket. I would wear a lot of skirts. Even though walking around the city in skirts was a feat, I would make it work. As uncomfortable as it was, I loved the way skirts looked on me.
My favorite piece of clothing was a pair of chunky, platform ankle boots from Missguided. I loved them because I could wear them both day and night. They were so easy to clean, so comfortable, and matched with almost everything. I loved their versatility and the support they provided either walking to class or on a long night out on the town.
Through the lockdown months, did your style ever change? If so, what changed about your style or the choices of fashion you made and what influenced those decisions?
During lockdown I rotated the same five crewneck sweatshirts. I discovered my intense love for yoga pants. I lived in yoga pants; they were the best combination of leggings and sweatpants. So much happened during lockdown emotionally for me, fashion really took a backseat. So much so that it was a challenge for me to change out of my pajamas every morning so often I just grabbed the first comfortable thing I found. I've come to emphasize quality over style. I want to be able to wear my clothes as many times as I feel without worrying that washing them will degrade them faster. I want my clothes to last longer than just a few washes.
During the pandemic I did a lot of self-reflecting. I wore a lot of clothes that I stole from my Dad because they were oversized and great quality. I wore a lot of his Marine Corps gear or shirts we picked up on vacation. It made me realize how much clothing has a story, and how much what you wear says about you and what you value. It's made me more mindful of that now that lockdown is over. I find a way to incorporate fond memories into what I'm wearing. Even if no one else may know it, it acts as a sort of comfort to me. I can remember where I was or what time of year something occurred based on what I was wearing. Clothes serve as a sort of memory capsule for me, even the sweatpants and sweatshirts I lived in for months at the beginning of 2020.
Did the changes of your style affect your mood or how you thought about yourself during the COVID-19 lockdown?
There were definitely some days that I felt like a bum. As someone who lived for the weekend and loves to get dressed up and take pictures, living through the lockdown changed a lot of that for me. It's the most obvious way when I look at my camera roll and there's months with no pictures of myself. I never put on makeup because it felt like a waste. I realized how much I dressed for other people rather than for the sake of loving to get dressed. But it helped me embrace myself more. Instead of looking for approval or recognition through what I wore, I focused on my inner self and getting the confidence I needed from within instead of from what I put on.
My style changes showed me that even though I am a glamour girl, there's a large part of me that is the girl-next-door that wants to throw on a stained sweatshirt and a pair of pants so that she can paint or build something. Before Covid, I never let myself get my clothes dirty because I was always going out, during Covid I took up painting and crafting and, again, wearing old clothes, so I didn't have the same attachment to them as my recently purchased ones. I think my shift to comfort over style really represented how I prioritize my activity over my appearance.
Once the lockdown came to pass, were you excited to try out new styles or fashion? Did you feel like a new version of yourself when your style evolved?
I definitely did a whole closet revamp after lockdown. I wasn't one of those people who shopped progressively during lockdown with the intent that the things they were buying would be worn later. I hardly did any shopping during the lockdown. After the lockdown was over, I really assessed my lifestyle, and my aspirational lifestyle, and tried to rebuild my closet from there. I knew there were going to be times where I did not feel like putting on jeans or mini skirts, so I started making outfits with leggings, sweatpants, and midi skirts.
My style changed from chic and sexy to understated sensuality made up of neutrals, basics, and accents from shoes, jewelry, and purses. I love plain colored tops with different silhouettes and totes! Totes and purses in general have become my new obsession. Now I really enjoy a smooth, seamless look; I invested in high-quality undergarments and basics that I know I'm going to wear time and time again.
I also grew up over the course of the pandemic. I vividly remember as things started to open up, I thought to myself, 'I don't have any professional clothes!' After that I started to get some business casual pieces as well. Business casual is a new area for me; it's weird that my mom is my biggest inspiration when it comes to business style. My mom and I have never seen eye to eye on fashion choices but now we seem to have a lot of the same tastes!
Overall, how does fashion affect your confidence?
Fashion affects my confidence more than anything else can. There are some days where I fall into my 'Covid style' and I'm in a situation where I wish I would've dressed up more. In times like those, I feel shyer and more closed off than I would be if I felt I was wearing a better outfit. There's nothing better than getting a new item that fits exactly as you hoped and putting an outfit together that makes you feel like you own any room you're going to walk into.