Ink's Kaelan Brown and Kyle Mayo-Blake share their top albums of 2018.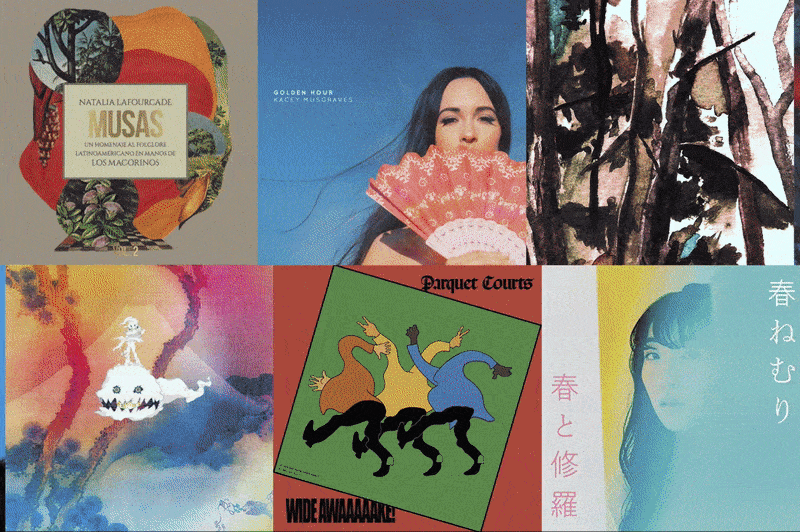 In a year of fantastic releases, musical triumphs, and amazing feats, it's tough to narrow it all down to 30 releases. From the glitchy and aggressive energy of JPEGMAFIA's "Veteran" to the soaring and beautifully crafted guitar ballads of Natalia Lafourcade's "Musas Vol. 2", here are our favorite albums and releases of 2018.
Veteran
JPEGMAFIA
When it comes to the modern landscape of hip-hop, trap albums are the most common. Ranging widely in quality and offering the same elements of rap grandeur from popping bottles in the club to stealing your girl. JPEGMAFIA, affectionately known as Peggy, blends these with his own punk style and throws them through a meat grinder, taking all the leftover bits and crafting a record that pushes every aspect of trap to its limits. With its dense and textured production and Peggy's loud and passionate delivery, Veteran leaves you anxiously awaiting for what this artist can deliver next. – Kyle M-B
Key Tracks: "Real Nega" "Baby I'm Bleeding"
Musas Vol 2.
Natalia Lafourcade
Natalia Lafourcade, the Mexican pop singer, has been gaining popularity in the States in recent years due to her Musas series of releases as well as her role in Disney's Coco soundtrack. Her release Musas Vol. 2 is a solid hour of gorgeous and well-rounded Latin American folk songs, changing from incredibly hard-hitting large accompaniment tracks to soft, beautiful guitar ballads. This album takes its listener from a crowded Latin American city street to a shining night sky as Natalia's smooth and soaring vocals sit perfectly on top of the mix. This album is something that I think has importance in the U.S., especially due to the major growth of Latin American infused pop music that has topped the charts this past year. Definitely one of my favorite releases of the year. – Kaelan Brown
Key Tracks: "Danza de Gardenias (feat. Los Macorinos)" "Alma Mia (feat. Los Macorinos)"
GOOD Job, You Found Me
Valee
Following his well-received 1988 mixtape in 2017 and being signed to Kanye West's GOOD Music label, Valee has made a solid name for himself in 2018. His latest release GOOD Job, You Found Me, presents some of the Chicago rapper's hardest-hitting material. With all of the songs on the release averaging under 2 minutes, the tape feels very straight to the point. His off-kilt delivery and flow style are perhaps Valee's most recognizable characteristic — it has been imitated by rappers like Tyler, The Creator, 6ix9ine, and Smokepurpp. Being praised as "The GOAT" by rapper Trippie Redd for his influence in hip-hop so early in his career, it is clear that Valee is here to stay. – Kaelan Brown
Key Tracks: "Miami (feat. Pusha T)" "Skinny"
Golden Hour
Kacey Musgraves
Golden Hour – Kacey Musgraves (March 30th, 2018)
First and foremost, this album is not much of a country album and shouldn't be treated as such. As opposed to her previous releases, Golden Hour presents a much more stripped back and poppy sound, featuring a bit less twang to each track and a little more kick. Not to say that this sound has advanced Musgraves as a musician, it just has opened the doors for more crossover appeal and relatability to different audiences. While the lyrics aren't stellar, the sheer golden shine of the record rubs off on the listener, giving them a feeling of openness, which is what gives it its appeal. Every time this record comes on, I am suddenly flying 80 miles per hour down a country road watching a beautiful sunset. I look forward to more from Kacey Musgraves in the years to come. – Kaelan Brown
Key Tracks: "Slow Burn" "Lonely Weekend"
Care For Me
Saba
Care For Me is the follow-up album to Saba's critically-acclaimed 2016 debut LP Bucket List Project. With it's very up-tempo and hopeful vibe attached to it, and features from artists such as Smino and NoName, Bucket List Project definitely left fans wanting more. Care For Me is a much darker tape, it touches on much more striking themes and features much better storytelling than his first tape. Following the horrific stabbing of his cousin, Saba expresses feelings of depression, trauma, and grief. Again, the storytelling on this tape is impeccable, leaving me wanting more from the Chicago rapper. – Kaelan Brown
Key Tracks: "BUSY/SIRENS (feat. theMIND)" "LIFE" 
Bark, your Head off Dog
Hop Along
Every time Hop Along releases a new record, I think to myself "how are they gonna top this one?" And the exact same thing crossed my mind this time around. Rather than sticking to the formula they perfected with their last record Painted Shut , Hop Along pushes the boundaries of their sound in new directions, especially in the percussion department. "Bark, your Head off Dog" is full of far more upbeat, almost dancy-sounding songs along with the band's already solid indie rock, folk and blues-inspired musical style. All of these new elements come together to create an album that is entertaining for almost any occasion, whether you are sitting back enjoying an iced tea or dancing away with your friends under the stars. – Kyle M-B
Key Tracks: "The Fox In Motion" "Prior Things"
Isolation
Kali Uchis
On her debut full-length record, Kali Uchis' ear for catchy grooves and infectious melodies pair beautifully with her catchy hooks that will leave you humming all of her songs after the fact. Along with Uchis' brilliant use of features throughout the project every song on Isolation feels like it was created to drill its melodies under your skin and stay there until the end of time. Along with those infectious grooves, Uchis is no lyrical slouch either, speaking on issues of her past relationships and family  that will leave you in awe of how she weaves these tales together. Isolation is a titan of an R&B record that leaves you with something to take away from on every track. – Kyle M-B
Key Tracks: "Just A Stranger" "After The Storm"
Harutosyura
Harunemuri
Harutosyura – Harunemuri (April 11th, 2018)
Harunemuri's Harutosyura may be the most eclectic and gut-punching pop record I have heard in a  very long time. Incorporating elements of electronic music and catchy guitar riffs, Harunemuri brings an energy that pours over you with every track. Head-bobbing becomes a necessity the further you get into the record. Despite its pop labeling, the record sheds all notions of what that is supposed to be switching from all of its various influences effortlessly. Blending vibrant guitar fuzz with pulsating bass lines and snappy drums, Harunemuri creates a listening experience that will make you want to endlessly shout the lyrics at the top of your lungs, despite not knowing Japanese. – Kyle M-B
Key Tracks: "Harutosyura" "Sekaiwotorikaeshiteokura"
Die lit
Playboi Carti
While I had at times been very skeptical about Playboi Carti due to his awful XXL cypher and poor lyrics, his 2018 debut LP Die Lit absolutely changed my mind. Rap is changing in quick and amazing ways, taking on trends of minimalism in its repetitive hooks, adlibs, and beat choices. These things culminate together to create addictive tracks that push the listener into a contact high of simplistic bliss. Despite the fact that Die Lit has hardly anything to offer in terms of lyrical content, the pure personality behind the release, and behind Playboi Carti as a whole, are what makes the album so amazing. Playboi Carti hones into what makes him great — not only his catchy ad libs, but also more melodic and catchy hooks and verses, as well as more interesting flow patterns that weren't found on his previous releases. – Kaelan Brown
Key Tracks: "Shoota" (feat. Lil Uzi Vert) "Flatbed Freestyle
Wide Awake!
Parquet Courts
I never really listened to Parquet Courts until I heard their latest release Wide Awake!. Immediately upon listening to it, (which I found myself doing because of the hype it got from online music reviewers and friends) I found a connection with the sound and danceability of the record. I also liked its socio-political lyrics and often hilarious lines. The album sounds not only incredibly tight, but also organic, raw, and real. It remains an art-punk masterpiece, while also finding influence in funk and psychedelic rock. Reaching their peak in performance and popularity, Wide Awake! shines as not only the band's best release to date, but also one of the best releases of the year. – Kaelan Brown
Key Tracks: "Total Football" "Almost Had To Start A Fight/ In and Out of Patience"
Daytona
Pusha T
It is hard to think of another rapper that has stayed as consistent as Pusha T. The man was at the top of the mainstream lyrical heap with his brother in the group Clipse back in the early 2000s, cranking out classic tracks like Virginia and Grindin. He stayed at the top of his game after the fact with solid records like My Name Is My Name and Fear of God. Pusha's raps usually revolve around one thing: slinging cocaine. However, nobody can top him in that realm. He is the epitome of "its not what you talk about but how you talk about it", and Pusha is at the top of his game on Daytona. Pusha raps like a veteran but has the hunger of a young cat in the game and could probably smoke anybody that comes near him (just like he did with Drake earlier this year). On top of Pusha being at the top of his lyrical dominance, Kanye West produces some of the best beats of his career on the album. Each one of his beats fits absolutely perfectly on Pusha and enhance his every bar. Pusha's sinister delivery and amazing bars flow across every track with absolute perfection. I can not gush about this record enough, go listen to it. – Kyle M-B
Key Tracks: "If you know you know"  "Infrared"
Kids See Ghosts
Kids See Ghosts
In the two years following his 2016 release, The Life Of Pablo, Kanye West took a bit of a public hiatus, retreating to the mountains of Wyoming to work on five projects he dropped this past summer. One of those was Kids See Ghosts, his collaboration with Kid Cudi. Running only 7 songs and 23 minutes in length, this release feels much more in-depth than a lengthy album would have been. With features from Pusha T, Ty Dolla $ign, and Yasiin Bey, the release feels like it encompasses some of the best feelings music has to offer. With the major theme of the album being freedom of expression, Kanye West and Kid Cudi manage to tastefully dip themselves into a variety of sounds, samples, and emotions, taking the listener from the animalistic and hard hitting track "Feel The Love" to the soaring and galvanizing track "Reborn". Despite all of the controversy surrounding Kanye West in 2018, and Kid Cudi's public struggle with mental health in recent years, Kids See Ghosts proves to be a reminder of everything the duo has to offer. – Kaelan Brown
Key Tracks: "Feel the Love" "Reborn"
Oil Of Every Pearl's Un-Insides
Sophie
Oil Of Every Pearl's Un-Insides – SOPHIE ( June 15th, 2018)
SOPHIE's bold and bright instrumentals – when blended with her dark, distorted synth sounds and expressive vocals – create musical soundscapes that have to be heard to be believed. Sophie was able to craft some of this year's greatest electronic bangers, with songs like "Ponyboy" and "Faceshopping" that deserve to be played at every electronic house party, blasting over the loudest speaker possible, while you dance to your heart's content. Other cuts like "infatuation" and "Pretending" leave you in complete bliss as Sophie bends and sways beautiful synth and bass lines together. It leaves you in complete euphoria. The EDM genre has a definite front-runner in the form of Sophie. – Kyle M-B
Key Tracks: "Faceshopping"  "Immaterial"
Nasty
Rico Nasty
When it comes to internet hip-hop hitmakers, Rico Nasty has been my favorite all year. Rico's rambunctious style has evolved from a bubblegum trap aesthetic to in-your-face. It demands your attention with every track. With help from Kenny Beats, Rico goes crazy, track after track, giving off an energy that'll make you want to destroy everything around to work off the hype. Rico's bragadocious swagger is unmatched by her peers. She comes off like she's already at the top and demanding that everyone around her pay attention. Nasty almost stands as a new start for Rico, a turning point into the rap-mega she is no doubt destined to be. Rico recently signed to Atlantic records, who hopefully give her the backing to make more excellent projects like this one. – Kyle M-B
Key Tracks: "Countin Up"  "Rage"
Collagically Speaking
R+R= Now
Collagically Speaking is the first LP from jazz supergroup R+R=Now, assembled by Pianist Robert Glasper, featuring Christian Scott aTunde Adjuah on trumpet, Derrick Hodge on bass, Taylor McFerrin on synthesizer, Justin Tyson on Drums, and Terrace Martin on synthesizer and Vocoder. Collagically Speaking mixes instrumental hip-hop, 1970s jazz and funk, and aspects of R&B and soul. The sounds of the album remind me of Herbie Hancock and Weather Report in the 1970s. Albums like this are important  in today's musical age, as artists like Robert Glasper work with hip-hop superstars like Anderson Paak and Kendrick Lamar. I would agree with those who describe "Collagically Speaking" as replenishing, or even a respite in times of conflict. – Kaelan Brown
Key Tracks: "Resting Warrior"  "Respond"
Enemy
Ostraca
Screamo unfortunately tends to get a bad rap in the eyes of harder music fans. It's often associated with hot topic emo acts and mall goths, who have nothing better to do but scream their hearts out about how they hate their hometown. This is not that. Ostraca is a Richmond, Virginia based screamo band that is leading the Virginia screamo charge with some of the most raw and emotional music coming out of the screamo scene. Ostraca's guitars shred through your ears like a knife to butter, cutting deep and filling the wound with all of the emotion and anger it can carry. While these loud and boisterous moments are what the genre is known for, that doesnt stop the band from permeating the record with quieter moments that are absolutely stunning such as the gorgeous piano solo at the end of the song Crisis. If you are a fan of extreme music with powerful vocals I cannot see you disliking this record, they are that good and deserve your ears. – Kyle M-B
Key Tracks: "Big Star"  "Crisis"
TA13OO
Denzel Curry
Denzel Curry has always had an aggressive tone to his music, strongly influenced by punk rock at its core and within its live performances. His latest release TA13OO continues the sense of wild and animalistic energy that its predecessor, 13-EP, had; this time packing in a 43 minute time mark and a solid list of features ranging from D.C.-based rapper Goldlink, to Brooklyn rapper Zillakami. The album is pure aggression from head to toe and conceptually interesting, splitting into three "acts", each taking on a different persona of Curry's, getting darker and more aggressive as the album moves along. TA13OO is easily the Miami rappers best release to date, still leaving space for growth in the future. Denzel Curry is proving to be one of the artists that people must watch out for in 2019. – Kaelan Brown
Key Tracks – "SUMO"  "VENGEANCE" (feat. Jpegmafia & Zillakami)
Honeybloom
Choker
Honeybloom, the sophomore album of Detroit singer, rapper, and producer Choker, is an aesthetically vibrant and ambitiously experimental product which stems from artists like Frank Ocean. Entirely self-produced, the record's quick changing pace and stunning instrumentals truly paint a picture filled with color and ambition, clearly showcasing Chokers natural songwriting abilities. Songs on this album will quickly move from part to part and change emotion at the drop of a hat. Choker's artistry is definitely one to keep you on your toes and pull you in with intrigue. I look forward to seeing what Choker has planned for the future. – Kaelan Brown
Key Tracks: "Starfruit LA"  "Juno"
Astroworld
Travis Scott
Astroworld is the long-awaited third full-length LP from Houston rapper Travis Scott, who has been pushing psychedelic trap to a new level since Owl Pharaoh, his 2013 debut mixtape. Astroworld surrounds the theme of a closed Houston amusement park that Scott visited when he was young. The tape has a number of notable guest artists like Frank Ocean, Drake, and YSL Gunna, running pretty long in length at a little under an hour. The tape flows pretty well and shines especially at the beginning, while it tapers off a bit towards the end. Regardless, the beautifully-crafted beats, top-notch vocal performances, and amazing tour that followed this album, have in my mind pushed Travis Scott to a new level of superstardom. – Kaelan Brown
Key Tracks: "5% TINT" "YOSEMITE" (feat. Gunna)
Clear tamei/ Steel Mogu
Iglooghost
Clear tamei/ Steel Mogu – Iglooghost  (August 8th, 2018)
We're counting two albums as one entry for this pick. Iglooghost produced two of the most frantic and glitchy electronic projects I have ever experienced. Across these two projects, Ghost weaves together sounds that come straight from your strangest dreams and blends them together with made up words to create a dizzying yet completely focused piece of music that will leave you stunned and confused all at the same time. Honestly part of the appeal of hearing a new Iglooghost project is hearing how he can take all of these different sounds and blend them together into something a little bit foreign but also digestible. With Clear tamei and Steel Mogu, Iglooghost happens to do just that, offering two bite-sized jumping off points for people not familiar with his work to dive into his beautifully crafted worlds. – Kyle M-B
Key Tracks: "Clear Tamei"  "Mei Mode"
Negro Swan
Blood Orange
Negro Swan – Blood Orange  ( August 24th, 2018)
Blood Orange returns once again with his fourth studio album to deliver some of the most beautifully crafted pop music of the year. Throughout this entire project, Orange puts together some of the most delicate and vibrant pieces of this year. Each song is able to wrap its soft melodies and instruments around you as Orange's voice serenades you track after track. The albums title and skits throughout the record express an idea of black individuality that is desperately needed in today's current climate. While the album may be easy listening on an instrumental perspective, that doesn't mean the music presented is not expertly crafted, or that Orange's words are meant to be taken lightly. The entire experience of Negro Swan is one of not taking things at face value leaving you with a record that demands you actually listen and pay attention to it to hear what it has to offer.  – Kyle M-B
Key Tracks: "Saint"  "Charcoal Baby"
Tha Carter V
Lil Wayne
To be honest with you, if you had told me even two years ago that Wayne was going to deliver one of the best records of the year, I would have laughed in your face. But now I am beyond ecstatic that Wayne was able to come back and craft a project that reminds the world why he was heralded as one of the greatest in the world. Tha Carter V is a brilliant return to form, from the lighter flick that starts the record to the Swizz Beatz produced throwback "Uproar," a masterpiece that sounds right out of 2005. Wayne is in perfect form here, sounding present and most importantly clean, despite my knowledge on his current state. This extends through the entire record with wayne dropping clever punchlines and bars like its nothing. The height of Wayne's ability comes on "Mona Lisa" with Kendrick Lamar, where the two go on for over 5 minutes of pure rap bliss. If you haven't been all over this record yet then what are you doing? Pay your respects to a legend. – Kyle M-B
Key Tracks: "Uproar"  "Mona Lisa"
Aviary
Julia Holter
Julia Holter has always had a knack for making tight and finely crafted indie pop that oozes with charm. With her latest record, however, Holter goes in a different direction, going full avant garde pop. The result takes you on a trip of memories and nostalgia filled with some of the most well-layered and composed sections of music in the genre. In certain sections of the music, Holter just lets the instrumental along with different vocal samples blend together, playing them out in elegant harmony, which create some of the most soothing and comforting parts of the entire record. Sitting back and listening to the record while closing your eyes and letting your mind wander almost transports you to a different place entirely, letting the music take your mind away for a ride it will never forget. – Kyle M-B
Key Tracks: "Chaitus"  "Colligere"
You Won't Get What You Want
Daughters
When it comes to nightmare-inducing music, this is probably the first record that comes to mind. Daughters has crafted something that embodies pure chaos and destruction. It reaches into your soul and destroys any feelings of joy or laughter. The entire record is covered with dark, hazy guitar breakdowns and industrial noise that'll leave your ears aching after each listen (in a good way). When my first listen ended for the record all I could think about is how the record left me completely empty but ready to dive right back into it. If hell had a soundtrack, it wouldn't be some deathcore record, it wouldn't be some form of heavy metal — it would be this. Pure hurt and anguish over guitars, and it is incredible. – Kyle M-B
Key Tracks: "City Long"  "Less Sex"
Fm!
Vince Staples
Fm! – Vince Staples (Nov 2nd, 2018)
In the age of online streaming platforms and playlisting, Los Angeles rapper Vince Staples reminds us of the importance of the radio through his newest release, FM!. Thematically characterizing the voice of the streets, gang violence, and the city of LA, Staples forms the release to fit the structure of a FM radio broadcast, with fake DJ live narration and snippets of new songs by Earl Sweatshirt and Tyga. The well known, dark and repetitive instrumentals found in Staples' music are also found on this release, but with some of the most catchy, bouncy, and hard hitting songs Vince has released to date. Running a short 22 minutes, the release is concise and filled with sharp and quality material with very little filler. This tape is raw, real, and shows that Vince Staples is not an artist to mess with. – Kaelan Brown
Key Tracks: "Don't Get Chipped" "FUN!"
NOIR
Smino has been proving himself to me in terms of creativity, artistry, and vocal ability since his S!ck S!ck S!ck EP in 2016. Now, following his well received debut LP blkswn, is his new, 2018 release NOIR. NOIR features bouncy, melodic, and fun grooves and verses from Smino and collaborator Monte Booker. His tight flow patterns, colorful vocals, and clever bars and delivery set Smino apart from other rappers in so many ways. In addition, the instrumentals on this album are well-crafted, squishy, and keep the listener attentive through the albums 58 minute length. Smino's relevancy is at its current peak, which at this pace, I can see only continuing up from here on out. – Kaelan Brown
Key Tracks: "TEQUILA MOCKINGBIRD"  "PIZANO"
Oxnard
Anderson .Paak
Anderson .Paak is one talented SOB. He can rap, sing, produce and has proven himself to be an extremely talented drummer. So it's no wonder that .Paak can hone in and deliver something so tight and funky as Oxnard. I admittedly have not always been on the hype train for his music, but everything on Oxnard shatters those previous expectations by delivering some of the most infectious drum patterns and bass lines that I have heard in a long time. From the way he makes his drums pop out and sound as sharp and snappy as a George Clooney in a brand new suit, to the way his baselines bend and groove across each bar, .Paaks creativity and personality shine through. The California artist also makes brilliant use of features on this project with Kendrick Lamar delivering one of the smoothest verses i've heard all year on the song "Tints." With the power of Dr. Dre behind him and his raw talent and ear for catchy melodies, .Paak delivers a hell of a record. He will no doubt continue to drop phenomenal music in the future. – Kyle M-B
Key Tracks: "Tints"  "Sweet Chick"
Dicaprio 2
J.I.D
Dicaprio 2 – J.I.D (November 26th, 2018)
Following his debut LP, The Never Story, his placement on XXL's Freshman Class list, and his signing to Dreamville records under Hip-Hop Kingpin J.Cole, J.I.D has proved himself to be one of the most promising MC's in the music world today. With his dark, pulsating, and drug-infused-sounding instrumentals, as well as his constant change of flow pattern and clever lines and delivery, J.I.D has been compared to a young Kendrick Lamar. Ripping through each track, he oozes charisma, cleverness and indisputable talent. Not to mention a laid back bravado that keeps him cool from start to finish. Truly to quote the man himself, "J.I.D so flame, (he) propane rap". Enough said. – Kaelan Brown
Key Tracks: "Off Deez" (feat J.Cole) "151 Rum"
Some Rap Songs
Earl Sweatshirt
When it comes to anxiety and depression-induced raps, nobody delivers like Earl Sweatshirt. On Some Rap Songs, we get a detailed trip into what Earl is going through, including the death of his father, how his parents divorce affected him, and so much more. Earl's rapping style is incredibly raw even though his rhymes remain dense and sophisticated. Earl's dense rapping style is also paired with his most experimental production to date, focusing mainly on tight instrumental loops and samples that add to the hazy and anxiety-addled themes of the record. Rather than Earl rapping about how he can get better, Earl instead raps about how he was and currently feels and doesn't really offer any solutions on those issues other then continuing on living, an idea that he also expresses wasn't always the case. Some Rap Songs may be the most accurate representation of what true anxiety and depression sound like in hip-hop, and for that it deserves your attention. – Kyle M-B
Key Tracks: "Shattered Dreams"  "The Mint"
Championships
Meek Mill
Not many people can get their career back on track like quite Meek Mill. After having a strong start, his trajectory was completely derailed by the now infamous beef with Drake in 2015. This was followed by a series of prison stints due to a drawn out legal case that was meant to keep him in prison for the rest of his life. Thankfully Meek made it through those troubles to deliver his most solid and emotionally moving record to date. He's has never sounded this good. With what he has gone through as a starting point, Meek delivers a project that touches on his past struggles while also celebrating his triumphs. He is looking forward to how he can not only better himself, but how he can better his community around him. Meek dives deep in the title track Championships; placed halfway through the album, it solidifies the theme of perseverance against all odds. Meek is at the top of his game for the entire record and the same goes for those featured, such as Jay-Z, who drops perhaps the best verse of the year on the track What's Free. The song also features Rick Rock, who holds his own. Championships serves as a return party for Meek and does a magnificent job of solidifying Meeks status as an M.C. to look out for. – Kyle M-B
Key Tracks: "What's Free"  "Championships"