Written by Lizz Bruce 
Illustrations by Alissa Pivaral, Head Illustrator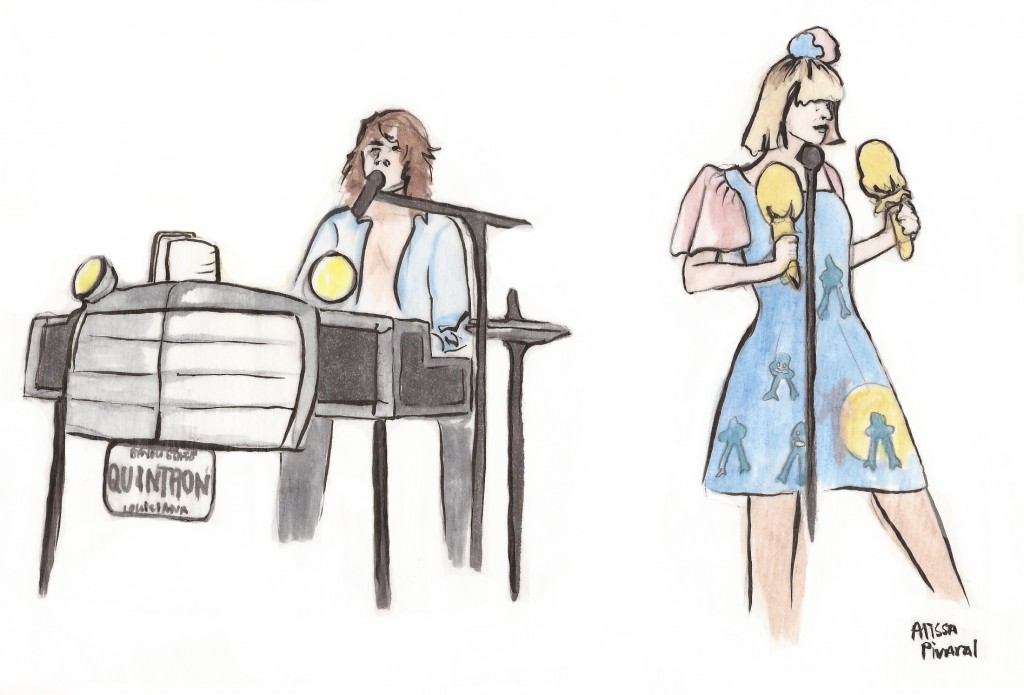 Strange Matter lived up to its name on June 16th, featuring the eccentric New Orleans based swamp-tech noise duo known as Quintron and Miss Pussycat. They brought to the stage a magical evening unlike anything I have experienced before.
The openers, Yoga Demon and Bermuda Triangles set the mood with a somewhat avant-garde noise punk theme. Bermuda Triangles sang charming lyrics such as "Fuck you asshole" improvising with rhythmic drumming and Sean Cassidy on a distorted saxophone. I mentioned later to Jason Hodges, the lead singer of Bermuda Triangles, that their sound reminded me of post apocalyptic tribal punk music, and he said something along the lines of "Yeah that's pretty much it." Then there was a young child in the front row dancing like a free wild beast and it was pretty inspiring.
Before their set, we had the chance to speak with Quintron and Miss Pussycat in the kitchen. Miss P showed us her stage outfit that was lined with a fun palm tree print. A vital part of her ensemble is her handmade pom-pom hat, which she mentioned she feels naked without. Hand printed on the dress was one of her puppet monsters hanging out on a beach.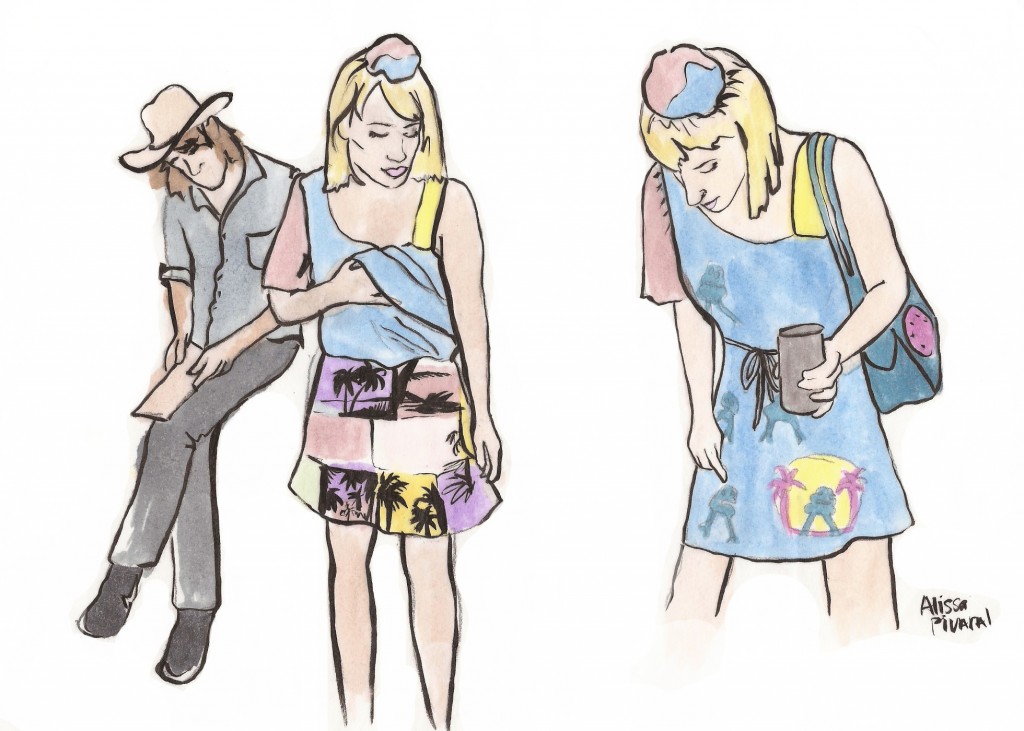 Quintron spoke briefly about his 2014 invention, The Weather Warlock, an analog synthesizer instrument that detects and is played by live weather. You can hear the instrument streaming from New Orleans, LA at weatherfortheblind.org and read more about its creation. Quintron told us he will be coming back to Richmond in September with the Weather Warlock tour so keep an eye out.
We asked Quintron and Miss P for a picture with Ink's resident fashion illustrator and New Orleans native Alissa Pivaral who's birthday was the night of the show. With their set list in hand Quintron proposed we take the picture in the fridge.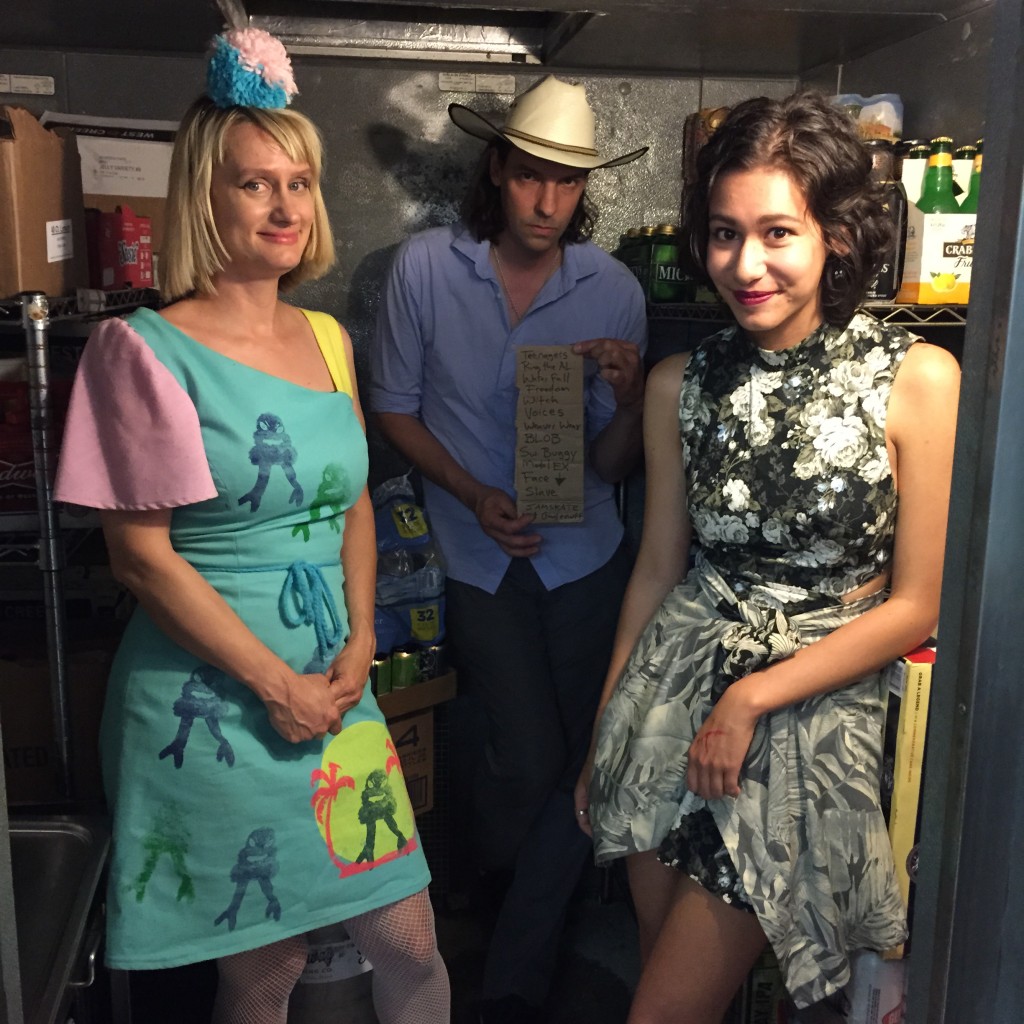 The show began wits Pussycat's puppetry act in her inflatable theatre and by this time the venue was packed. The puppet show was about a princess who went to a town called Goblinberg to look for an apartment. She encountered a parade of technicolor talking puppet homes where she met the fluffy pink Goblinberg Mayor. The magical performance left me feeling like a child in awe who could relate to the puppet princess' struggle.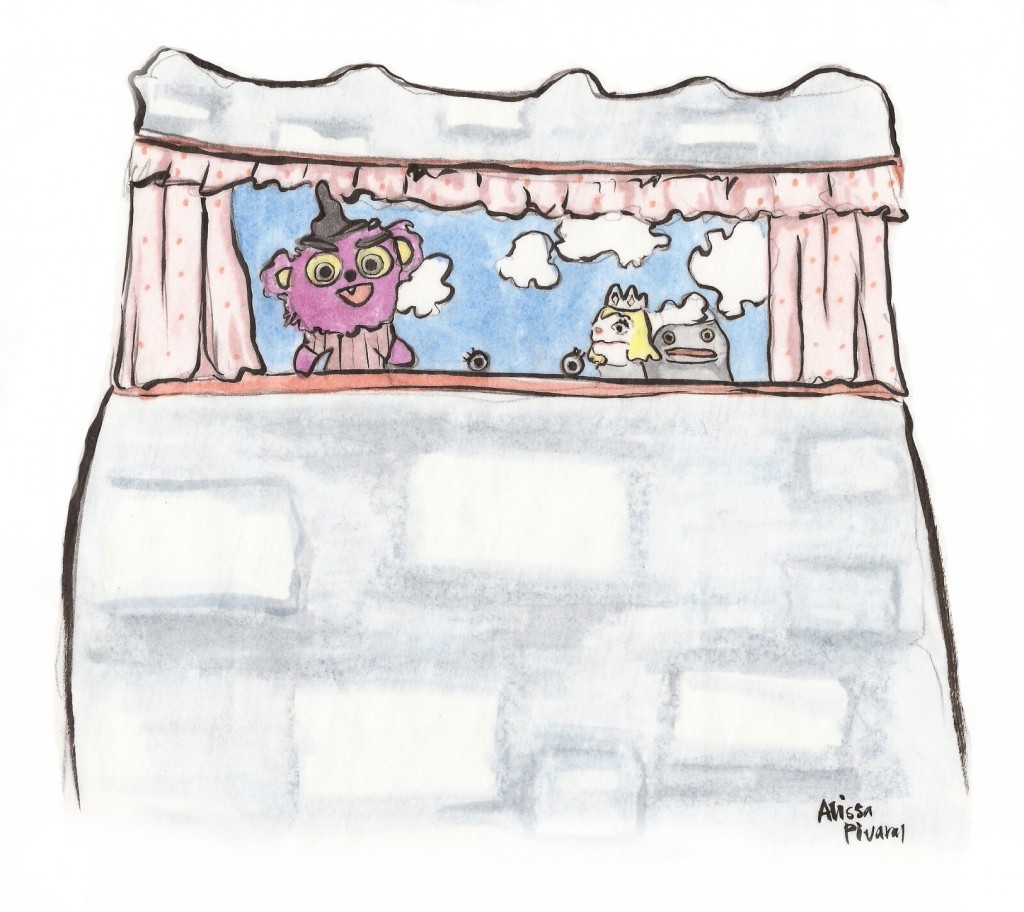 Afterwards Quintron hopped on his organ car and Miss P joined him at the mic with maracas in hand. The performance had me boogying, shuffling, head banging, and shimmying as a vortex of moshing took place behind me. At one point the crowd was dancing in a circle as if it was a Greek wedding and we were one big family. The performance included various instrument inventions including the light activated analog synthesizer invention known as The Drum Buddy, patented by Quintron himself. The music was a smorgasbord of fun swamp tech chaos that had everybody dancing to the beat. It was a night full of pure imagination. By the end of the night I was walking home singing "Face down, face down, face down in the gutter!!!"
Check out their music video "Face Down in the Gutter".