Written by Nico Gavino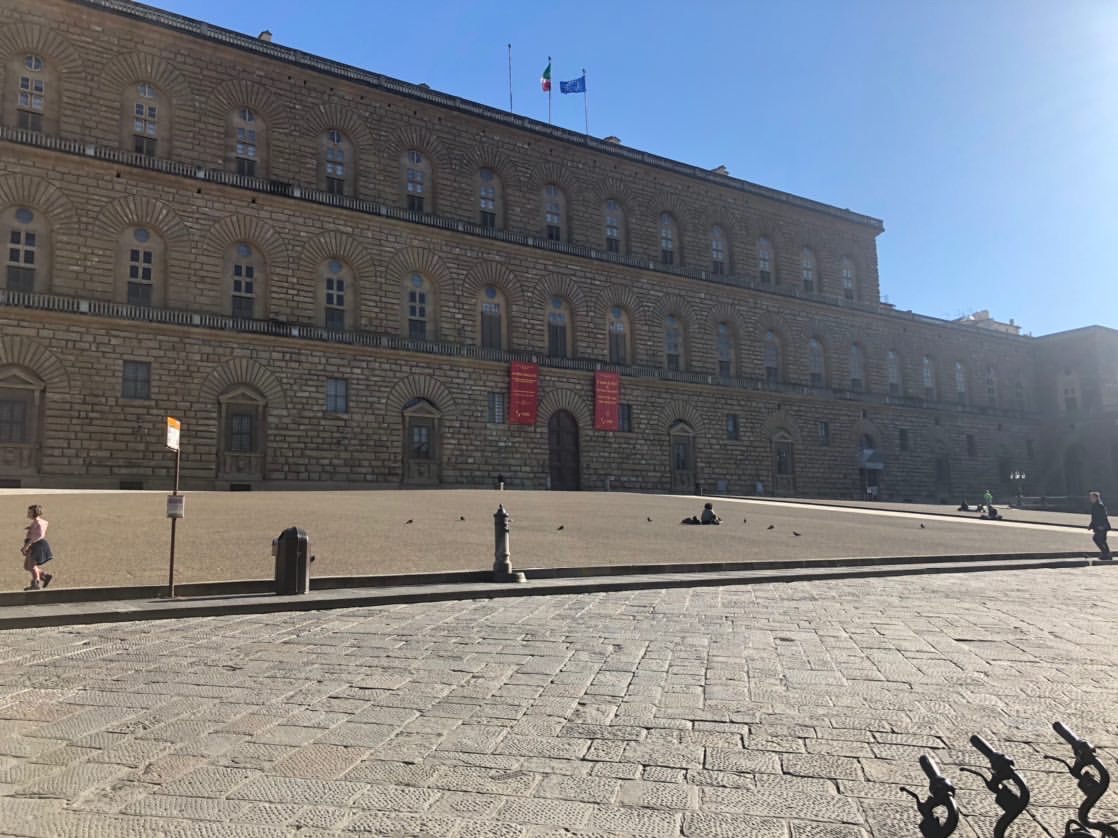 An eerily empty Pitti Palace, a plaza in Florence that is usually crowded with people. Photo taken by Luz Aguba.
On March 11 the WHO officially declared COVID-19 as a global pandemic amid a rapidly rising number of cases around the world. That same day, VCU among many other U.S. Universities announced that spring break would be extended while classes would be conducted remotely until further notice. News about the virus feels inescapable as constant updates fill the front page of news feeds and social media platforms, making it impossible to ignore. The world is beginning to feel the effects of the pandemic as economies dwindle and the stock market plunges into its lowest state since 1987. Overall feelings of fear and uncertainty dominate as public spaces close and many are let go from their jobs. What many thought would pass within a few weeks has become a global crisis without an end in the foreseeable future. 
Early in March, VCU announced that students studying abroad must return home as a safety precaution amid the growing COVID-19 outbreak. On March 9, Italy, which has become the second country with the most Coronavirus cases, mandated a country-wide lockdown leaving VCU students a smaller window to return home. Following Italy's mandate, Trump announced a ban of travel in and out of the U.S. effective on March 13. With Italy being one of the most popular study abroad locations for VCUarts students, they have experienced the pandemic unfold in one of the most highly infected countries.
Luz Aguba and Julia Kong are two Juniors in the VCUarts Fashion Design program who started their study abroad program with Academia Italiana in Florence in late December. The two had just completed their midterms before getting the news that they were being forced to return home. Upon arrival in the U.S., I spoke to both Aguba and Kong on the first day of their CDC advised self-quarantine.
Upon landing at JFK International Airport in New York, the two were not met with any airport officials in hazmat suits to their surprise. "We were walking through from our gate to our baggage claim and nothing happened," Aguba said. "We didn't even get our temperature checked," Kong said. Aguba's father picked them up from the airport with a plastic sheet acting as a makeshift partition between himself and the two students. Aguba explained to me that her family vacated their home and booked an Airbnb nearby so that the two could have the house to themselves during their two-week quarantine.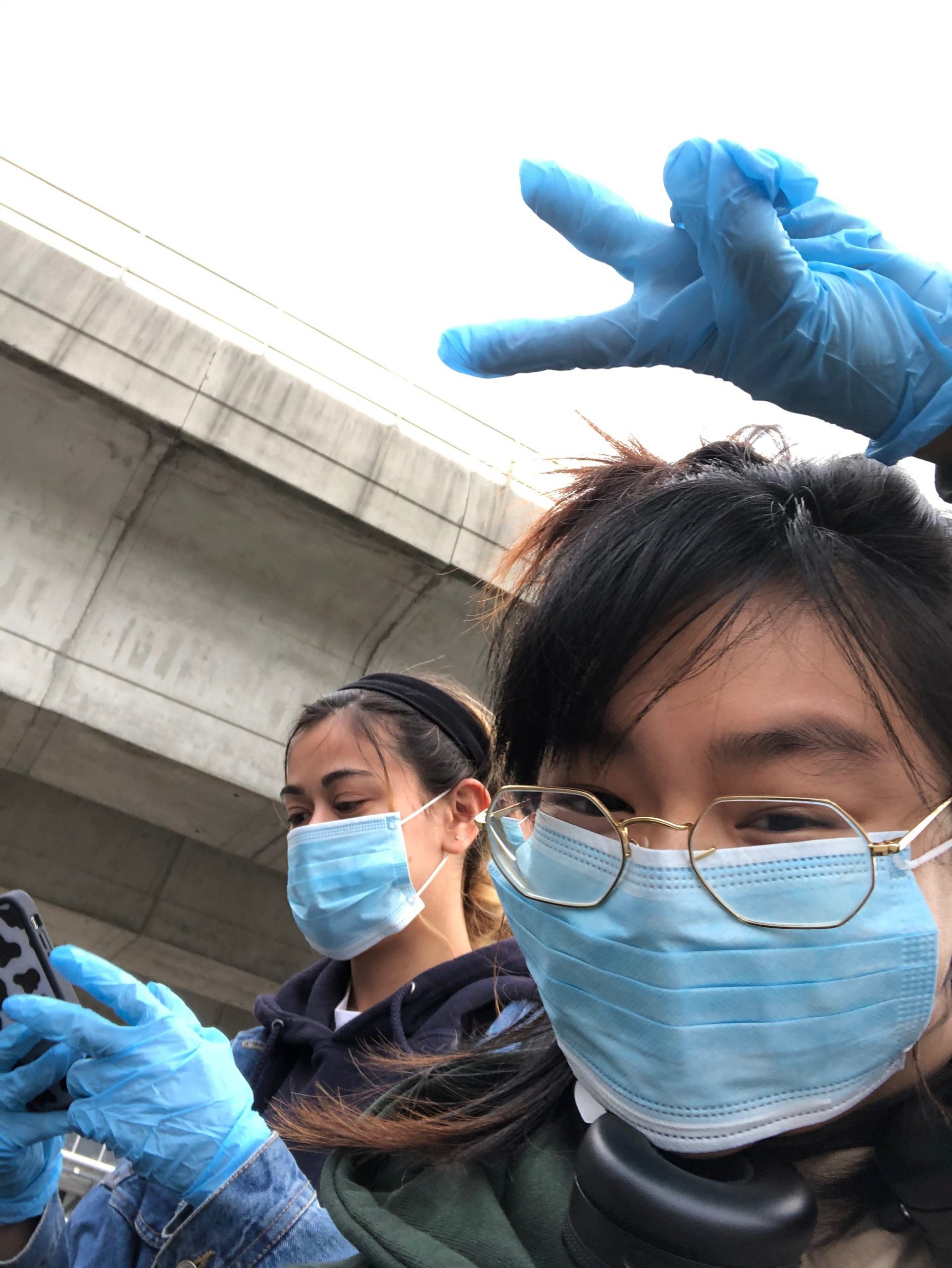 The students upon their arrival in the U.S.. Photo taken by Luz Aguba.
Naturally, Aguba and Kong were very disappointed that their long anticipated semester in Italy was cut short by the pandemic. Though media coverage of the virus began as early as December, like most, they had no expectation that the virus would affect their lives. "It really exploded when NYU pulled their students from Italy," Aguba said.  "It was kind of confusing because we initially got the email stating that we have the option to stay or leave, and to let VCU know if you're going to stay. Following that, the President (Rao) sent that university wide email about the virus that said in one of the bullet points that study abroad programs are going to be canceled. After that we had no information." 
The unanticipated nature of the situation caused delays in receiving direction from the school which was "nerve-racking" for Aguba.
"After Iowa State left the program, Italy began going downhill and it escalated everyday. The last day we were there it was kind of scary," Kong said. "It was crazy because every day a school would send their students back home… it was almost like everyone just disappeared. Because normally, people in Italy, they're always out doing something," they both recounted. "Now you walk around and everything is closed and the only people you see outside are police officers."
The two were oblivious to the news that Italy's government had mandated a full lockdown and quarantine of the country and all the people in it. At the time they were enjoying their last days in Cinque Terre, a popular destination consisting of five ancient seaside towns. "It was crazy because our roommate told us that it's always busy and that you can barely walk because of how many people are there, but it was dead. There were maybe two restaurants open but everything was closed," Aguba said.  "The next day we got an email that our flight (to America) was cancelled and the entire country was red-zoned," Kong said.
Following the news of Italy's lockdown, Trump announced the U.S. travel ban making Aguba and Kong's situation even more time sensitive. Upon returning to Florence from the seaside the two scrambled to find a flight out of Italy and were lucky to get one with the help of their parents. "Every flight was cancelled except for about three. There were no straight flights to the U.S." explained Kong. 
With Aguba and Kong both being Asian-American, racism due to the virus's origin in China was a concern for them both. "People on the streets would yell out coronavirus and even at clubs people would harass Luz," Aguba said. "When I told my mom about it she became very worried because of the racism that was happening everywhere else," Kong said.. Racist harassment during the COVID-19 outbreak has been a common experience for many Asians, not only in Italy, but also in the U.S.. To name just one instance, an Asian Man in New York was verbally attacked and sprayed by another subway rider for standing next to him in early March.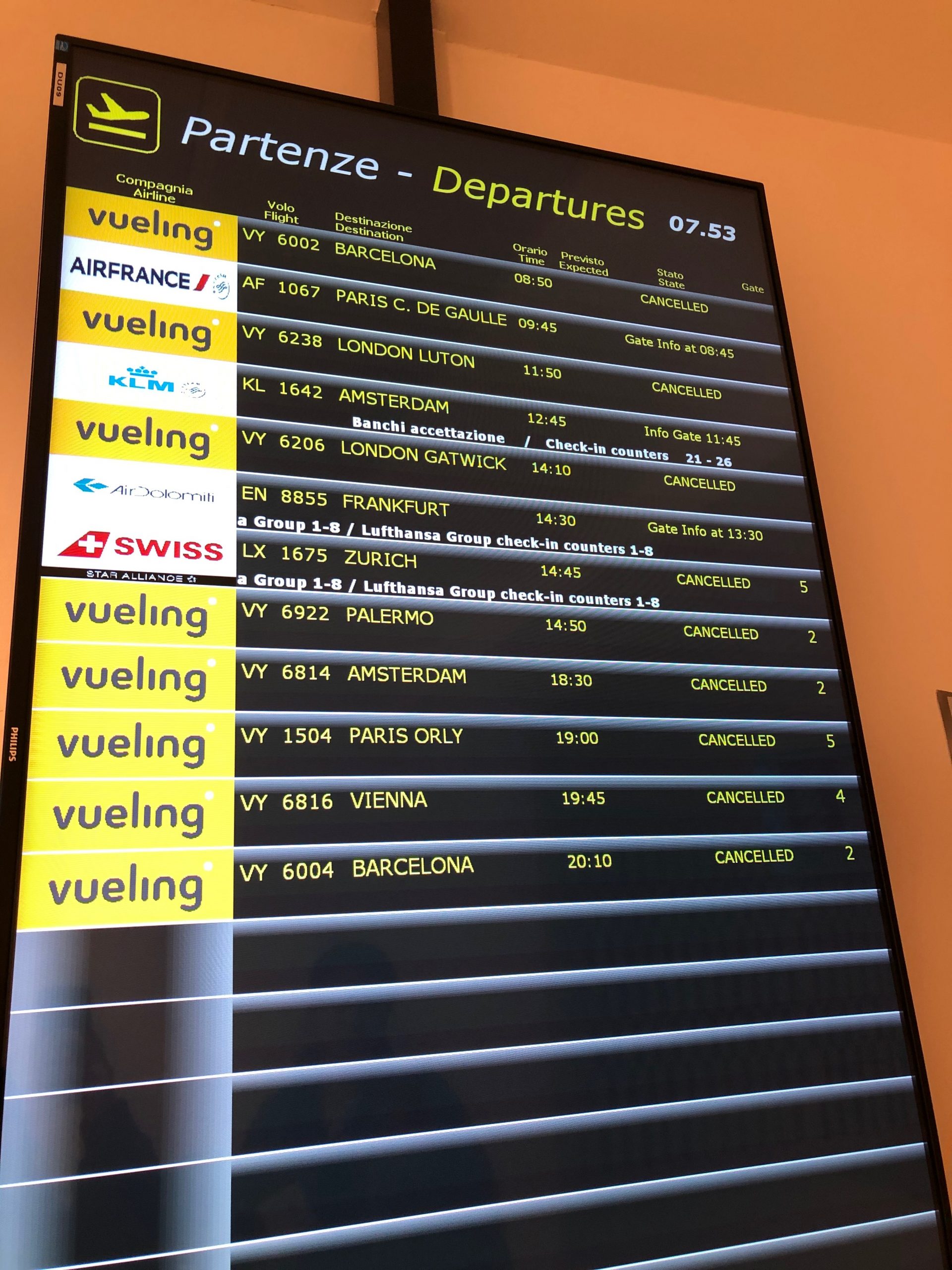 Cancelled flights in the Florence airport on the day of the students' departure. Photo taken by Luz Aguba.
By the end of the interview our conversation drifted into the uncertainties of the future. How long will our classes be online? Will Coronavirus have annual outbreaks moving forward? What about everyone's jobs? These are questions that many of us are asking but have little answers to. As the pandemic worsens, Aguba and Kong's experience in Italy may not be far off from what we will see in the U.S.' near future. It may not be long before we are all quarantined in our homes like the Italians. While the uncertainty dominates this time, the best that we can do is continue collective efforts to suppress the spread of the virus and practice compassion while doing so.