Throughout the past few years, I've grown to love and admire the one and only, Andre Leon Talley. From listening to podcasts, videos and documentaries, which he produced and starred in called Gospel According to Andre, to reading his book, The Chiffon Trenches. I commend him so much because although he faced discrimination, first living in Durham, North Carolina and later in the fashion industry; he knew the bigger picture and wanted to chase his dreams. What he went through didn't stop him. In addition, he always went to God for faith and guidance, which I use in my daily life.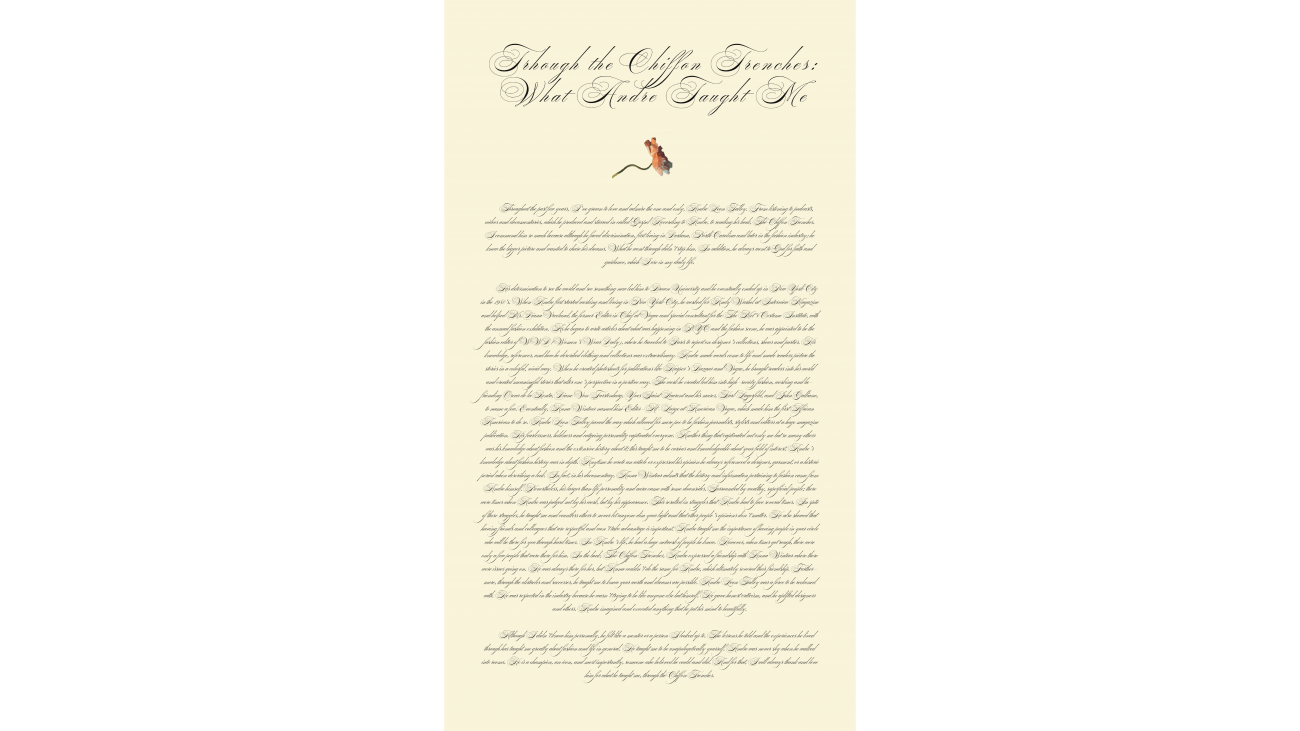 His determination to see the world and see something new led him to Brown University and he eventually ended up in New York City in the 1980's. When Andre first started working and living in New York City, he worked for Andy Warhol at Interview Magazine and helped Ms. Diana Vreeland, the former Editor in Chief at Vogue and special consultant for the The Met's Costume Institute, with the annual fashion exhibition. As he began to write articles about what was happening in NYC and the fashion scene, he was appointed to be the fashion editor of WWD (Women's Wear Daily), where he traveled to Paris to report on designer's collections, shows and parties. His knowledge, references, and how he described clothing and collections was extraordinary. Andre made words come to life and made readers picture the stories in a colorful, vivid way. When he created photoshoots for publications like Harper's Bazaar and Vogue, he brought readers into his world and created meaningful stories that alter one's perspective in a positive way. The work he created led him into high-society fashion, working and befriending Oscar de la Renta, Diane Von Furstenburg, Yves Saint Laurent and his muses, Karl Lagerfeld, and John Galliano, to name a few. Eventually, Anna Wintour named him Editor-At-Large at American Vogue, which made him the first African American to do so. Andre Leon Talley paved the way which allowed for more poc to be fashion journalists, stylists and editors at a huge magazine publication. His fearlessness, boldness and outgoing personality captivated everyone. Another thing that captivated not only me but so many others was his knowledge about fashion and the extensive history about it; this taught me to be curious and knowledgeable about your field of interest. Andre's knowledge about fashion history was in depth. Anytime he wrote an article or expressed his opinion he always referenced a designer, garment, or a historic period when describing a look. In fact, in his documentary, Anna Wintour admits that the history and information pertaining to fashion came from Andre himself. Nevertheless, his larger than life personality and aura came with some downsides. Surrounded by wealthy, superficial people; there were times when Andre was judged not by his work, but by his appearance. This resulted in struggles that Andre had to face several times. In spite of those struggles, he taught me and countless others to never let anyone dim your light and that other people's opinions don't matter. He also showed that having friends and colleagues that are respectful and won't take advantage is important. Andre taught me the importance of having people in your circle who will be there for you through hard times. In Andre's life, he had a huge network of people he knew. However, when times got rough, there were only a few people that were there for him. In the book, The Chiffon Trenches, Andre expressed a friendship with Anna Wintour where there were issues going on. He was always there for her, but Anna couldn't do the same for Andre, which ultimately severed their friendship. Furthermore, through the obstacles and successes, he taught me to know your worth and​ dreams are possible. Andre Leon Talley was a force to be reckoned with. He was respected in the industry because he wasn't trying to be like anyone else but himself. He gave honest criticism, and he uplifted designers and others. Andre imagined and executed anything that he put his mind to beautifully.
Although I didn't know him personally, he felt like a mentor or a person I looked up to. The lessons he told and the experiences he lived through has taught me greatly about fashion and life in general. He taught me to be unapologetically yourself. Andre was never shy when he walked into rooms. He is a champion, an icon, and most importantly, someone who believed he could and did. And for that, I will always thank and love him for what he taught me, through the Chiffon Trenches.
Graphics: Sydney Folsom