By Cort Olsen, Chief Editor
Photos submitted by Big Picture Media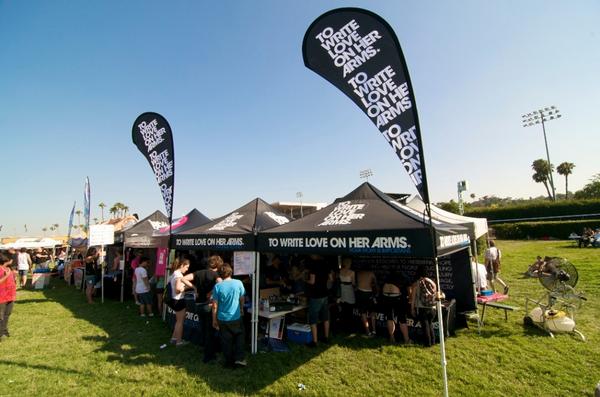 Anyone that is a fan of Pop Punk, Metalcore, Hardcore or basically any genre of music that is featured in Warped Tour, is aware of the organization To Write Love on Her Arms (TWLOHA).  For those who are not familiar with the organization, TWLOHA is a nonprofit seeking to promote help for people who are struggling with depression, addiction, and self-injury, as well as aid in seeking recovery programs for those suffering from these issues.  This year's 2014 Vans Warped Tour marks the eighth year that TWLOHA has gone on the road with the many bands that tour across the country for the summer.  This year, the organization's tent was run by Music and Event Coordinator Jason Blades, who allowed us the chance to sit down with him to discuss how the tour has been going for the organization and what they have been doing to engage their audience.
"We're out here to promote a message of hope and help for people that are struggling," said Blades, who has been on Warped Tour for the last six out of the eight years that TWLOHA has participated in the tour.  "It's interesting to see how every year just keeps getting better when it comes to the turn out for [TWLOHA].  This year has probably been the best year so far," said Blades.  When we asked Blades if there were any memorable moments over the course of the tour, Blades said that "[Chicago] just felt like one of those cities that believed in what we were doing more so than the other places that we have stopped in," said Blades.
Over the course of the tour, TWLOHA has been managing a merchandise tent within each of the venues nationwide, but this year they decided to do more than just sell t-shirts and wristbands.  Blades showed us cards that the organization has been using during the tour to engage the fans by asking them what their greatest fears and dreams are.
"The idea is to have the fans write their answers to these questions on these cards and have them scattered all over our table.  It usually makes the people in the crowds feel like they are a part of something bigger than just themselves."
To Write Love on Her Arms has been around for many years and to see them blossom into a very well know organization that can be identified all over the world is truly inspiring.  According to Blades, "It is great that we have been able to incorporate music and art to help aid those who are struggling with these internal issues, and letting people know that they are not alone."  If you are interested in donating or being a part of TWLOHA please go to twloha.com/getinvolved and if you are suffering from depression, addiction, self-injury or suicide please seek help by contacting 1-800-SUICIDE.