Jay Roberts: 
ThredUP!
Filter thrifted clothes by size, color, brand or item. Great for folks who struggle to find things in their size in a physical thrift store.
Cole Clark:
https://medium.com/the-inhibitor/if-you-think-eating-shit-is-wrong-then-you-are-a-bad-person-4b1b1eb4b91
Claire Busby:
San Francisco Nude, Hisaka Kojima
Can be found in VCU Library, 4th floor
Kaelan Brown:
Songs Of The Week
https://music.apple.com/us/playlist/weekly-roundup-1/pl.u-11zBPxVs8kokqA9
Videos Of The Week
Art Of The Week
This poem is a description of the painting beneath it. 
Landscape with the Fall of Icarus
William Carlos Williams – 1883-1963
According to Brueghel
when Icarus fell
it was spring
a farmer was ploughing
his field
the whole pageantry
of the year was
awake tingling
near
the edge of the sea
concerned
with itself
sweating in the sun
that melted
the wings' wax
unsignificantly
off the coast
there was
a splash quite unnoticed
this was
Icarus drowning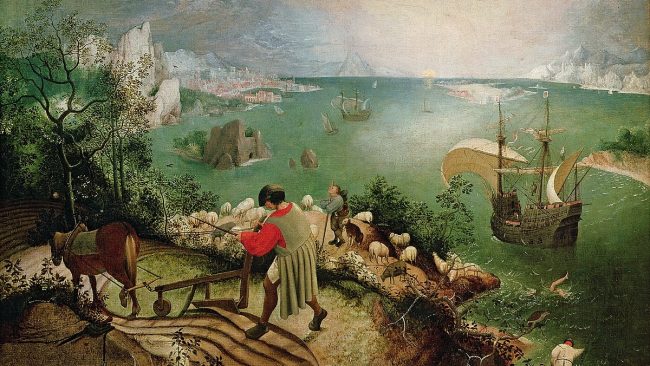 Ross A: 
Just listen to the new jpegmafia album: 
& listen to this podcast episode 
Thank you and I appreciate you. 
Luke Campbell:
Short New Yorker article on shifting the concept of maintaining hope in the face of the climate apocalypse. 
https://www.newyorker.com/culture/cultural-comment/what-if-we-stopped-pretending 
Daniel Brickhouse:
A playlist I've been listening to this week 
https://music.apple.com/us/playlist/softer-tempo/pl.u-9N9LX5JsozXe8p
Sean Keonté:
this tiktok i cant stop thinking about 
Piper Lynch:
An illustrator based in London, who has super sweet art. I love her zine, which you can purchase! 
Darby Lindsay:
Post from Tiana Parker's Instagram, a photo shoot of her wearing Leha Yeung 
Jess Som: 
Aviance Hawkes:
Daily horoscope podcast of each zodiac sign
https://open.spotify.com/playlist/5Ww0WUH4IlefVlTwXRKskK?si=ZeV63Cu3TduvOepSRKLD6Q
Daniela Osuna:
Nico Gavino:
New FKA Twigs song and video featuring Future!
Kyle Mayo-Blake: 
So I love Bon Appetit and they released a new video with Claire where she remakes M&Ms.
Issa Atrash:
https://www.youtube.com/watch?v=oxSUOg1u6Ts
Sam Taylor:
Toni Morrison: The Pieces I Am Trailer: https://www.youtube.com/watch?v=A8sUwXTWb4M
Songs of the Week:
-Holy Terrain – FKA Twigs + Future
-Drunk on the Rhythm – Gothic Tropic
-Tú – maye 
Excited for The New York Art Book Fair: https://nyabf2019.printedmatterartbookfairs.org/ 
Hannah Van Buskirk:
This meme by @ripannanicolesmith, a screen capture from the classic 90's movie "The Craft" with text discussing Freudian castration anxiety. 
https://www.instagram.com/p/B2IIdwQn5ey/
This song by Habibi, Brooklyn based band influenced by psych rock/sixties girl group harmonies 
Daniel Chow:
https://www.newyorker.com/magazine/2019/09/09/the-stone
Read/listen to Ross Gay!
Carlos Lopez: 
This video series has consistently blown me away just by how strange it is. It's impressive to see how much it's grown since it began.
Katherine Manson:
Baby bat burrito
https://www.reddit.com/r/aww/comments/cbwye3/baby_honduran_white_bats/
Pieces:
Nike x Sacai Sportswear collection is so dope. Naomi Osaka looks great here, and I love the Waffle racers. Sacai always killing it.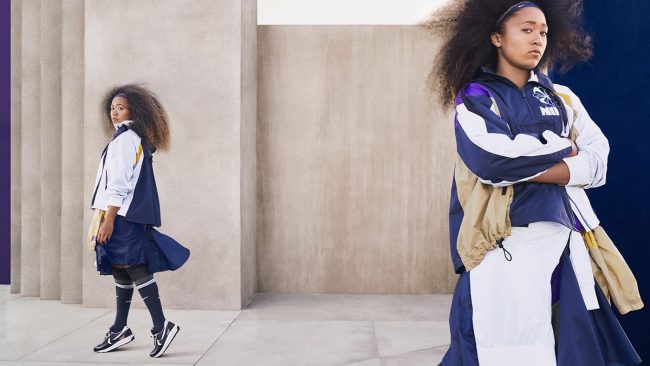 Franny DeAtley:
I really can't stop thinking about this
 https://twitter.com/bumpygeese/status/1171768734488379404?s=21
Aamina Palmer:
Thought about video games as art this week, and looked into post-internet art
watch Everything
read this: Artsy: Post-Internet Art
look at this: Image Atlas- Taryn Simon + Aaron Swartz, Post-internet art
Graphic by Archerd