Franny
: 
The premier of Watchmen was this week, but no one should ever stop talking about The Leftovers. Damon Lindelof please never stop making things. If you're looking for something actually good to watch, please do yourself a favor and let this amazing show into your life.  
https://www.thecut.com/2018/10/i-think-about-this-a-lot-bagel-scene-leftovers-justin-theroux.html
Aamina Palmer
:
These poster/design IG accounts: Graphic Index, Blank Poster, & Type Poster keep my GDES fangirl self inspired and may be fueling grad school questions…
Melody:
The instagram page @nicotinemagazine has really caught my eye lately. The virtual magazine is all about expressing the body and contorting and posing in ways that give an androgynous style. Its pictures are politically relevant and introduces a more conceptual way to understanding certain issues.
Ross:
One of my absolute favorite artists is the NY based rapper Deem Spencer. His latest album 'pretty face' is so good, but he just dropped a music video for the feature track on Wednesday and I'm sharing that with the world. Please listen to this man Deem. 
Hope:
Danny Casale makes hilarious animated videos that will brighten up your day. I always watch them when I need a good laugh. Here are links to two of my favorite videos but I could binge-watch for hours…
MiJin Cho:
Lately, I've been obsessed with film photos so the Instagram page @gobafilm really spoke to me. It's an account that my friend runs and she has a lot of her projects on there. 
Mia:
My friend showed me this really funny youtube account called Clickhole. It's witty, ironic, and a great way to spend your time on youtube. Everyone should check. it. out. 
Carlos L:
Cartoon Network made an ambient loop with rain sounds and piano music with footage from Over The Garden Wall and I enjoy studying to it.
Phum Viphurit is so rad and his Audiotree is truly something special.
Claire Evan: 
One of my favorite artists, Black Marble released his newest album this week! It was highly anticipated and I 100% recommend listening. 
Jess Som:
Lana Del Rey's  Cinnamon Girl song with the bass boosted. Listen with headphones. 
https://www.youtube.com/watch?v=qznBrRQzSRg
Caroline
:
I've been obsessed with this Youtuber named Jenny recently, she's based in New York and has the cutest little apartment. Check out her daily vlogs if you love fashion, sustainability, and the New York lifestyle.
Hannah: 
"So Hot You're Hurting My Feelings" from Caroline Polachek's debut album Pang. You might recognize her as the vocalist from Chairlift, she also wrote and produced Beyonce's song "No Angel" and has collabed with artists like Charli XCX and Blood Orange. Her music is sick. Listen to it. 
Archerd:
My friend came back from Korea last week and she got me this very cute keychain of a mandarin orange piece.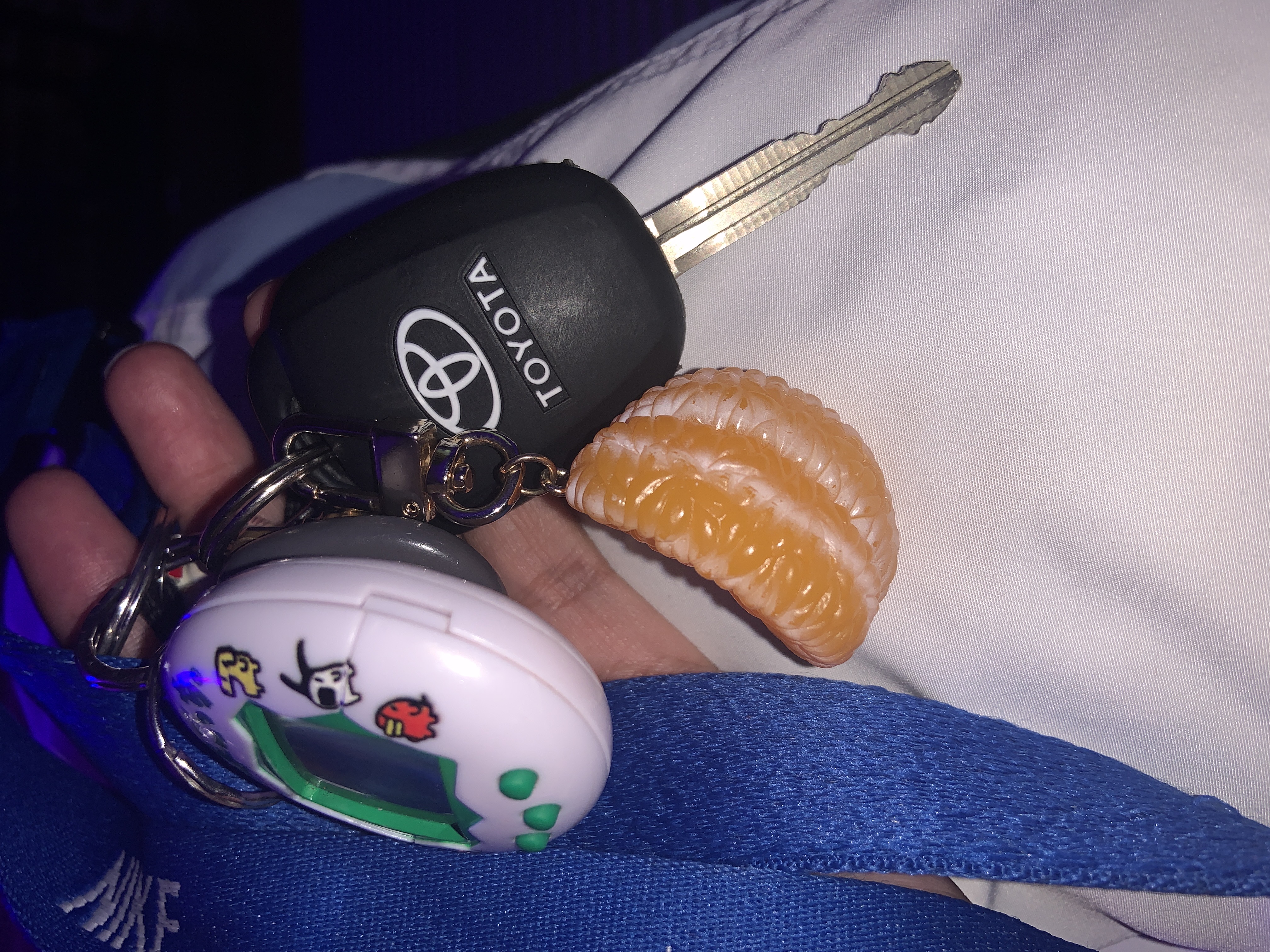 Jay:
Braided Sweetgrass by Robin Wall Kimerer (linked to Audible)
Claire Busby:
I have been listening to this song by the Pixies to death.
Monica Pierce:
I found this really cool online zine on Instagram called @loopandreplay. The page shares the history behind certain songs and they did a really great series on lost music in Cambodia during the 1970's Khmer Rouge regime. 
https://www.instagram.com/p/BzYYpjageFR/?igshid=a7q6nt5ims64
Mac:
I just got my Paris, Texas DVD from The Criterion Collection. This is one of my favorite films of all time and the Criterion edition comes with a ton of bonus features. One of my favorite features is a gallery of the location scouting photos Wenders shot. Here is a trailer.
Piper:
Animals and Synthesizers ! Wonderful videos of animals and bugs moving to synth sounds. I love. There's also an Instagram account by the same name.
Graphic by Archerd