Written by Nico Gavino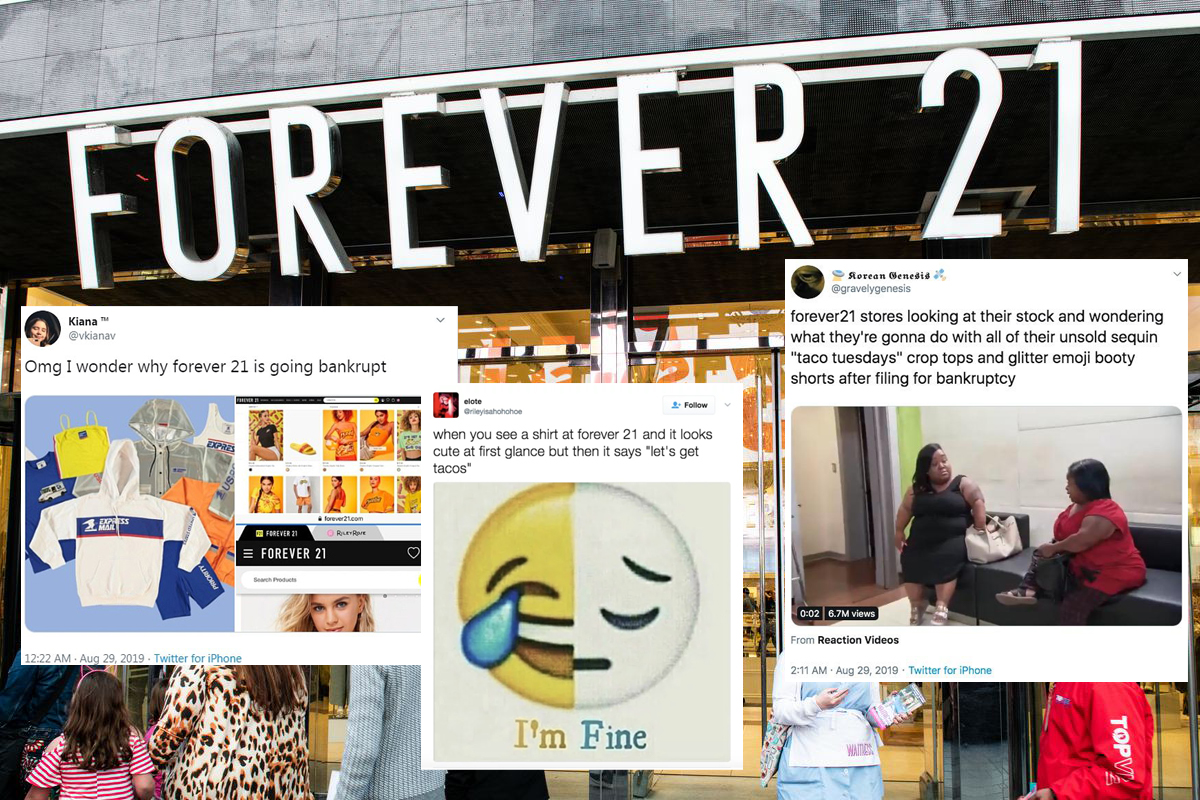 The Forever 21 bankruptcy set off a mass of tweets and memes, some ridiculing the brand saying they had it coming, while others grieved the loss of their beloved and affordable clothing destination. For those afraid they won't have a place to get their last-minute party top, not to worry, Forever 21 isn't saying goodbye just yet, and H&M has yet to show any signs of bankruptcy. For the other half who saw the end of the fast-fashion giant coming, what exactly was it that Forever 21 got wrong?
In recent years, memes poking fun at Forever 21 for their messy environment and out-of-touch clothing lines have not been uncommon. Whether it's the gaudy manner that they dress their mannequins or the painfully forced graphics about fast food printed onto their apparel, it's quite clear that the retailer has become the butt of the joke when it comes to fast fashion. Some of their latest collaborations, including USPS and Cheetos, were perceived as senseless and humorous to many. To Gen Z, it seems that Forever 21 has lost its purpose and direction.
With social media now being an integral part of young people's lives, we are more visible than any generation before. Gen Z's hyper-visibility makes individuality more important than ever, and as a result, Forever 21 has become less attractive with their increasingly generic reputation. Many have turned to secondhand clothing, either shopping at a lower price from a local thrift store, or investing in the resale market through sites like Grailed and Depop. According to ThredUp, the secondhand apparel market is expected to double within 5 years while resale has grown 21x faster than the retail apparel market since 2017. It's also important to note that Gen Z is the one driving this growth.
This generation is also more conscious of sustainability than other generations. As much as they love a good deal, a 2015 report from Nielson showed that Gen Z is increasingly willing to pay more for products made by companies that have a positive environmental impact. Growing awareness around the impact of fast fashion have tainted the once gleaming image of Forever 21 as a trendy stop for young people.
Increased interest in limited and luxury streetwear has grown alongside social media, as the lives of celebrities have become more visible too. This has played a huge role in the rise of the "drop" model as it creates hype and prestige around certain products and brands. Though this model, brands periodically release small lines in limited quantities and is much more sustainable than the fast fashion model.
This isn't to say that Gen Z isn't interested in affordability anymore. Fast fashion has evolved into new forms. Fashion Nova is known for churning out copies of popular runway and celebrity influenced looks at a fast pace with low prices. It's no secret that most of the purchases young adults make are online, in fact, surveys have shown that they actually prefer it. It's the e-commerce factor that has made it more appealing to Gen Z than brick and mortar fast fashion. 
It's not one thing Forever 21 did wrong, but a combination of changing preferences in their market and the evolution of retail. The Forever 21 bankruptcy isn't necessarily a win for sustainability, even though many are glad to see it go. And although it may be perceived as a step in the right direction, it's also just a reflection of how fast fashion is evolving in the digital age. The future of the company is uncertain, but if one thing's for sure, Forever 21 may not be forever after all.