1708 Gallery, 319 W Broad St
Immediately as I stepped foot into 1708 Gallery I was welcomed by two eager greeters. Founded in 1978, this art gallery is one of the oldest artist-run galleries in the country. That's a pretty valuable gallery hidden amongst the brick towers populating Broad Street. This gallery, filled with history, gave a very rural feel for being so caught in the traffic and busy flow of the city life. Being a non-profit gallery, with all the staff being practicing artists themselves, collaboration is key to 1708 Gallery and the art work they put out. With exhibitions changing every 6 weeks, there is constant inspiration for aspiring VCU artists amongst the area. With the newest exhibit now open as of May 5th with artists Eleanor Thorp, who I have had a previous interview with in my article "The Permanence of Art in the Digital Age", and Alli Kaeni. Most works shown through this gallery are from international artists, such as an upcoming exhibit with two Iranian artists. With a mission statement communicating "1708 Gallery's mission is to empower artists' ideas and voices so they can create works that matter to our communities. We believe that artists are catalysts for new ways of thinking, connectors of different perspectives, and conveners of the curious. We facilitate opportunities with Richmond-based, national, and international artists to offer our communities diverse ideas and visions from across the field of contemporary art," the gallery is sure to succeed in attracting artists of great talent and collaboration.
Cidney Cher, Operations Manager, communicated to me in an interview that "everyday here feels different in the best way." With so much diversity in artists and styles/formatting of art sprinkled around this bright spot on Broad Street, there sure is a fresh feeling everytime you walk through 1708 Gallery's rustic doors.
This unique and flattering gallery is surely an advantage to Richmond and the livelihood of the Art District. Emerging and contemporary art is constantly being showcased within the memorable walls of 1708 Gallery. Sculptures, paintings of all medians, photography and more, coexist within the walls. The art is very clean-cut, fresh, and homely. It brought great comfort to me. I highly recommend checking out and even having a conversation with Cher who is most intelligible in her artistic eye and taste.
Ada Gallery, 228 W Broad St
Consisting of only a 10 minute walk from Monroe Park, Ada Gallery is the perfect mid-day adventure for anyone requiring pleasant inspiration. Other than friendly staff and a fantastic location, the art changes every one to two months, leaving plenty of availability for new creativity. With previous exhibitions such as "Late Summer's Harvest," "Nocturn," and "Suddenly the Crow Cries a Premonition," there is a surprising talent of art amongst different styles. The gallery is very stark white, with old wooden floors to make you feel rather safe in the small corner store on Broad. Ada Gallery has been artist run since 2003, meaning this is another great place, in addition to 1708 Gallery, to find some connections in the exhibition field. This gallery is another great source for inspiration, connections, and refuge in the world of ever changing art and power. Their newest exhibition, open as of May 5th, is titled "Wanderlust" which is the perfect way to kick off some art work this summer. Stop by their humble abode and see for yourself what work artists can do when they are in a thriving environment. I recommend checking them out while fresh artwork is being hung!
Candela Gallery, 214 W Broad St.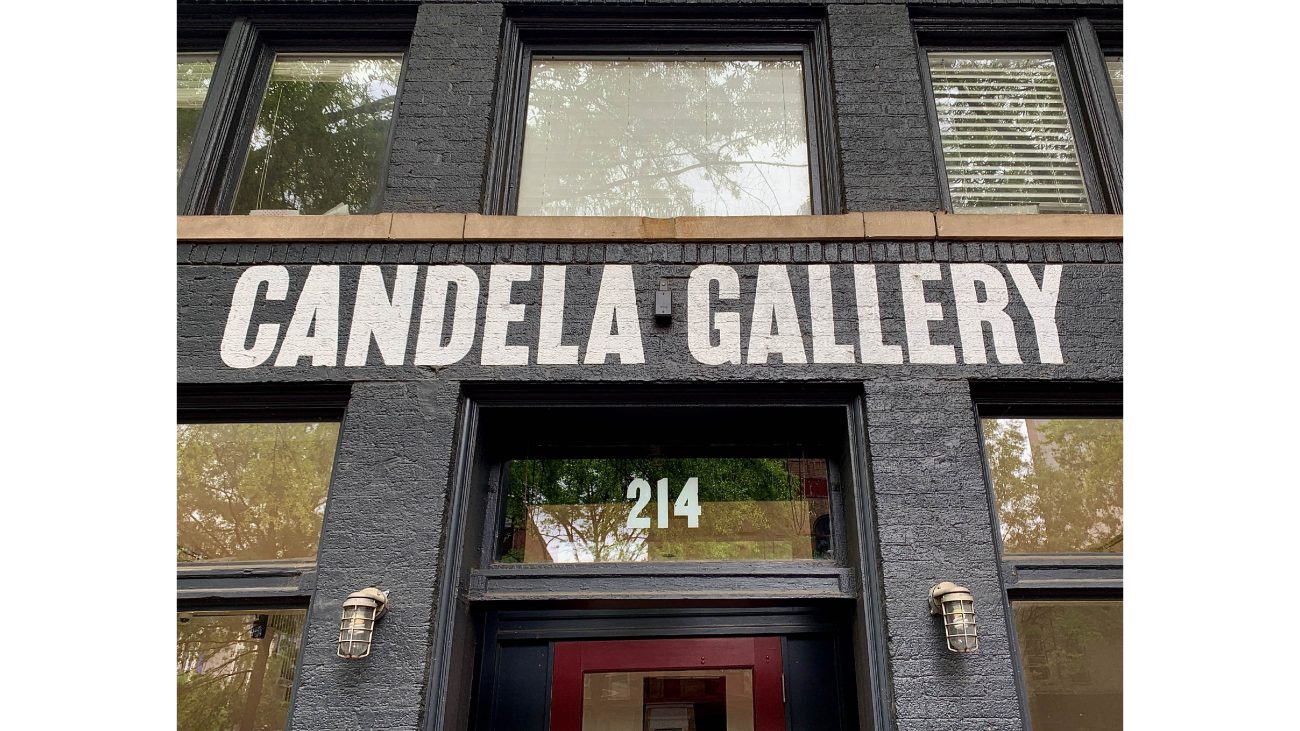 Elegant is the first word that came to mind when thinking about Candela Gallery. With a beautiful building turned art gallery, this is the perfect place to fully lose yourself in the art. Through photography based art, Candela Gallery has had many artists including Richmond based photographers such as Justin James Reed and Chris McCaw's earlier work before his fame grew. They've truly seen much talent pass through their doors. Placed in an old building on Broad street, Candela Gallery has been there for 12 years, spreading photography one exhibition at a time.
Candela Gallery is very rare for the Art District area of Richmond because it focuses exclusively on photography. It gives room to many local and international based artists to share their love and work through exhibitions. They have been bettering the community by showcasing work from VCU photography professors to even working with some VCU students! They astonished me by the complete individuality they digest to you through each piece of work. In the summertime, make sure to look out for their open hall exhibition with Jess Bridges for free!
Candela Gallery is there for the community and the residing artists scattered around Richmond. Everyone who works there is passionate about what they do and by sharing that love through their work, the community is therefore that much better.
Institute of Contemporary Art (ICA), 601 W Broad St
Industrial at its top tier: the ICA is the most modern art gallery I have seen in all of Richmond. Constructed by Steven Holl, an internationally famous architect, in 2018, the ICA has limited history surrounding its bones. In reality, the building itself is a piece of art adding to all the other industrial styled pieces inhibiting the building. With a building block-like style, you could find yourself looking at the odd edges and flexes of the construction and wonder how the building is standing at all! The building is just as fascinating and odd as the art they showcase within the walls. Consisting of contemporary and modern art that changes seasonally, the ICA certainly holds value and patience on the art that travels within its walls. Their current exhibits, which I saw, are "So it appears," "Navine G. Dossos: McLean," and "Rafael Domenech: The Medium is the Massage." Their work is of a broad based creation as both American based artists alongside Internationally based artists have had work shown within the ICA. Artists such as Ibrahim Ahmed and Naima Green have had exhibits in the past that have traveled through the ICA. But the ICA isn't just for showcasing talented artists. Few people know that the Institute for Contemporary Art is first an institution for education to travel between all the viewers of their galleries. Kasidi Jordan, Lead Visitor Experience Associate, conveyed to me in an interview that "we are an institution. People don't view us that way." So next time you find yourself at the corner of Broad and Belvidere, be sure to check into the ICA to further your creativity alongside your knowledge. They truly bridge the world of modern art and educational art into one. I say with great certainty that you will not leave the doors of the ICA without learning more about the world and others experiences. Absolutely worthwhile.
Quirk Gallery, 207 W Broad St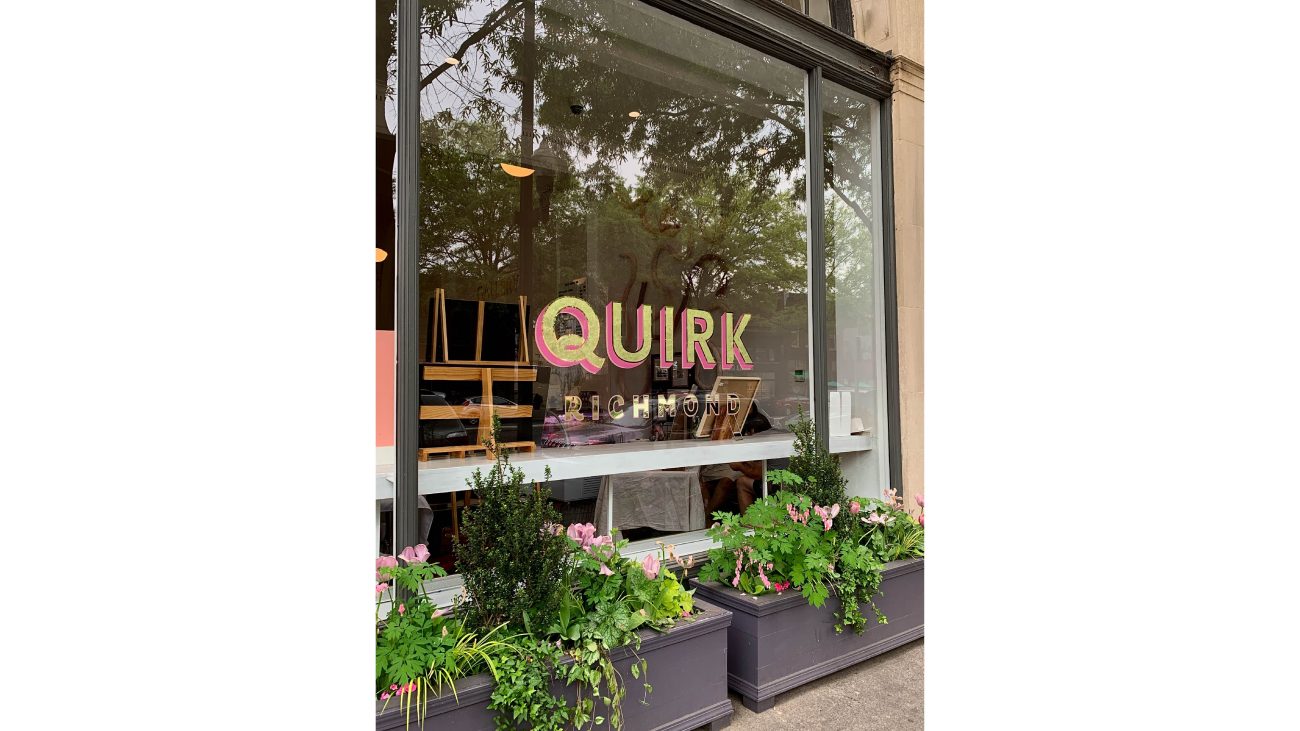 My first thought heading into this gallery was how covered in pink Quirk Gallery is. In contrast to some of the other Broad Street galleries, this one is very consumerist and modern, with the reveal of a wide range of work, it's a very boutique gallery concept, not minimalist at all. Immediately welcoming, the staff, alongside the art showcased here, are immensely communicating warmth and comfortability. Located right below a ginormous hotel, this gallery has incorporated art and the local hotel life in a very integral part of the experience. This is a rare find in all of the world, and its home is here in Richmond. The gallery exhibits move every two months, so there is constantly new art to see each visit. Consisting of artists with deep connections to Richmond, and even the owner's personal art collection permanently living within the hotel, the gallery is proudly presenting their love for the city we all share. All medians of art are exhibited in Quirk Gallery. Textiles, sculptures, paintings of contemporary and impressionism and more live within the walls of the building. I was fortunate enough to visit on the day Quirk Gallery was having their spring market where they had tables opened for artists to sell their work. They truly are connected greatly to the community surrounding their walls. Some artists that have had their work shown in Quirk Gallery includes famous Spaniard street artist Raquel Rodrigo, Diego Sanchez, Mary Holland, and Chris Milk whose exhibit with his wife and daughter is currently on view in the Pink Gallery, located in the basement. I agree immensely that Quirk Gallery is worth the visit and the interpretation of their art exhibits and collection. Be sure to see them decked out in pink at your next visit down Broad Street.